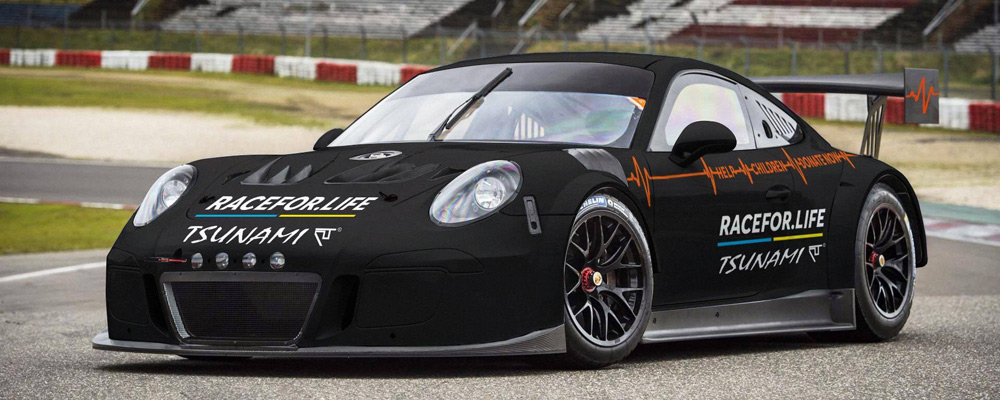 The Ukrainian team Tsunami RT announces its participation in RACEFOR.LIFE initiative.
On January 11–13, 2018 Tsunami RT participates in the famous Dubai 24 Hour endurance race. The car colors well-known to the fans of the Ukrainians will be replaced by the design dedicated to the initiative in help of the children with oncological diseases – RACEFOR.LIFE – this time.
In the life of children with cancer there are IV lines and medical manipulations, radiation and surgeries, hospital walls and a small piece of the sky in a window. However, the childhood has to be different – with attractions and soccer, tricks and bustle, sun and sea, mushroom hunting and exciting games.
Often these two worlds are separated only by a certain amount of money the parents of sick children are unable to collect, but it is possible to do it all together.
That is why the racers from three countries – Oleksandr Gaidai and Andrii Kruglyk (Ukraine), Côme Ledogar (France) and Alessio Rovera (Italy) – joined their forces to get the world their simple call for help. The life of anyone of us is full of concerns, and we do not always have time and energy to remember those who are desperately fighting with the disease at this very moment. Tsunami RT team believes that all its fans and all the motor sport enthusiasts will be responsive and help little kids the Parus Nadezhdy (Sail of Hope) charity fund takes care of to conquer the terrible disease.
It will be the first time on this race when the viewers will see an absolutely new Porsche 911 GT3 Cup MR with the 4-liter engine of 485 HP. The car was presented on the Essen motor show in the beginning of December by Manthey-Racing company, and Tsunami RT will be among the first teams to present it on the track.
The Ukrainian racing team knows how to win on the track. Now we dream about helping children to win cancer. It is possible to grant the gift of life and joy to those who strengthlessly lie sinking back against the pillows, who humbly bear painful manipulations, whose greatest wish is to recover and grow up.
Tsunami RT will line up on the start in Dubai to remind everybody: you can help and save a life of a small person who faced the terrible diagnosis. You just need a very small amount of money and several clicks on the website of RACEFOR.LIFE initiative.
Race is the life for race participants. Now they race for life.

Parus Nadezhdy (Sail of Hope) charity fund was established in Odesa (Ukraine) in 2007. Within the period of its work the fund gave a hope to 255 children and 30 families, collected of about 900 thousand dollars and funded more than 60 surgeries including bone marrow transplants.
RACEFOR.LIFE initiative: http://racefor.life
Dubai 24 Hour race https://www.24hdubai.com
Sail of Hope charity fund: http://www.pn.od.ua