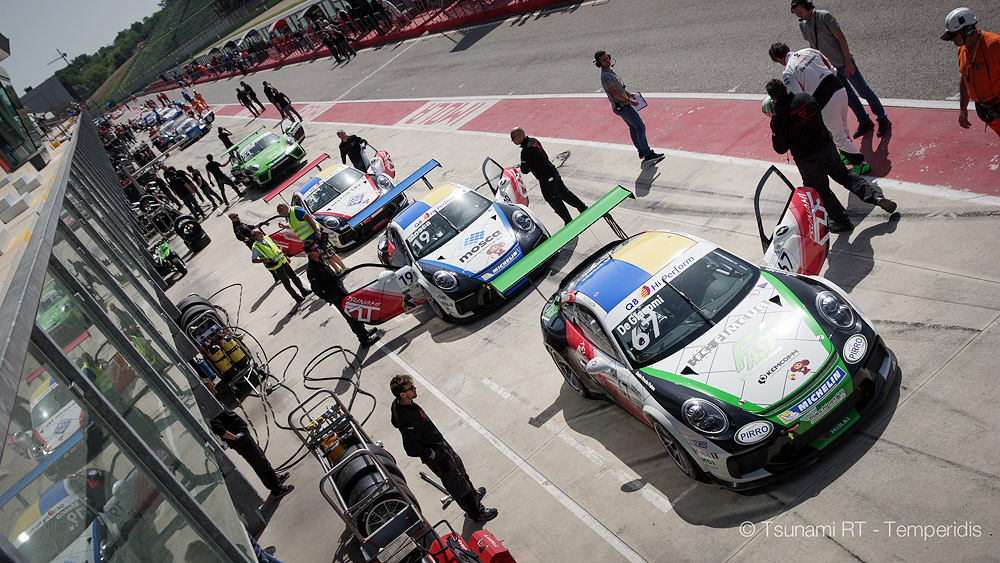 Midseason is a strange period. A year has already begun, but races have not. The new season calendar was already issued, and work in team boxes is in full swing, drivers are already working hard in gyms bringing up their physical fitness to perfection... And what about fans? Fans can have fun anticipating hot fights on racing tracks... and recalling the brightest moments of the previous years.
So, the racing season will be opened on Autodromo Internazionale di Monza. It is difficult to imagine, but this track turns 97 this year! However, it is a rather brisk old lady (the latest renovation took place in 2007). Of course, it is really famous and legendary. In general, there are only three so well known racing tracks in the world. However, Monza is compared favorably with the Monaco GP circuit because the former is located not on city streets, and with Nurburgring – because its name can be pronounced without a crackjaw.
Autodromo Nazionale di Monza
Built: 1922
Last modification: 2007
Lap length: 5.793 km
Direction: clockwise
Turns: 11
Best lap time: 1:21.046 (Rubens Barrichello, Ferrari, 2004)
By the way, the lap record with Porsche GT3 Cup in Monza is 1'49"449 set by the Tsunami RT driver Alessio Rovera who demonstrated such a result last year.
It was Monza where out team had a triumphant final of the season of 2017. We approached that weekend with the deficit of 13 points in the individual classification and of 11 points in the team classification. And – why belittle ourselves?! – we demonstrated brilliant results in both races and became Porsche Carrera Cup Italia 2017 champions both in individual (Alessio Rovera) and in team classification.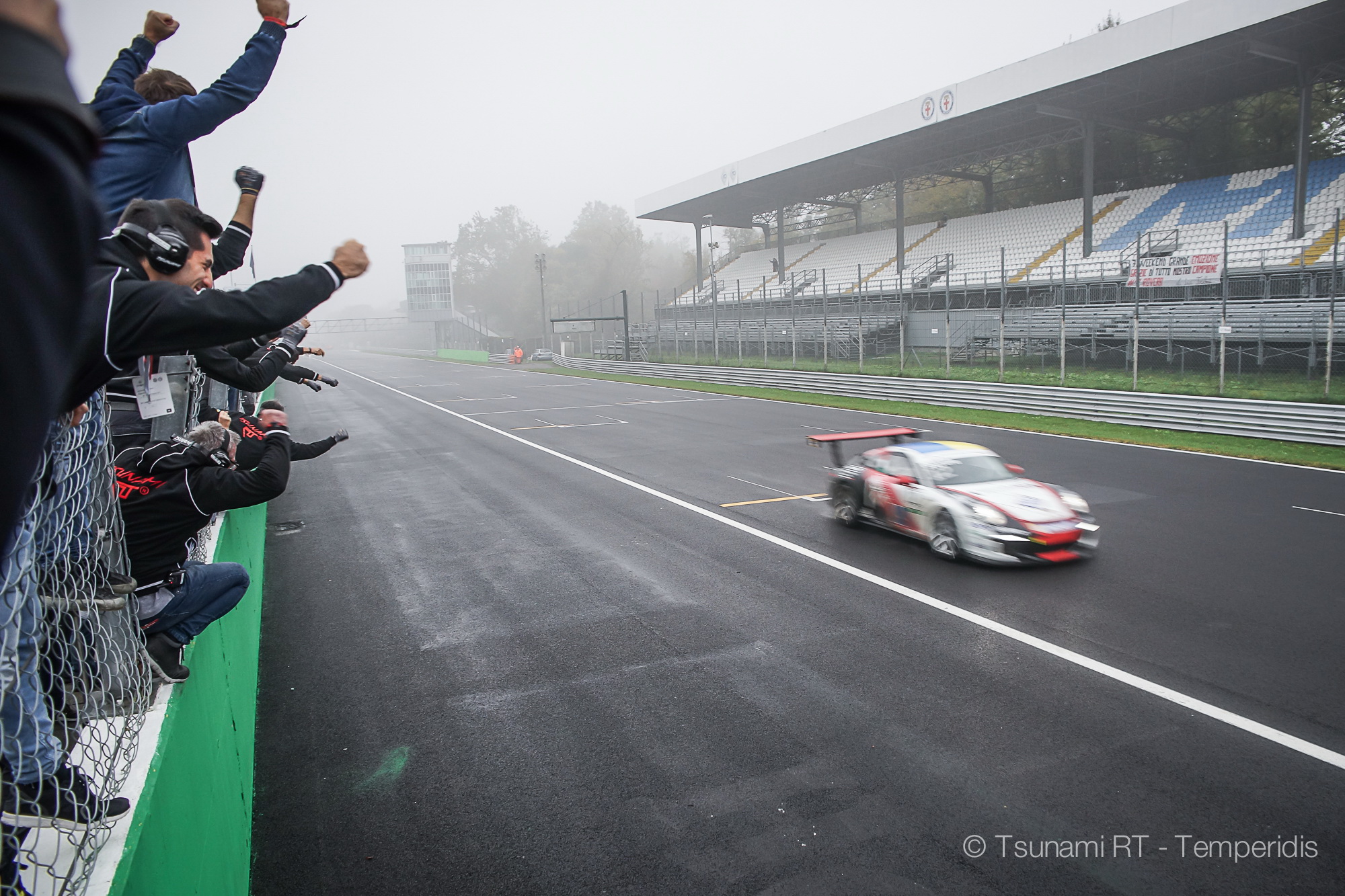 These memories are so pleasant... However, let us turn back to the upcoming season: Misano welcomes us in May!
Misano World Circuit Marco Simoncelli had been only a small-town one till in 2006 its owners came up with the idea to lure away Formula-1 and MotoGP from Imola. The old-fashioned style of the track was changed – both length and width were increased, start and finish were exchanged (till 2006 Misano circuit had the anti-clockwise direction), pit lane was extended and the asphalt was completely replaced of course. The efforts were not sunk in, and the two largest motor racing series came to Misano – before mentioned MotoGP and World Superbike. However, the track reconstruction according to the motorcycle racers' preferences requires special attention from those who prefer four wheels: the curbs are very low there, and the penalties for trajectory cutting are, thus, very high.
Misano World Circuit Marco Simoncelli
Built: 1969
Open: 1972
Last modification: 2006
Lap length: 4.064 km
Direction: clockwise
Turns: 16
Best lap time: 1:33.918 (Casey Stoner, Ducati, 2007)
In general, Misano is actually a home track for Tsunami RT, because our team is based in San-Marino despite its Ukrainian origin! There are a lot of cups from the track named by Marco Simoncelli in our collection: our drivers brought 11 awards from there within the last four years!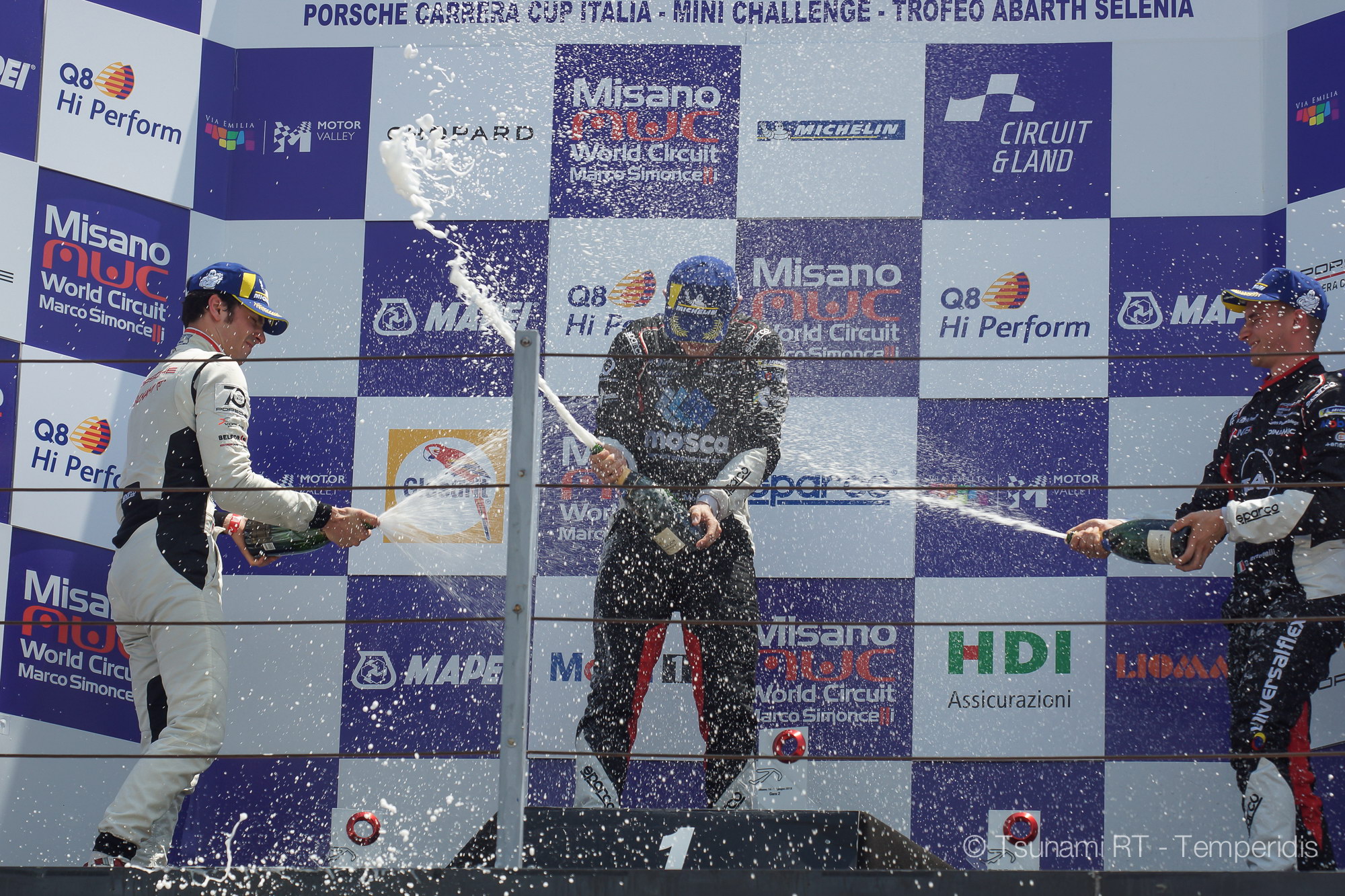 In June Porsche Carrera Cup Italia makes its way to one of the Oleksandr Gaidai's favorite tracks – to Imola!
Autodromo Internazionale "Enzo e Dino Ferrari", Imola
Открыта: 1953
Last modification: 1994
Lap length: 4.909 km
Direction: anti-clockwise
Turns: 17
Best lap time: 1:20.411 (Michael Schumacher, Ferrari, 2004)
The race direction on the Autodromo Internazionale "Enzo e Dino Ferrari" differs from most of the racing tracks in Italy – it is anti-clockwise in Imola. They say that it helps some drivers to find additional fractions of a second. Admittedly, it could be a legend.
But here is the absolute truth: this is the place where Côme Ledogar (as a Tsunami RT driver) and Alessio Rovera (who did not know yet that he would become a Tsunami RT driver the following year) saved the final of the season-2016. Rovera who was ahead of Ledogar by 0.082 second in the final race did not allow Côme to win the Champion's title in Porsche Carrera Cup Italia in advance, and the fans got the possibility to enjoy the plot of the final round. Ledogar became the champion after all, but it is a completely different story.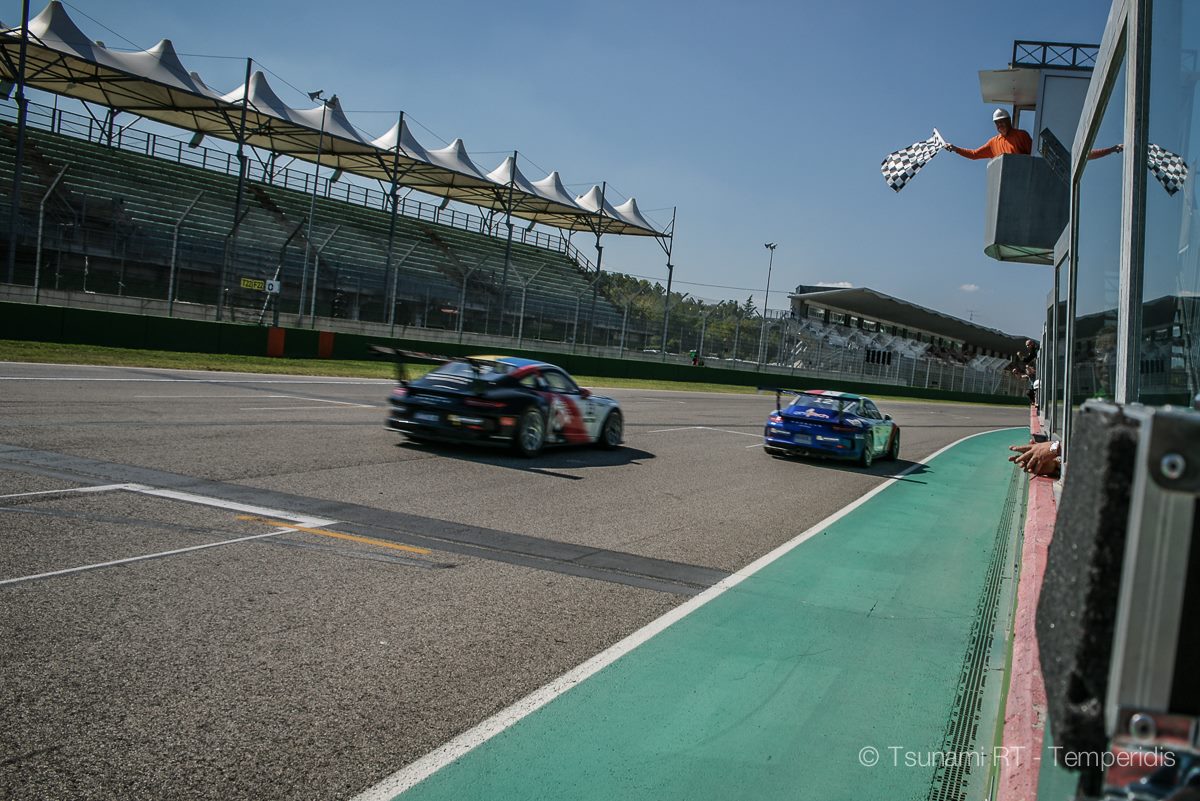 Midsummer and midseason will catch us in the hills of Tuscany, more specifically – in Mugello, with the heat of July.
Autodromo Internazionale del Mugello
Built: 1973
Open: 1974
Lap length: 5.245 km
Direction: clockwise
Turns: 15
Best lap time: 1:34.316 (Gary Hauser, Dallara Renault, 2014)
O. Gaidai: "Mugello is a very broad track with significant level differences and very abrasive asphalt. The first part is very skillful, and the second one is more dangerous, more speedy. The third sector is a plain part and a speedy chicane. It's the second track after Imola I like to drive on".

He likes it so much! A race of PCCI 2014, when participants started on dry asphalt and a shower rain started during the race, became history. Of course, all the teams got ready to change the tires to the rain ones for their drivers. Tsunami RT was also waiting Oleksandr Gaidai on the pit lane... Only three minutes remained to the finish when we understood that there were two possible places to see him: either on the prize-winning podium or in the fence.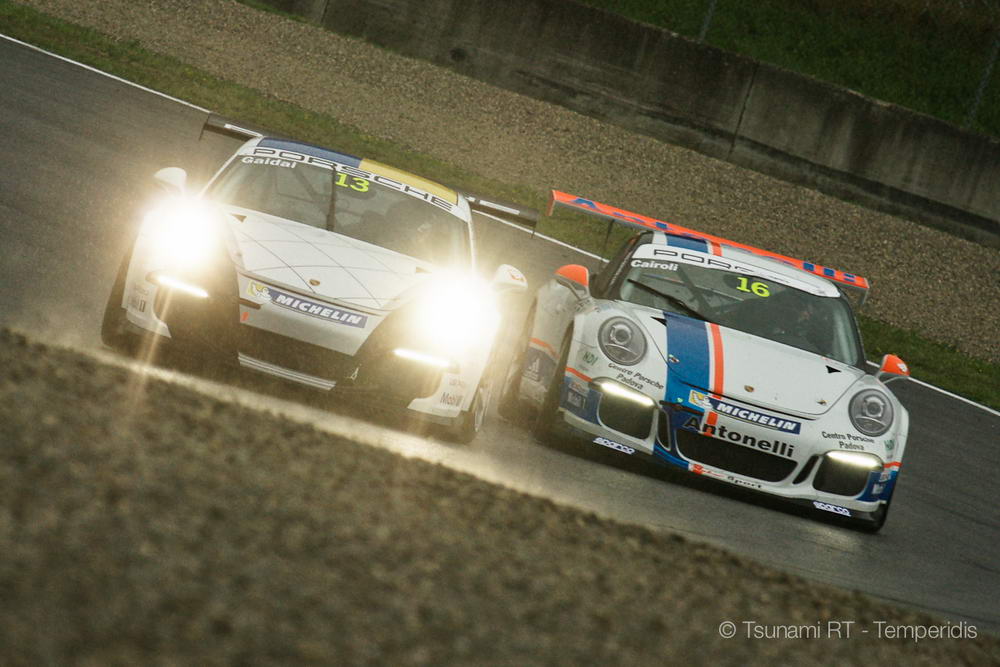 With the enthusiastic announcer's screams, audience's applauses and under the sheeting rain Gaidai won the second place in the overall classification of the race on the slick tires, and it became his first podium in PCCI. From that moment Oleksandr will be welcomed to comment any rain races in Porsche Cups as an expert. In truth, he would repeat this unique show (on slick tires under the rain) in Le Mans and would celebrate his victory... But we must stop here, it has nothing to do with Mugello.
If we stick to Mugello, we have to mention another unforgettable 45-minute race in 2016, when our driver Côme Ledogar entered into a jam in the very first turn after the start, pinned the radiator and managed to win... with a flat tire!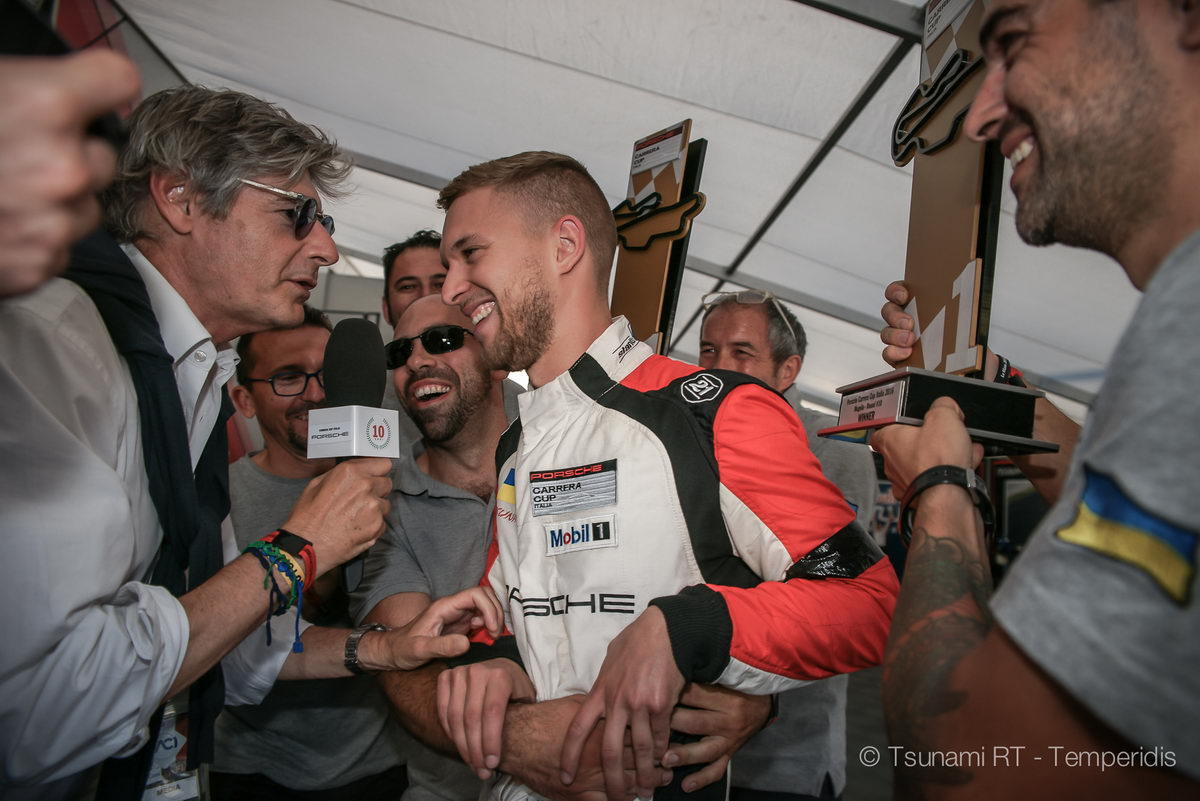 Back to the future now! We will compete on the track in Vallelunga during this season, 32 kilometers from Rome. The autodrome turns 68 this year, and originally it was designed as a classic elliptic track, then loops were added gradually. It resulted into a track where long, smooth and quick turns make a combination with those slow and spun ones. There is a place with a very narrow and tight section, properly a double "hairpin" with the change to the opposite directions.
Autodromo Vallelunga Piero Taruffi
Built: 1959
Last modification: 2004
Lap length: 4.085 km
Direction: clockwise
Turns: 10
Best lap time: 1:12.80 (Anthony Davidson, Honda RA 106-02 F1, 2006)
The Vallelunga track was the debut one for Oleksandr Gaidai in Italy: that was the place he was driving a "battle" Porsche for the first time in 2010. In 2011 on this track the Tsunami RT crew of Gaidai-Basov-Kruhlik finished on Porsche 997 GT3 Cup in the "Rome 6 Hour" race with the 12th result in the overall classification and won in GTGT3 class. In a year Oleksandr Gaidai and Rino Mastronardi won the 12th place in overall classification again and won in the Carrera Cup division.
Oleksandr Gaidai also demonstrated there the best lap in his career, already in Porsche Carrera Cup Italia, in 2015. We also remember this bright day in Vallelunga for an astonishing overrun in the manner of Ayrton Senna and Alain Prost. It was performed by Côme Ledogar, and here is how it looked like from the Mattia Drudi's car:
How many bright memories! There is more to come! We are sure that the season of 2019 will grant both us and our fans with unforgettable feelings. The only we need is to wait for the start. How do you think, is it possible that the midseason will come to its end sooner if we turn the calendar pages faster?