Grey clouds overlapping the sky, rain and chillness is how Marco Simoncelli track in Misano met us. Of course, it is not the best way to please the drivers, for whom the more complicated the competition is, the better!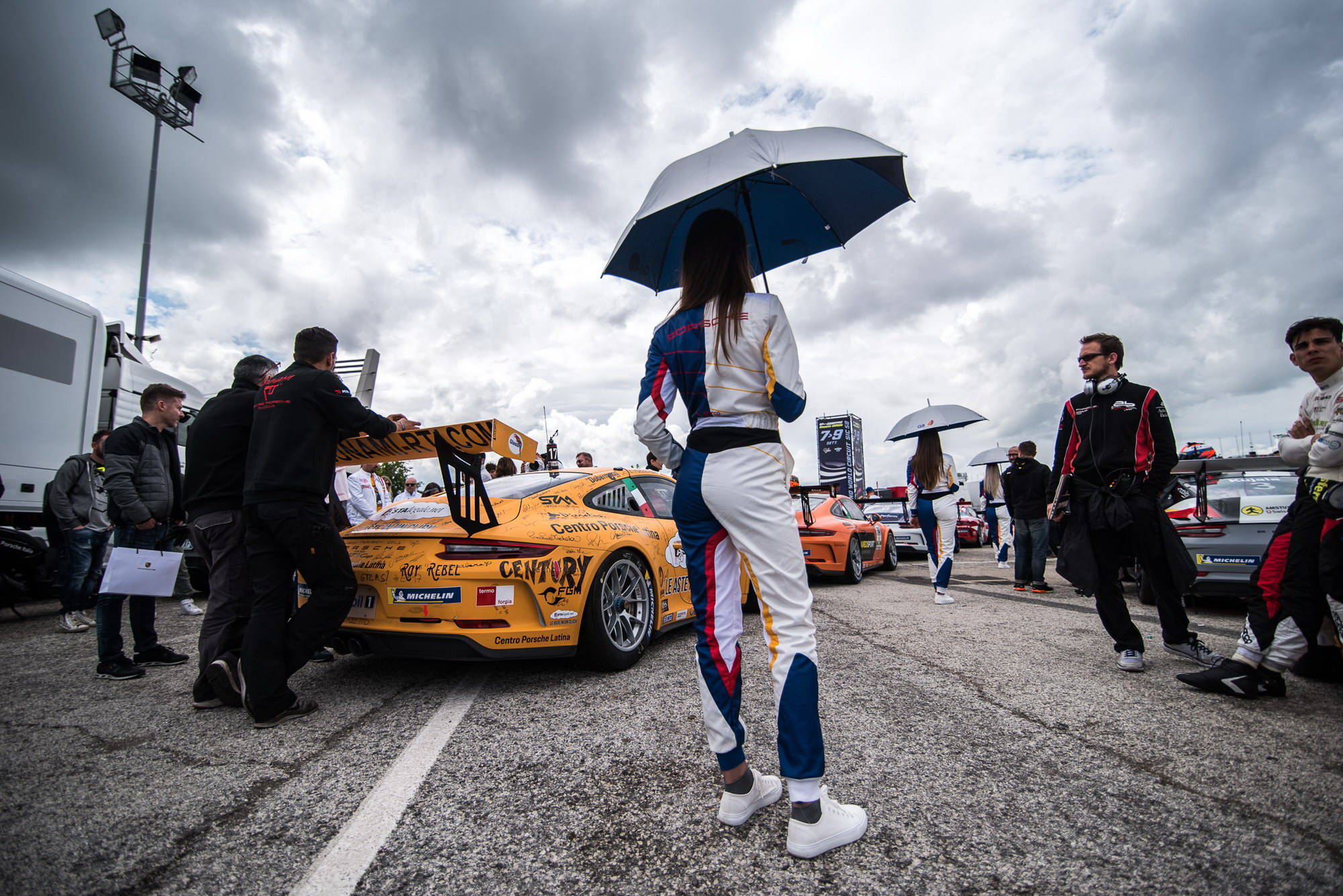 Our drivers' team in Misano was extended to four drivers with the Portuguese racer, Pedro Marreiros, who has not yet competed in Italy and joined Tsunami RT. Of course, he had more work than others during that weekend: have you tried learning and working at the same time? Pedro had to learn the track, familiarize with it and try to show a decent result.

Admittedly, three drivers is a good number too. We had to remind ourselves that already during free practices, where Thomas Nicolle, having flown off the track, damaged his car and became one of the viewers that moved him to tears.

At the same time, Enrico Fulgenzi managed to occupy the first row of the starting grid in the qualification, having given the way to Patrick Kujala, and Alex De Giacomi showed a brilliant result and became the fifth (!) in the overall classification having overrun all his competitors from Michelin Cup classification.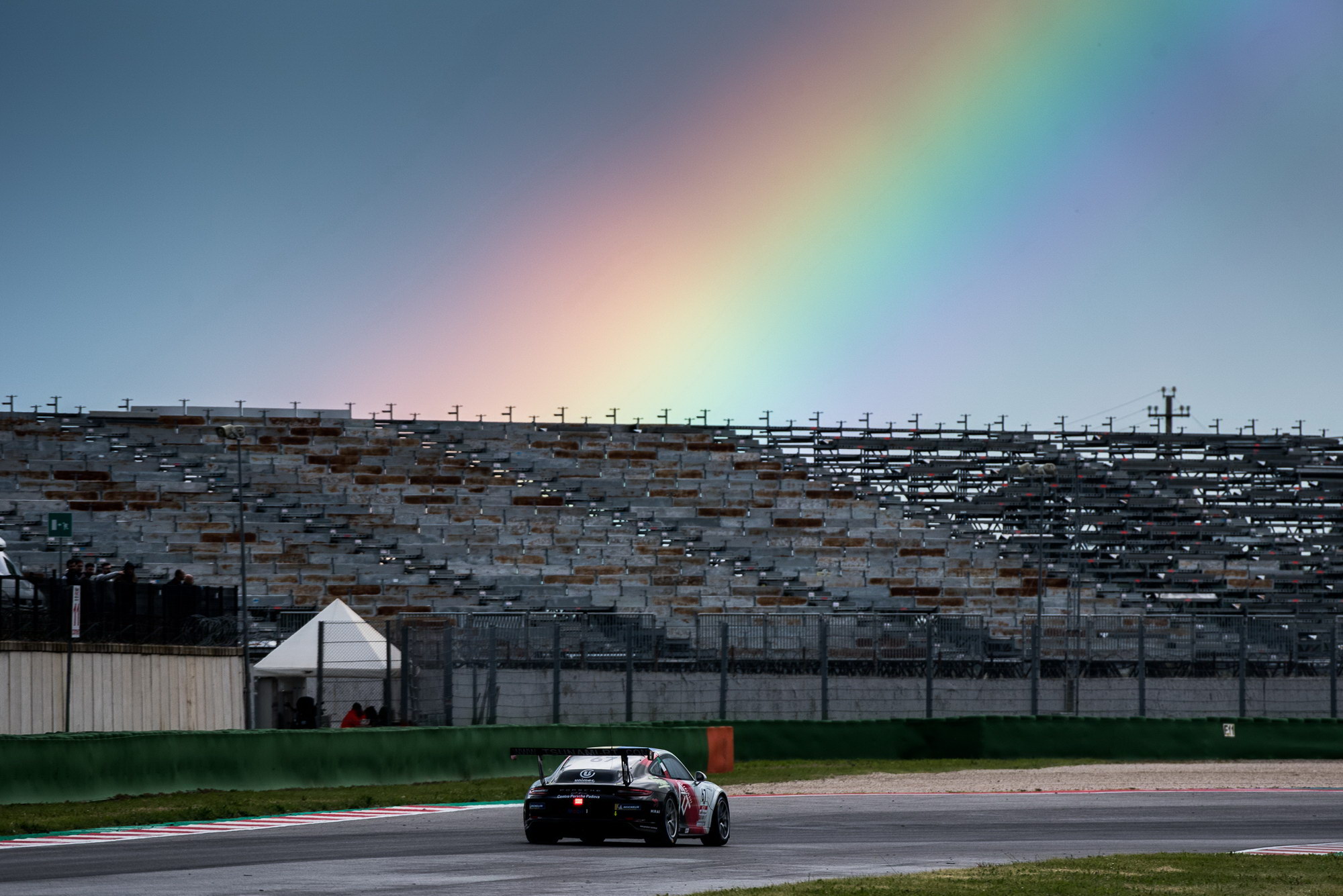 Enrico Fulgenzi(#17): "It was a great wet qualifying session! We catched first row, the car was great and I really enjoy driving in wet conditions. However, I am a little bit upset due to the fact that we could have reached the pole position: during my last flying lap I had my fastest sectors, and I also knew where I could have earned some time because during my best lap I went really wide out of a corner. With a better sector in that part of the track we could have reached a fantastic wet Pole, but we are quite happy even with the 2nd place: we need to think about the Championship, and starting in first row here in Misano is important from that point of view"
Alex De Giacomi (#76): "We started our saturday in a proper way! We still have to maximize the result with Race 1, but at the moment I am really happy. The car works really well in wet conditions, so I am glad even for the team because their commitment is always high and they deserve results like this. Now we have to focus on the Race!"
Pedro Marreiros (#68): "First of all I have to say that I am really happy with the job done by Tsunami RT, the car was very stable even in wet conditions. I keep improving: I am adapting my way of driving due to the ABS, I am learning the track lap by lap. I feel confident, and is good to finish 4th in Silver Cup not so far from the 3rd position. So, I am happy, and I hope for more rain to come during this afternoon: it would be great for me!"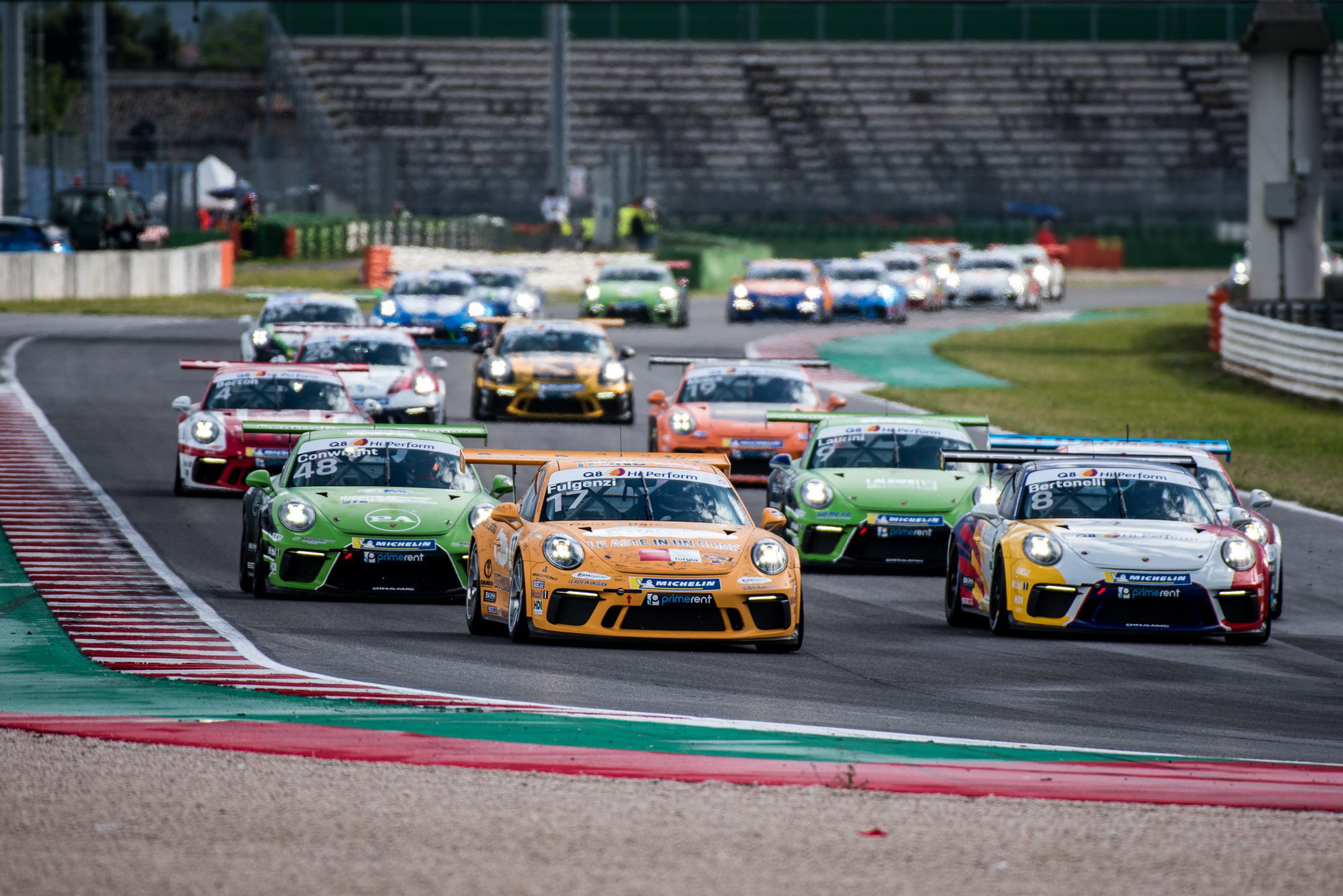 However, something went wrong during the race. The reason was an unpredictable state of the track: part of it was dried out, another part was wet, and it started raining just before the finish...

Enrico Fulgenzi had a great start and became one of the leaders in the very first turn. However, it was not so simple to make away with Patrick Kujala who wanted to be the first so much. Enrico is the second again, but... he keeps loosing positions! The same story is happening with Alex De Giacomi in the middle of the peloton. Have we said "in the middle of the peloton"? Yes, unfortunately, Alex is in the end of top-10 already...

Tommaso Mosca is rushing forward from the seventh starting position. It is always pleasant to watch this guy driving, even if he competes not for Tsunami. He is the fourth already and is attacking Enrico Fulgenzi. Unfortunately, the attack was successful...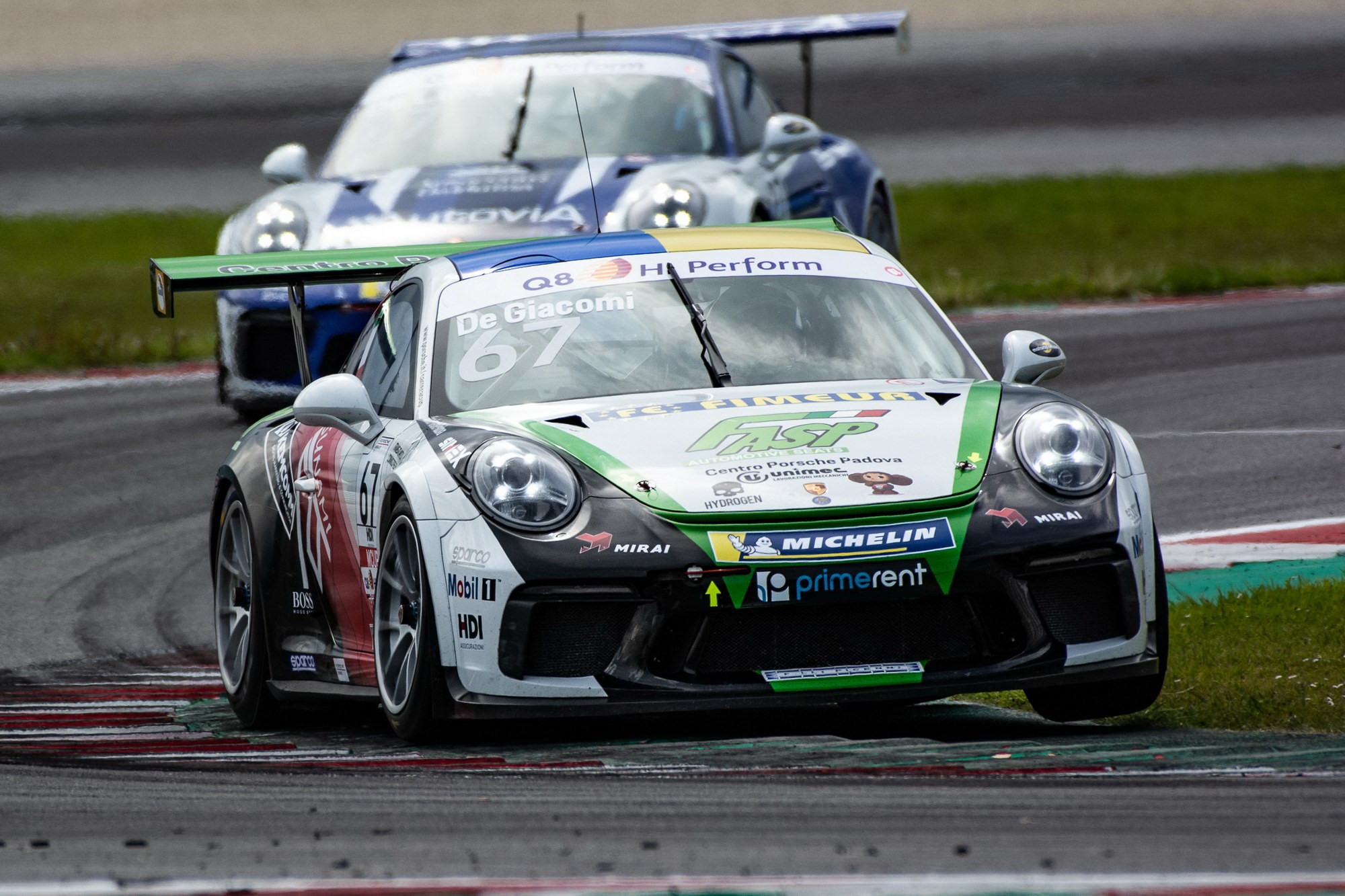 When the half of the race time passed, the situation on the track was as follows:
- Enrico Fulgenzi was on the seventh position with huge time gaps between him and the participants preceding and following him, that meant that our driver would be able to preserve his position, but it was unreal to reach top-6.
- Alex De Giacomi is the third among Michelin Cup drivers, being intensely attacked by the competitors.
- Pedro Marreiros stays in the end of the peloton and makes no mistakes – by the way, it is a great advantage, because other drivers regularly please the viewers with fly-offs, turns and uncontrolled sliding.

Patrick Kujala is the first to pass under the checkered flags. Enrico Fulgenzi is the seventh. Alex De Giacomi rises on the podium as the bronze prize winner in Michelin Cup, however, having considered all the pros and cons, the Stewards exclude Luca Pastorelli from the final classification, catch up with Alex and change his bronze cup to a silver one.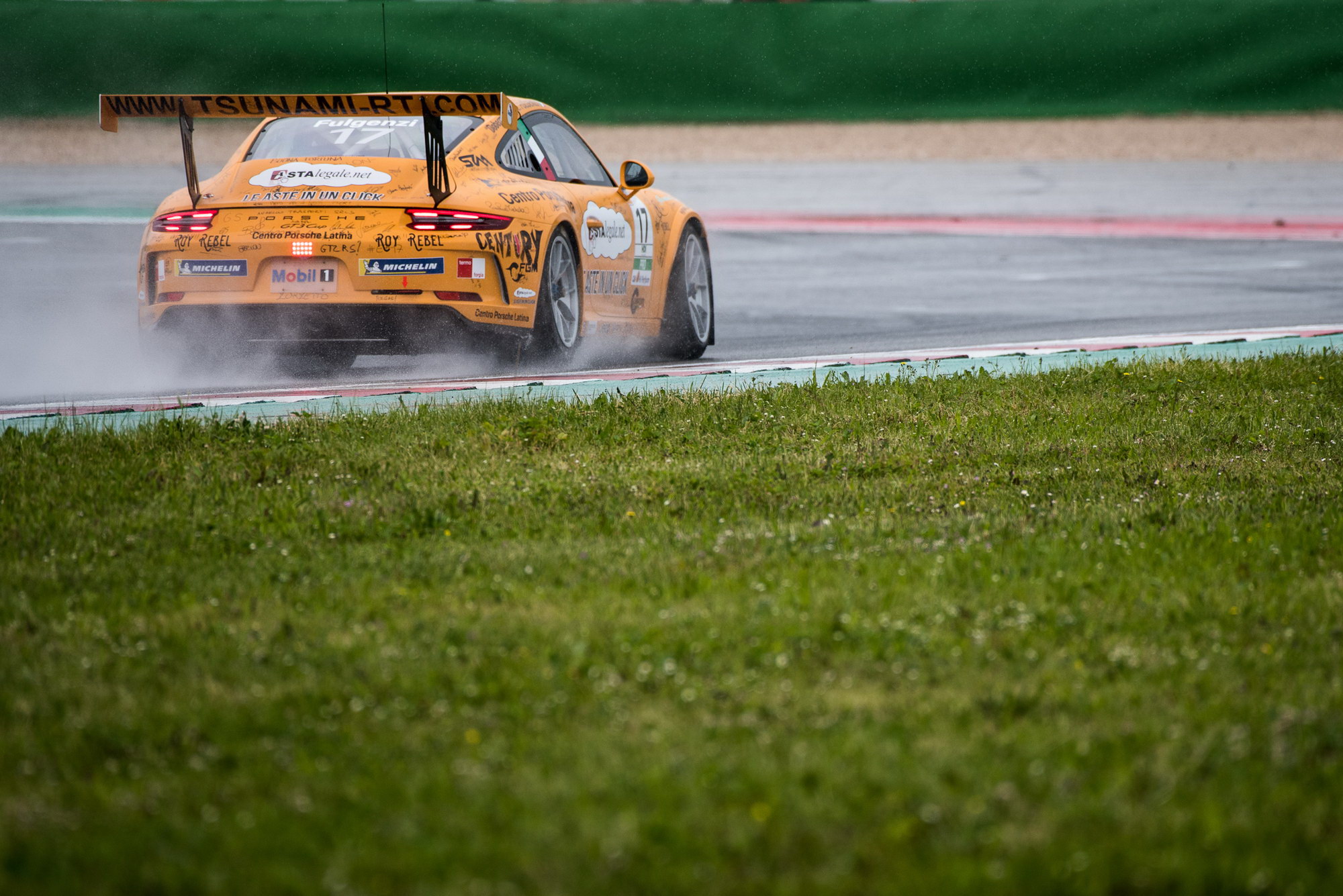 Enrico Fulgenzi (#17): "I had a really good start – I was first after a few metres – but I soon realised that in the dry section of the track I was faster than Kujala, but in the damp part – which remained damp throughout the whole race – I didn't have a good pace and so I couldn't keep the position. Today we were able to finish 7th, and this was our final position. The positive thing is that we maximize our potential today"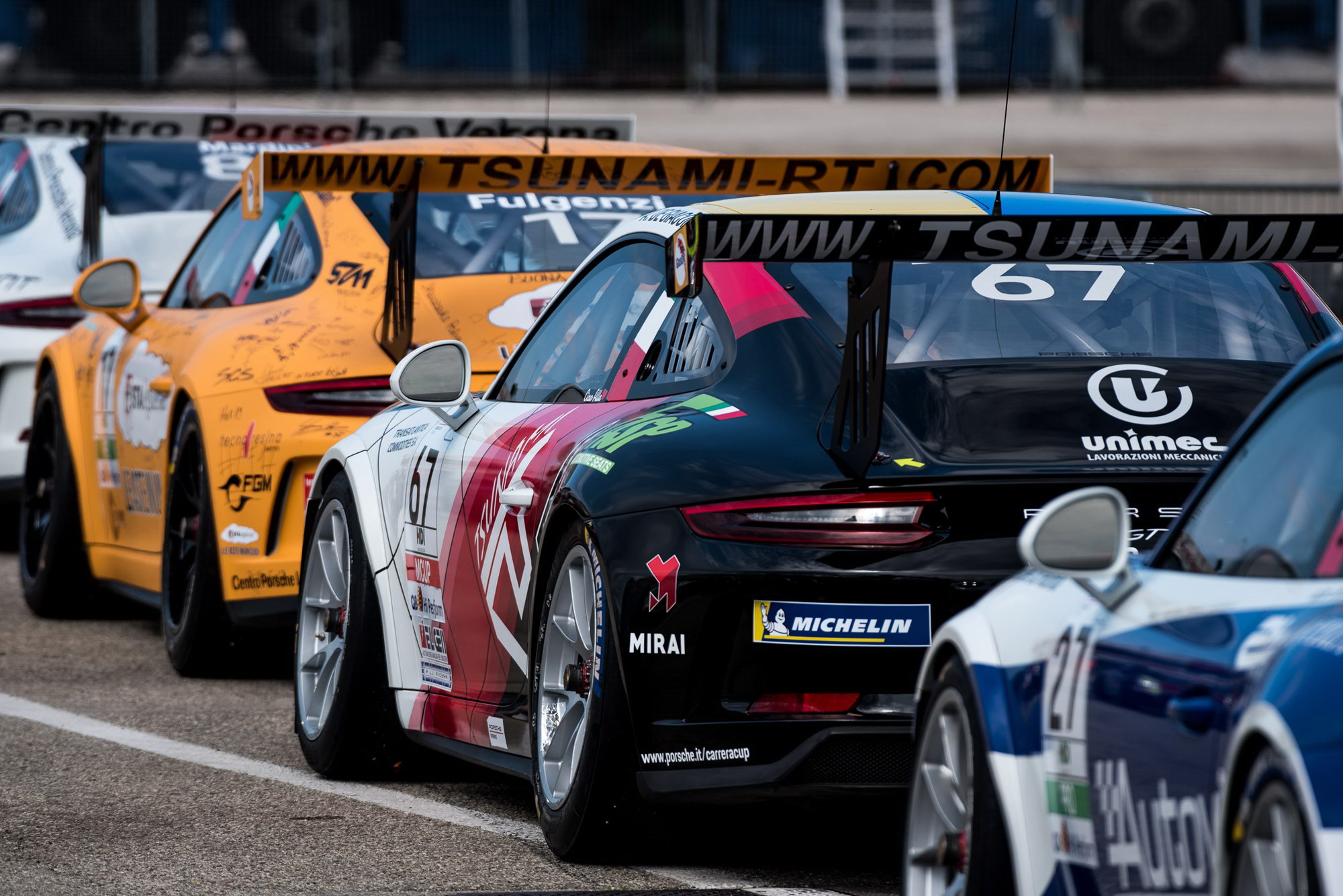 Alex De Giacomi (#67): "That's a pity, because during qualifying we showed that our pace was good. In those situations, where there are dry sections and damp sectors, it's always difficult to find the limit. Today we finished 3rd, but we know that we have the potential to reach higher positions and tomorrow we'll work for it"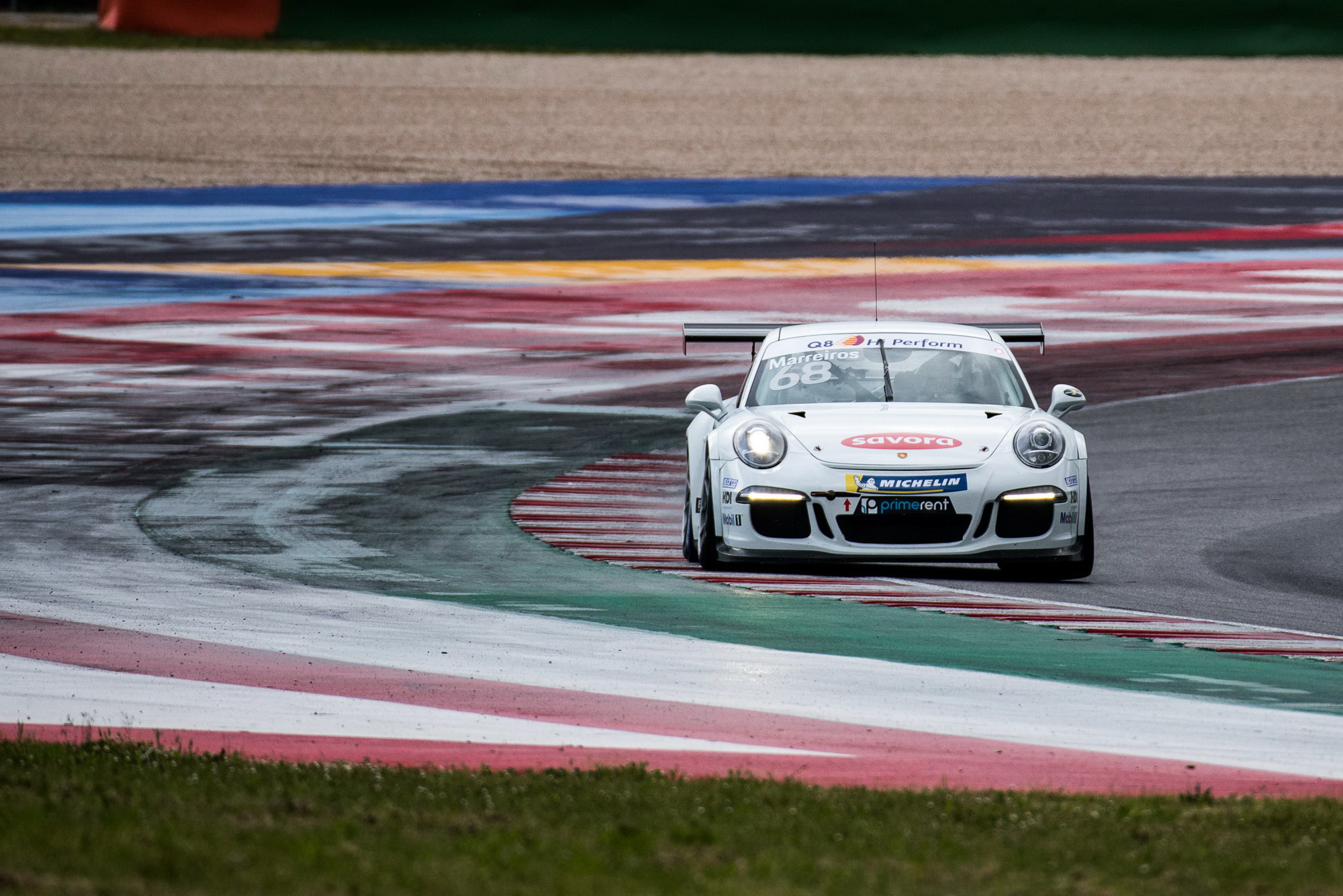 Pedro Marreiros (#68): "It has been the toughest race of my life. It was really difficult for me to drive in those damp conditions. This morning we improved our pace working in the right way, but in the afternoon I don't know what happened".

Porsche Carrera Cup Italia 2019, 2 round. Misano. Race 1.
1. KUJALA Patrick (Bonaldi Motorsport) 17 laps
2. MOSCA Tommaso (Ombra Racing) +0.350
3. CONWRIGHT Jaden (Dinamic Motorsport) +6.800
...
7. FULGENZI Enrico (Tsunami RT) +35.344
...
16. DE GIACOMI Alex (Tsunami RT) +1 lap
...
19. MENDEZ Andrea (Dinamic Motorsport) +1 lap
Michelin Cup
1. CASSARA Marco (Ombra Racing)
2. MERCATALI Niccolo (Malucelli)
3. DE GIACOMI Alex (Tsunami RT)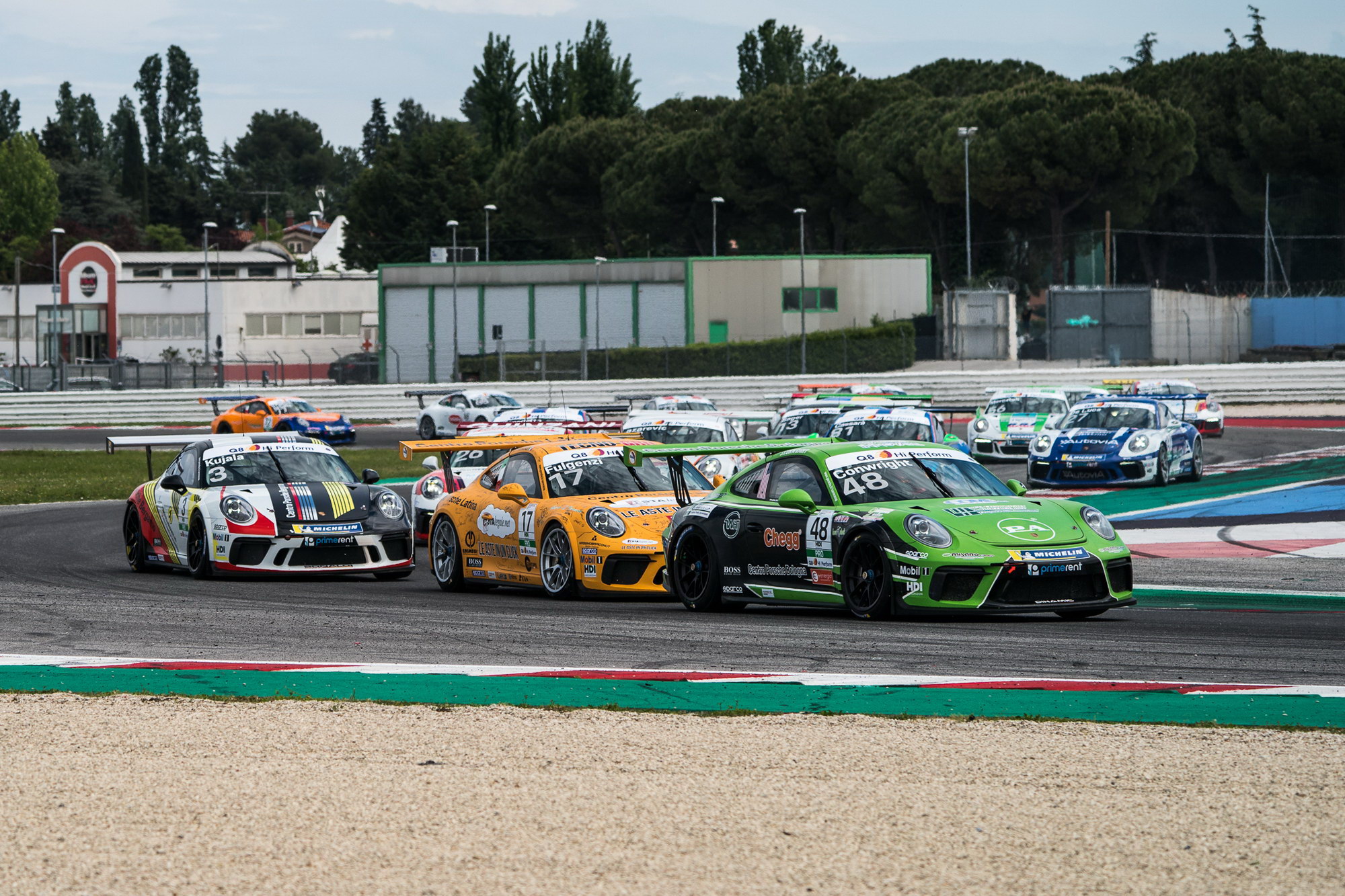 Sunday race perplexed and disappointed Enrico Fulgenzi again. As you remember, on Sunday the first six drivers line up on the starting grid in the reverse order – the winner of the yesterday race starts from the 6th position. It is an efficient and spectacular way to make the viewers happy, and it has been applying in PCCI for several years. Mess, hustle and bedlam are guaranteed in the beginning of the peloton!

However, our driver did not have a chance to be included in the competition. He was reliably protecting his seventh position from invasions of competitors, but the seventh starting position became the finishing one for him.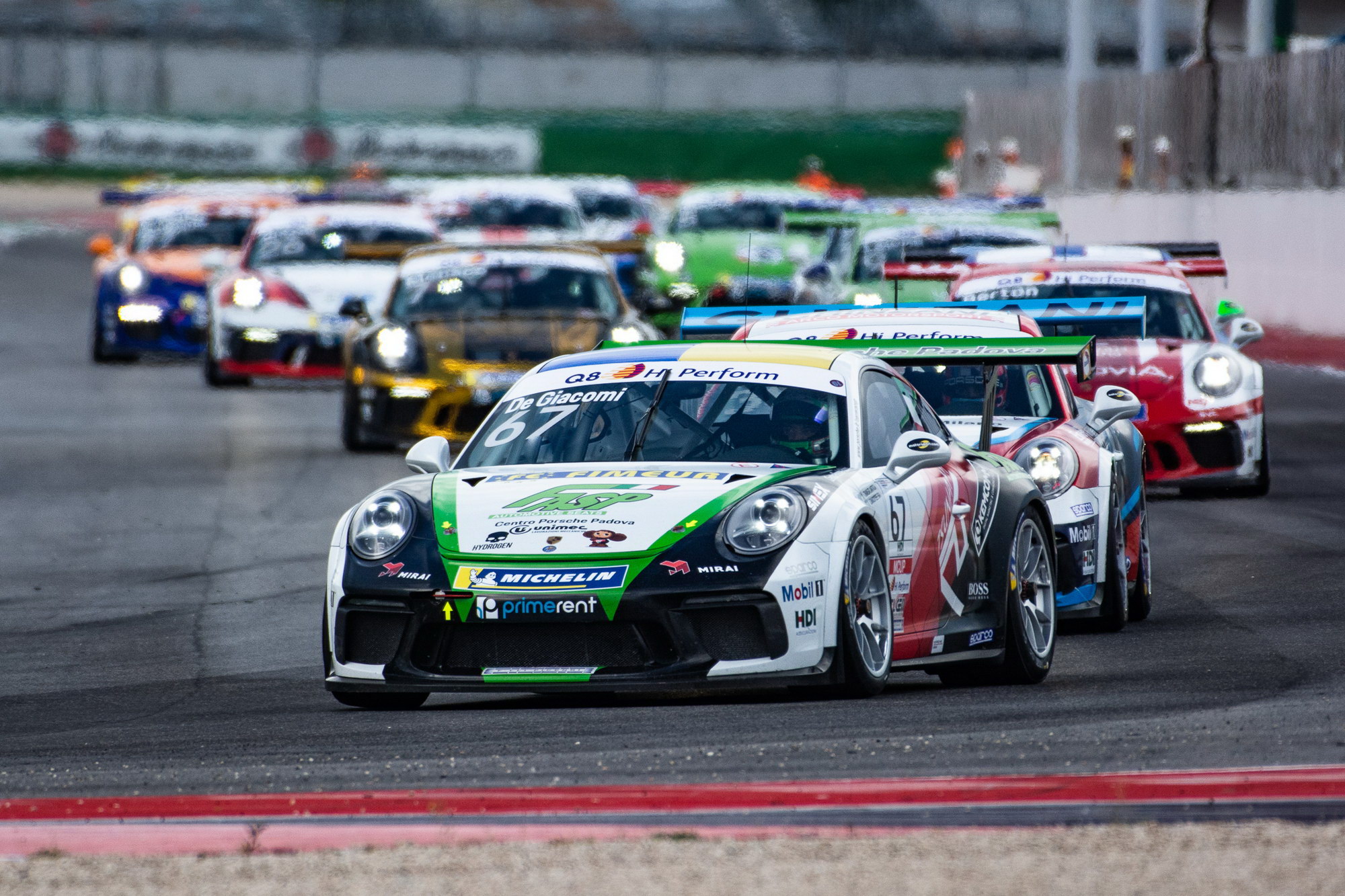 Alex De Giacomi had a tough time: Lodovico Laurini pushed him in the beginning of the race, our driver lost his position and gave way to Bashar Mardini. Alex managed to overrun his Canadian competitor already to the middle of the race and became the second.

8 minutes until the finish, and De Giacomi overran Marco Cassara. He is the first in Michelin Cup now! Come on, hold on!

The peloton is leaded by Simone Iaquinta. Diego Bertonelli and Jaden Conwright perform an astonishing duel during the last lap for the silver in the race won by the Italian driver for literally half a length of the car. New fly-offs, turns and other choreographic elements take place in the middle of the peloton to the delight of the audience.

Here is the finish! Alex De Giacomi is the winner of the Michelin Cup classification!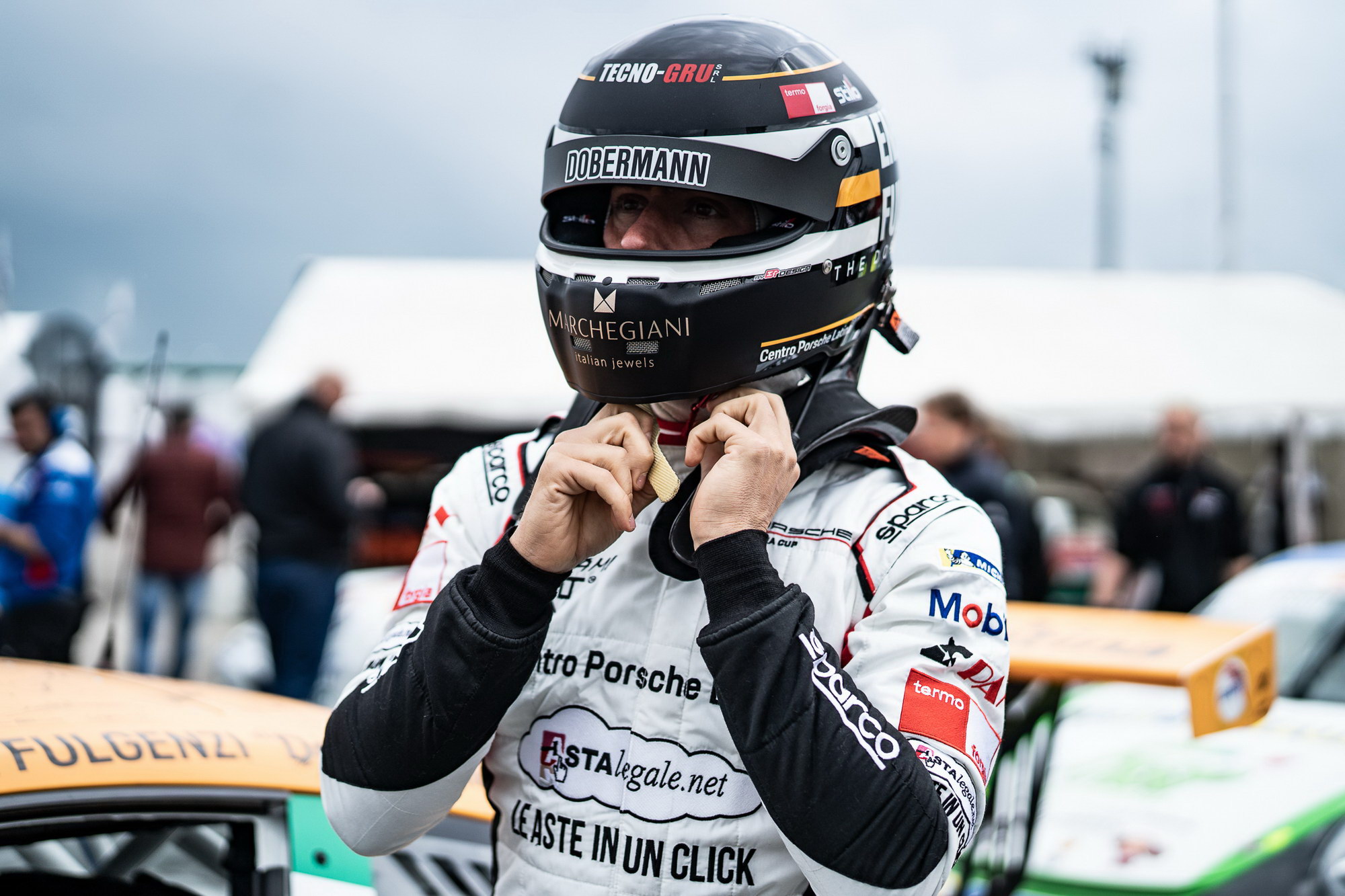 Enrico Fulgenzi (#17): "It was a difficult race, and unfortunately I wasn't fast enough to catch the drivers who were duelling ahead. So far we have showed a great pace during qualifying, where we have gained or Pole or first row, but during the race I'm still struggling a little bit too much in order to get used to the car of Tsunami RT, always enjoyable to drive but slightly different from my previous ones. We leave Misano quite disappointed, but we earned some points and that's positive. We know that we have to work harder, and with our engineers we have already started to find a way to go faster since the very next race in Imola".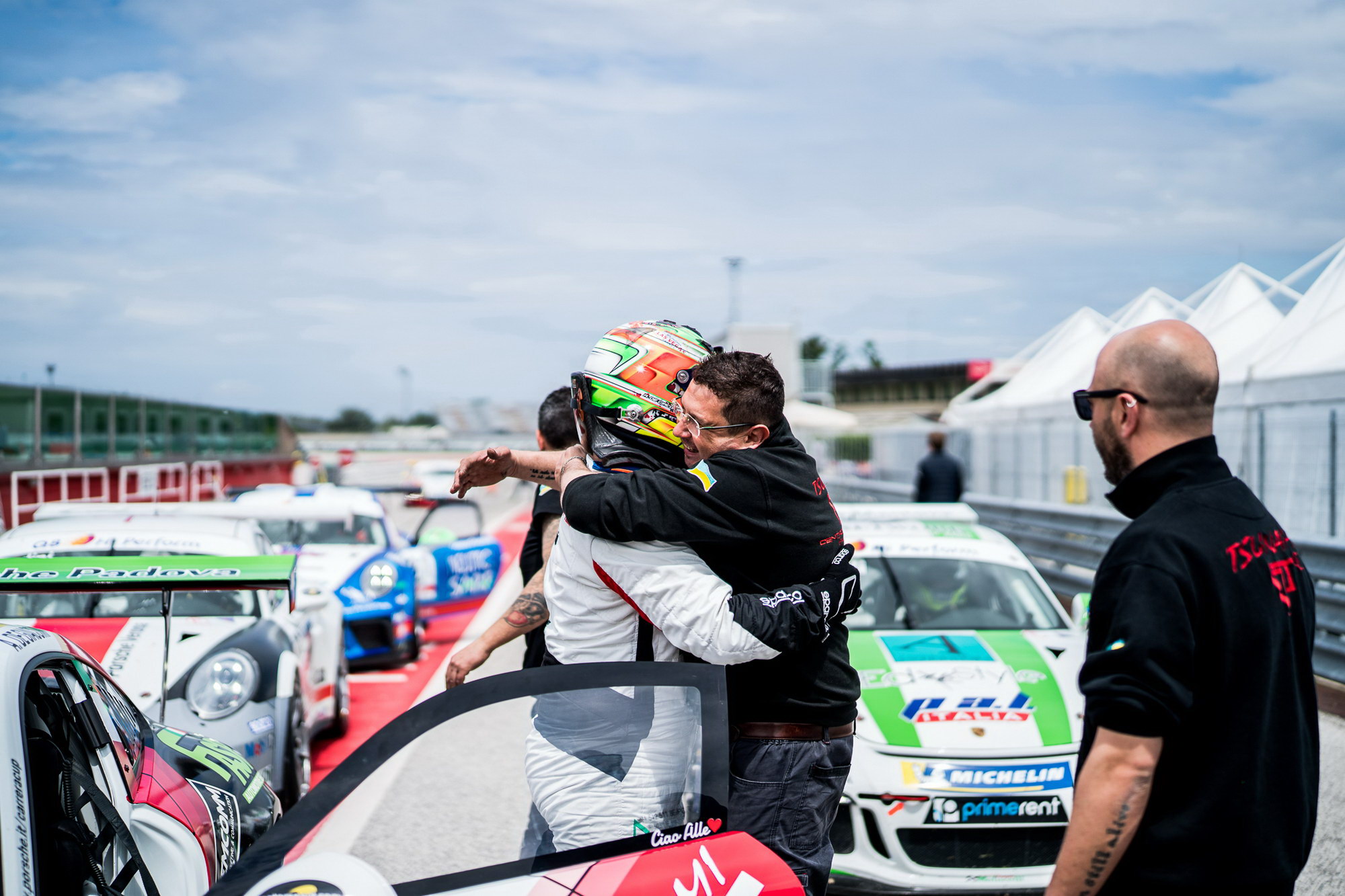 Alex De Giacomi (#67): "Today we have finished where we could have been even yesterday, and we have been able to do this even with a damaged front splitter! During the first lap Laurini hit me, and due to this contact I ended up 3rd in Michelin Cup and I had to do a great comeback. My car was quite difficult to drive due to the damage, but despite that we won and so I am really happy for it!"
Pedro Marreiros (#68): "Things today went well, despite for me even Race 2 has been challenging due to the high level of other drivers. For the third time during the same weekend I had to get used to the track, that was changing with weather conditions: during my last laps with old tires I have been faster than in the first laps with new ones, and that shows how I just needed to practice more here in Misano. I finished 4th, really close to 3rd place, so I'm really happy even I have to admit that I need to improve and that I have to do more tests. I also want to thank Tsunami RT: they are perfectly organised and they work really well, so I'm glad to have raced with them!"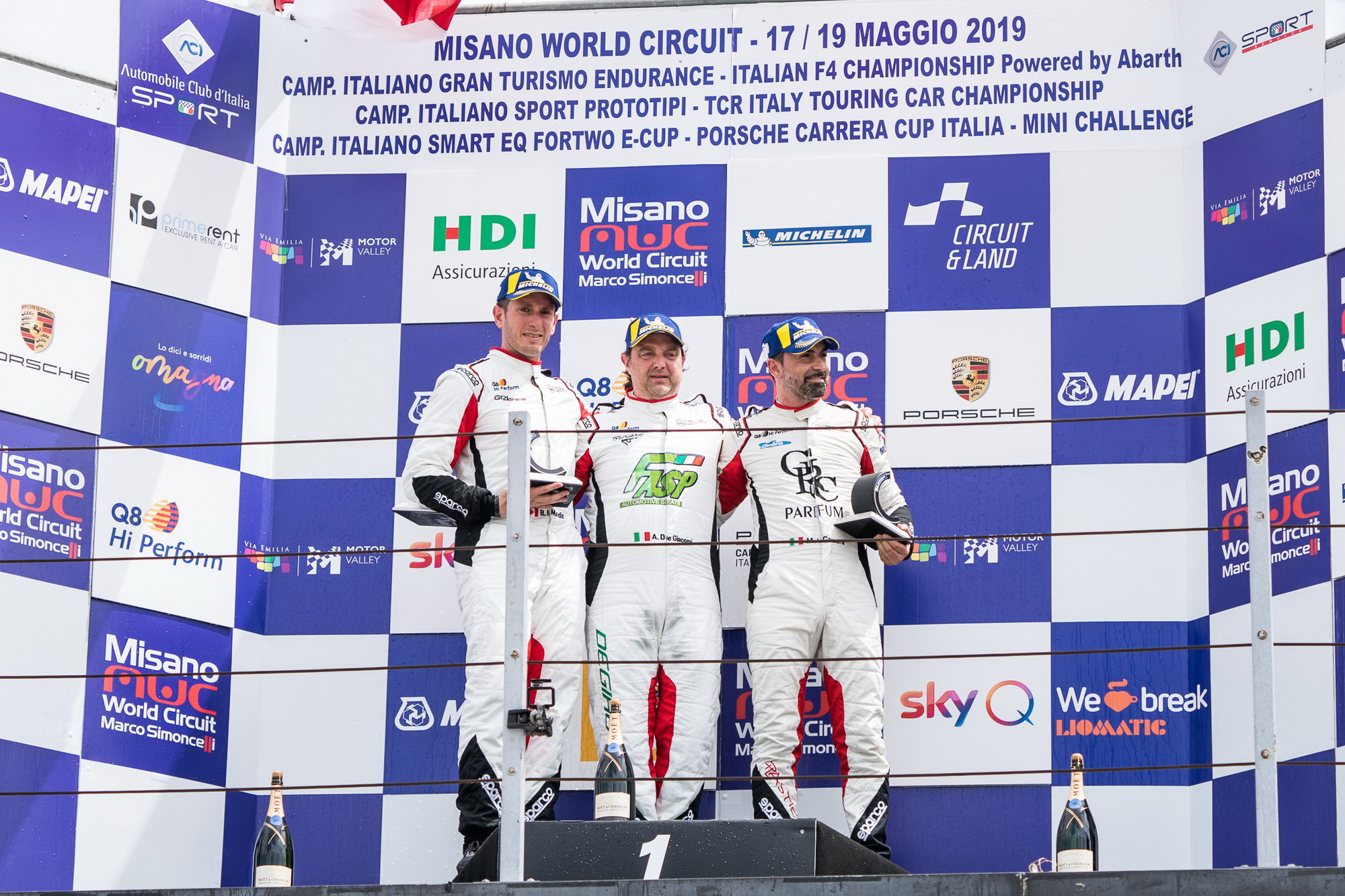 Porsche Carrera Cup Italia 2019, 2 round. Misano. Race 2.
1. IAQUINTA Simone (Ghinzani Arco Motorsport) 18 laps
2. BERTONELLI Diego (Dinamic Motorsport) +5.243
3. CONWRIGHT Jaden (Dinamic Motorsport) +5.487
...
7. FULGENZI Enrico (Tsunami RT) +12.914
...
14. DE GIACOMI Alex (Tsunami RT) +37.053
...
23. MARREIROS Pedro (Tsunami RT) +1'34.645
Michelin Cup
1. DE GIACOMI Alex (Tsunami RT)
2. MARDINI Bashar (GDL Racing)
3. CASSARA Marco (Ombra Racing)

There are no long periods of bad weather in Italy. The Sun is shining brightly somewhere over the clouds, casting glares on the golden cups of the winners. Our cups, present and future ones, are also there. Good weather will certainly come here. And then... Then there will be a new start!