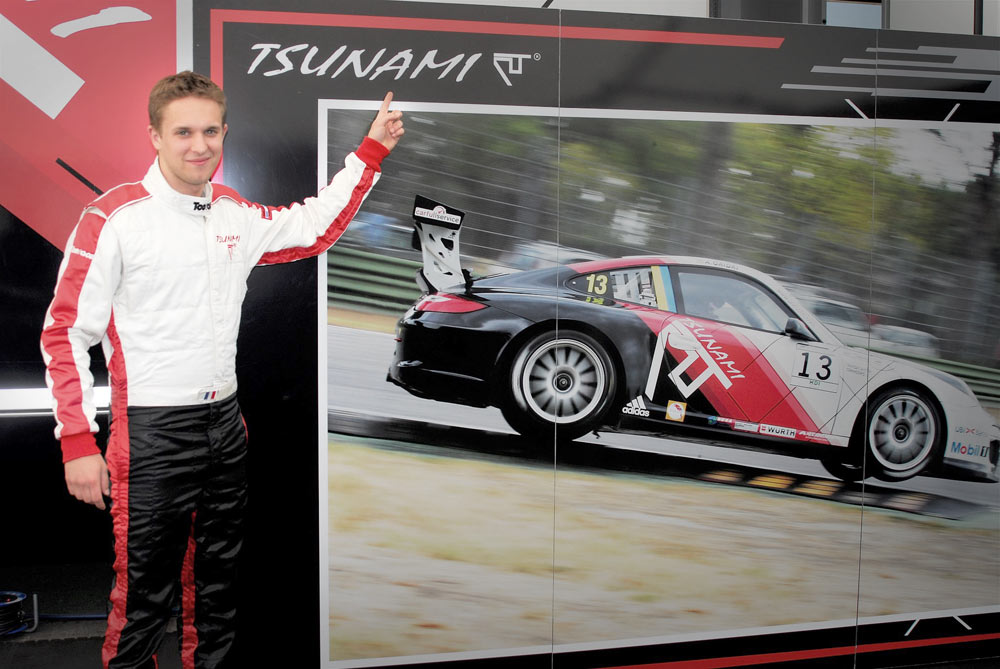 To know a man better one should talk to him. Thus, Tsunami RT asked our new driver Côme Ledogar ten questions.
1. Every little boy dreams of becoming a racing driver. If you were not a driver, who would you become?
C.L.: A codriver. I've dreamed of motorsport as long as I can remember.
2. Does a driver need any other sports activities beyond motorsport?
C.L.: Yes, for sure. We do fitness and training to be ready for the moment to jump in the car.
3. What car do you drive in your ordinary life?
C.L.: BMW.
4. The success on the track consists of the following: the driver, the car, the team and luck. Can you tell the percentage of every point?
C.L.: Driver is 45%, team is 45% and the luck is maybe 10%. If everything is ready, if you drive all winter and you prepare then the luck comes easier. The luck is not a thing you must think about. You just don't need the luck.
5. What was the most remembered podium in your career?
C.L.: It was my first win in single seater in Formula 4 in 2008 in Magny Cours.
6. And what was your most humiliating fail?
C.L.: Oh… I prefer not to think much about it.
7. Your favourite racing track?
C.L.: It's Imola. It's a kind of track… well, when you arrive to a new track, than the first lap is a big sensation to you but after two laps you are not afraid any more. But in Imola every lap is a win, it's so hard to finish it, it's dangerous and very impressive.
8. What kinds of motorsport do you watch on TV?
C.L.: I'm in motorsport almost every week and focus on it. I've got no time to watch motorsport on TV. But if to speak about other sports – I like foolball very much though I haven't much time to watch it.
9. Do you have any superstition to get the racing luck?
C.L.: Nothing superstitional, but I really like when everything is right, when all the team works – it's important.
10. You've worked with many racing teams. What seemed unusual to you in Tsunami RT?
C.L.: In Tsunami everybody has his job and knows it perfectly – testing the car, communication, media, etc. There is always a right person in the right place. Tsunami doesn't leave the place to anything less professional.