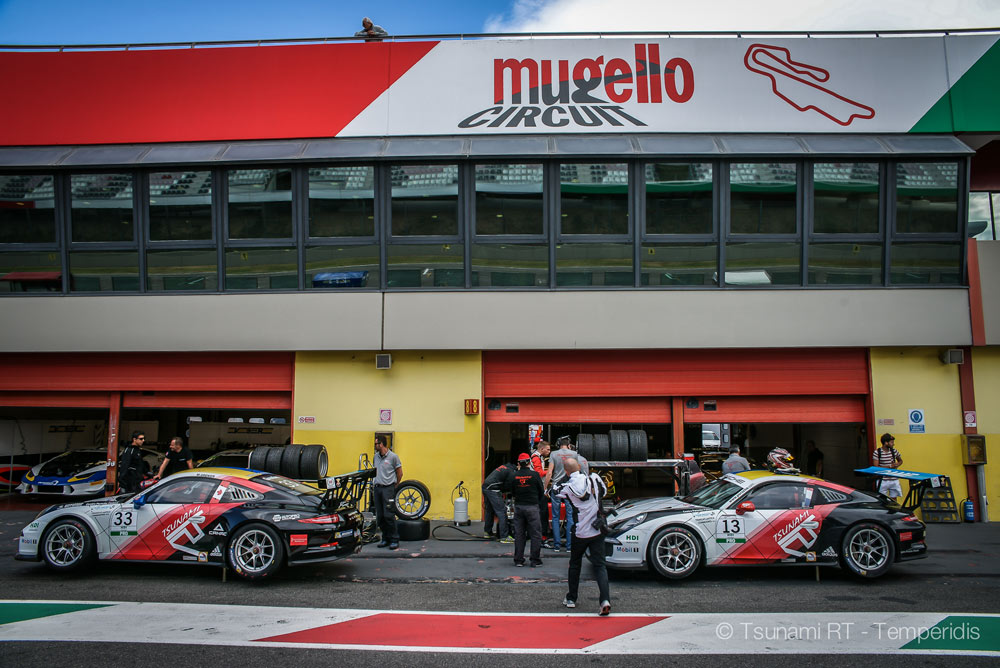 By Irina Boyarskaya
Photo: Akis Temperidis
Car races are very fascinating but require iron nerves, everybody knows that. However, it is Mugello that consistently presents us such twists in the plot that even our experienced team catches at hearts, heads, phones in turn, than at hearts again... Soaring events with a completely unexpected result is the emblem of Porsche Carrera Cup rounds in Mugello, we have no doubts about that!

Tsunami RT Centro Porsche Padova came to the circuit in Toscana with the reduced lineup this time: only Côme Ledogar and Mikael Grenier represented the drivers, and these two were going to struggle for all the four.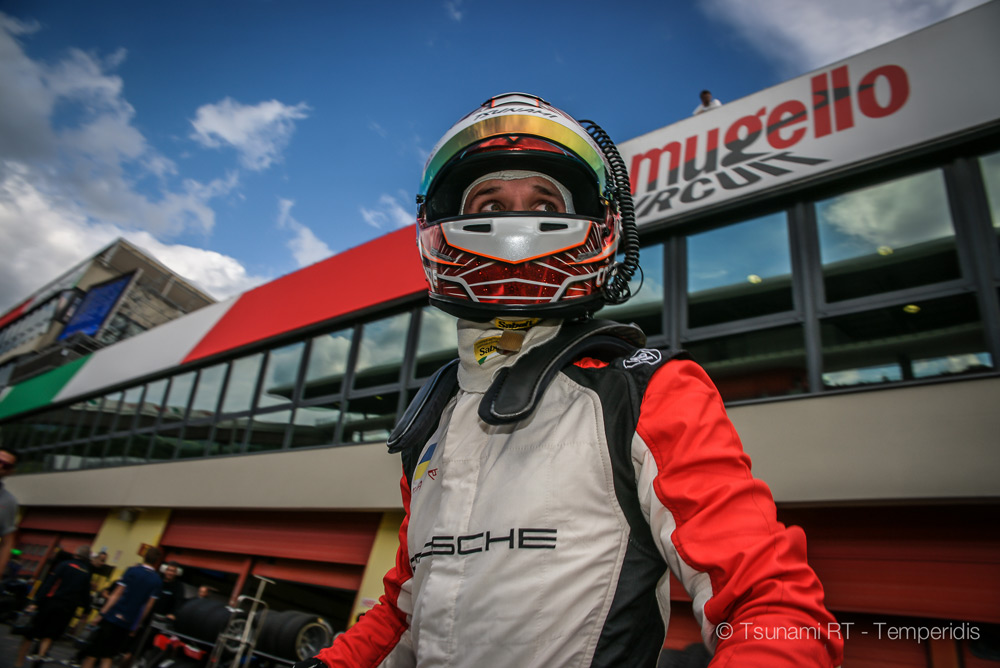 Côme managed to reach three pole positions in two qualifications, for all the weekend races. The competitors were scratching their heads wonderingly, Côme was shrugging his shoulders:

"Simone Iaquinta starts behind me in two Saturday races. But I must not think about those who are behind, I must be interested only in what is in front of me. And it is a free track. So I need just a good start and push hard from start to finish."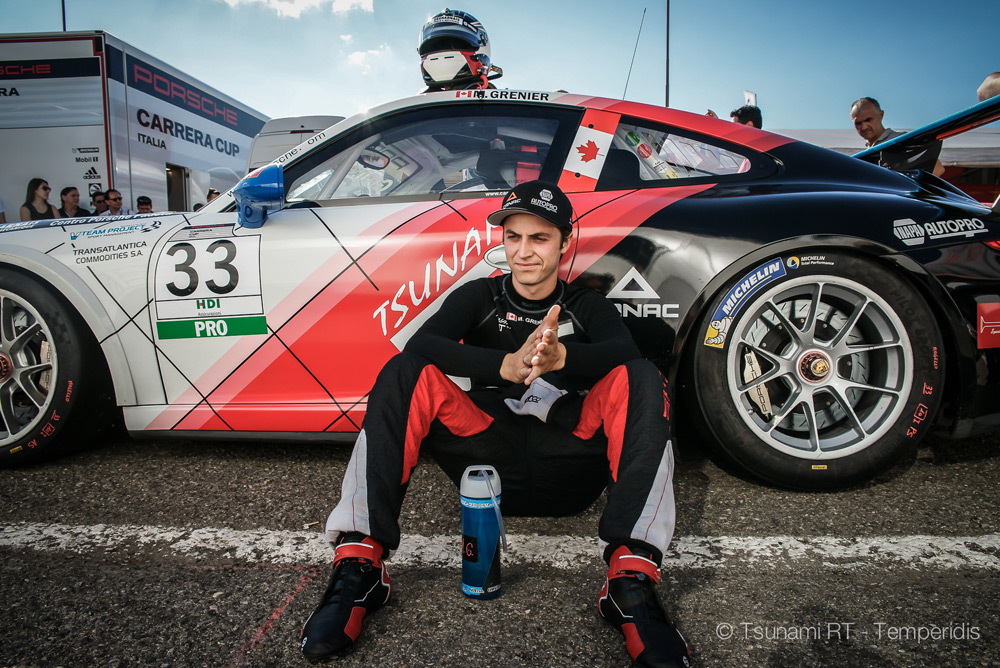 Mikael Grenier earned himself the fifth starting position for the first race, ahead of Mattia Drudi and Alessio Rovera, and the sixth position for the Saturday evening.

The start of the first Saturday race was the last moment when we saw the Côme Ledogar's car on the screens of live broadcasting. Côme drove away from other competitors so quickly and so far that there was no reason to talk about him. All the fight was taking place behind him.
Mattia Drudi, who had started behind Mikael Grenier, burst ahead and tailed Daniele di Amato. Enrico Fulgenzi got into fight with Simone Iaquinta and they began to constantly interchange positions ("Oh, don't say that, not until you pass forward!"). Drudi overran di Amato, and at the moment when Daniele gathered himself up for a return attack, Mikael Grenier unexpectedly materialized in front of him. Di Amato was so disappointed that he flew off the track.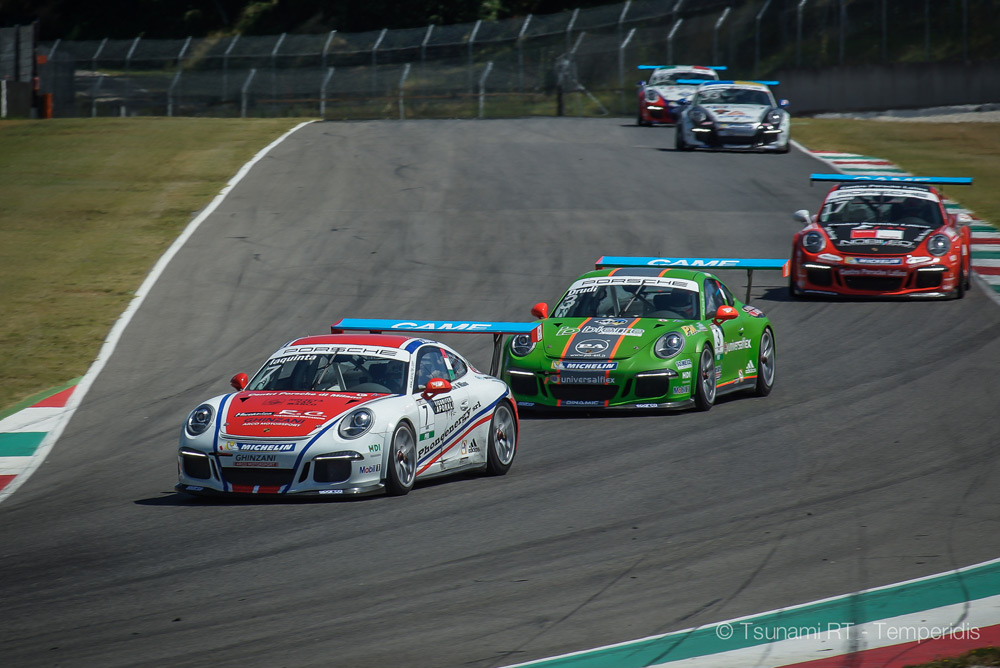 After that Iaquinta and Drudi overran Fulgenzi in peace and harmony and drove towards the finish. However, it revealed that Enrico strongly disagreed with such a situation, so he performed his special maneuver – he just pushed Drudi off the trajectory... and off the bronze podium.

At that moment the cameras switched to the checkered flag, and the broadcasting director was pleasantly surprised by Côme Ledogar driving under.

Tsunami RT celebrated the first victory of the weekend! Mikael Grenier got the points for the fifth place.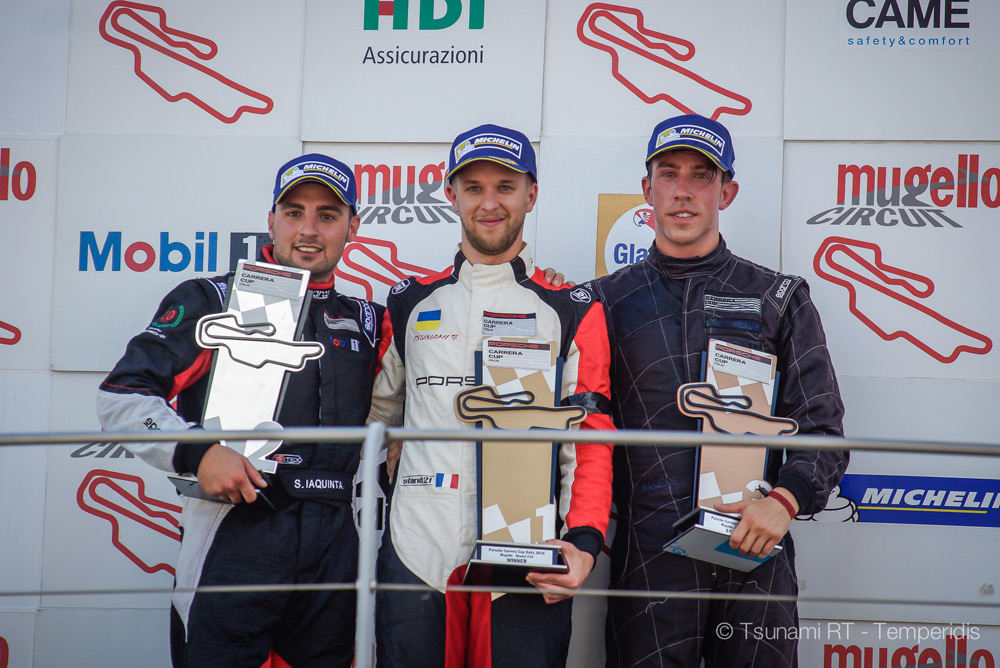 C. Ledogar: "The team prepared a very good car for me, perfectly balanced, so I could drive in a good pace. Was it a work or a pleasure? In fact, both. You know, I'm a lucky guy: my work and pleasure go together. Not always but today it was just this combination".

M. Grenier: "Well my start was not so good so I lost a position from Drudi. I could keep the pace of the group in front of me for the whole race but after my fight with Di Amato where I blocked a wheel on the last corner, I couldn't break as good as before".
Porsche Carrera Cup Italia 2016, round 4, Mugello, 16-17/07/16
Race 1
1. LEDOGAR Côme (Tsunami RT) 14 laps
2. IAQUINTA Simone (Ghinzani Arc) +12.083
3. FULGENZI Enrico (TAM Racing) +12.546
...5. GRENIER Mikael (Tsunami RT) +14.066
...14. PELLEGRINI Marco (Dinamic Motorsport srl) +5 laps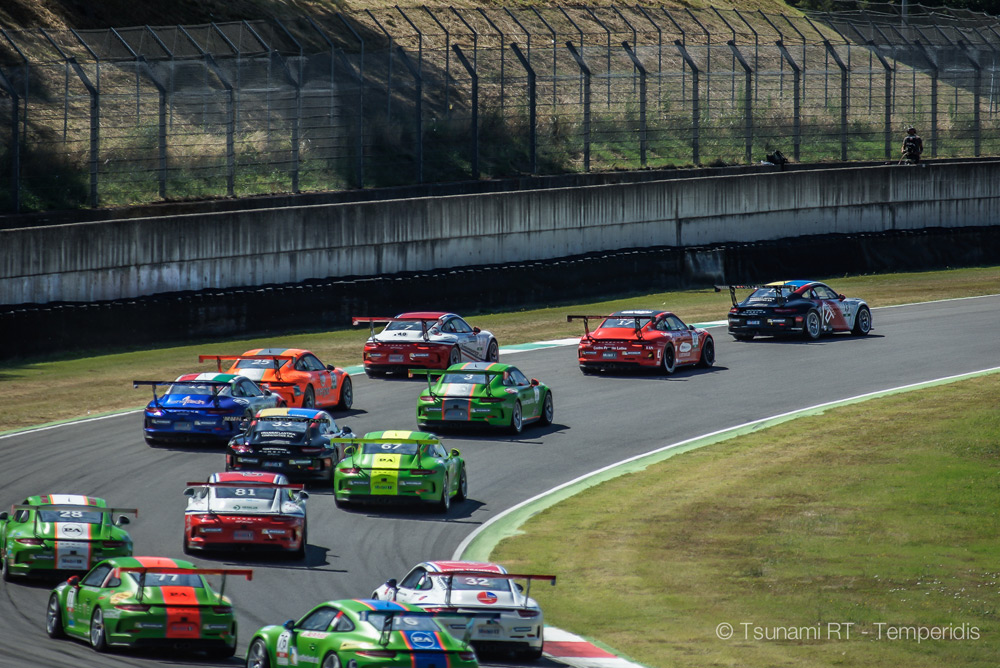 There are many different ways to spend a Saturday evening, but we chose the second race in Mugello. And it was the right thing to do!..

The same scenery as in the morning was played in the beginning of the peloton: Côme drove away, Drudi, Fulgenzi and di Amato were playing leapfrog again. The only difference was that Alessio Rovera joined the company instead of Mikael Grenier. And what was Mikael doing?

M. Grenier: "The start was fine but then on the second or third lap there was crowd in the chicane, people cut the turn and I went out to the gravel. That made it difficult for us..."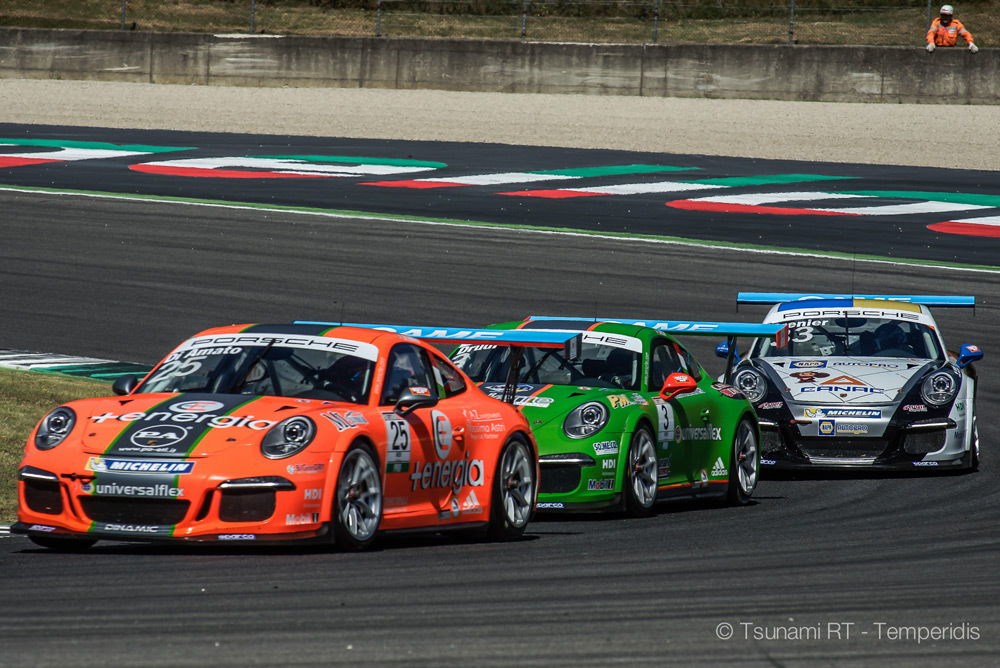 Mikael started the exhausting procedure of overruns. Drudi reached the second position. Fulgenzi overran Daniele di Amato. Di Amato was so disappointed that... he flew off the track again!

And Mikael Grenier was already the sixth, with Eric Scalvini ahead. Mikael was pressing, Scalvini was nervous and began to make mistakes, overbrake, and our Canadian driver became the fifth again.

And Tsunami RT celebrated the second victory of the weekend! Côme Ledogar was unreachable for the competitors again!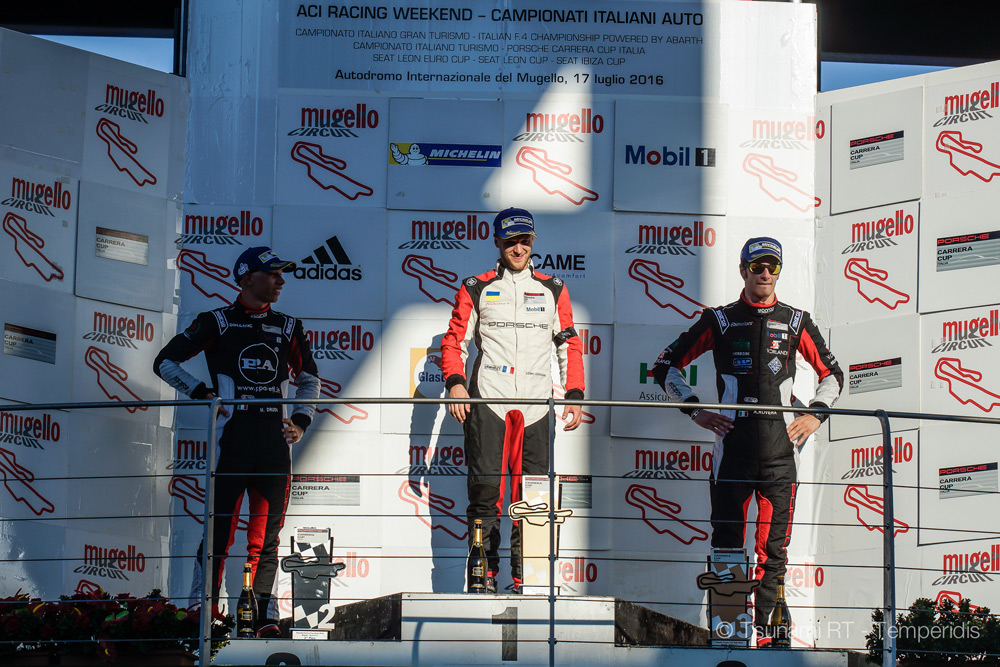 C. Ledogar: "I want to thank all the team for the perfect car. The track conditions changed a lot, there was a lot of gravel and it was not really easy but we won and I am very happy!"

Porsche Carrera Cup Italia 2016, round 4, Mugello, 16-17/07/16
Race 2
1. LEDOGAR Côme (Tsunami RT) 15 laps
2. DRUDI Mattia (Dinamic Motorsport srl) +10.513
3. ROVERA Alessio (Ebimotors srl) +11.055
...5. GRENIER Mikael (Tsunami RT) +19.119
...14. PELLEGRINI Marco (Dinamic Motorsport srl) +1:50.692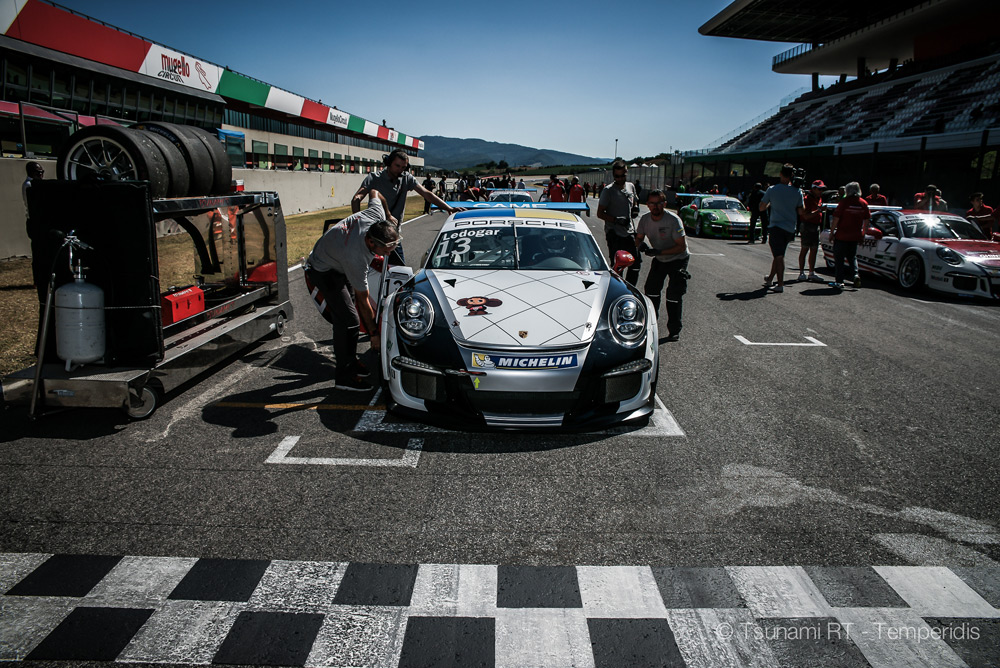 The Sunday race had noticeable differences from its Saturday forerunners. It was 45 minutes long, with the mandatory pit stop in the middle, and our drivers had to spend all the 45 minutes without a change of driver. However, although Côme also started from the pole position that time, the scenery for the Sunday had been written by a different author.

In a tense fight in the very first corner Ledogar broke the radiator. While everybody was watching the stop watch, Côme was using a water-clock: the sound of falling drops measured the time that the engine could function. 45 minutes plus one lap were ahead. There was no possibility to work with the engine during the pit stop... But our French driver still preserved his leadership and was increasing the gap slowly, too slowly, but inevitably.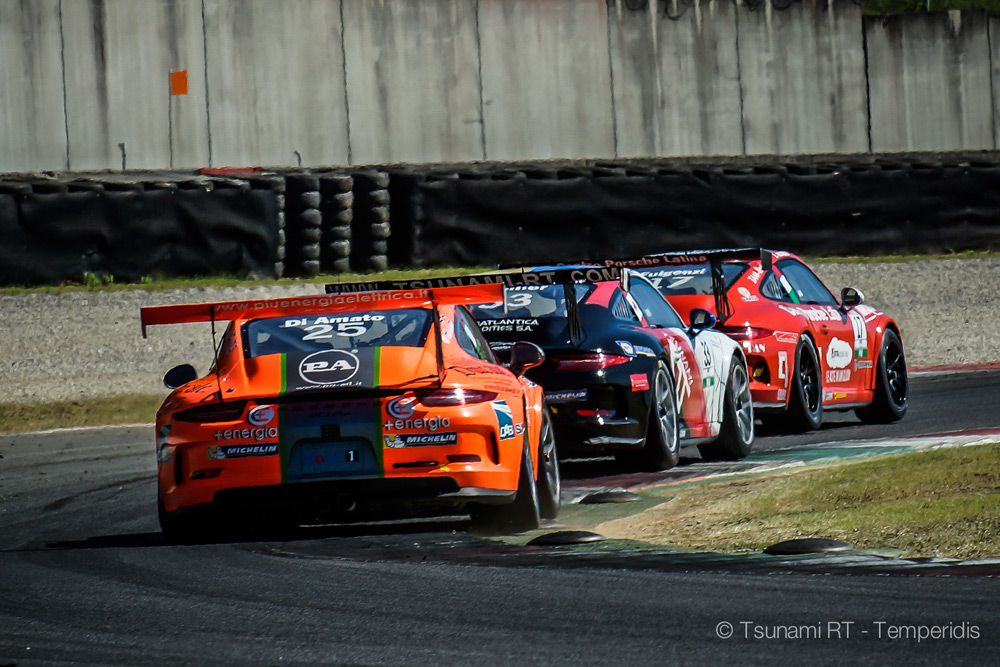 Mikael Grenier managed to keep fighting with Enrico Fulgenzi and simultaneously defend from Daniele di Amato's attacks so clearly and masterfully that it was a real pleasure to watch! More far behind Alessio Rovera collided with Eric Scalvini.

Fulgenzi pulled his favorite trick – that time he poked Simone Iaquinta out and sent him into rotation. Mikael Grenier didn't miss the opportunity and reached the second position! Two Porsches in Tsunami RT colors were leading the peloton!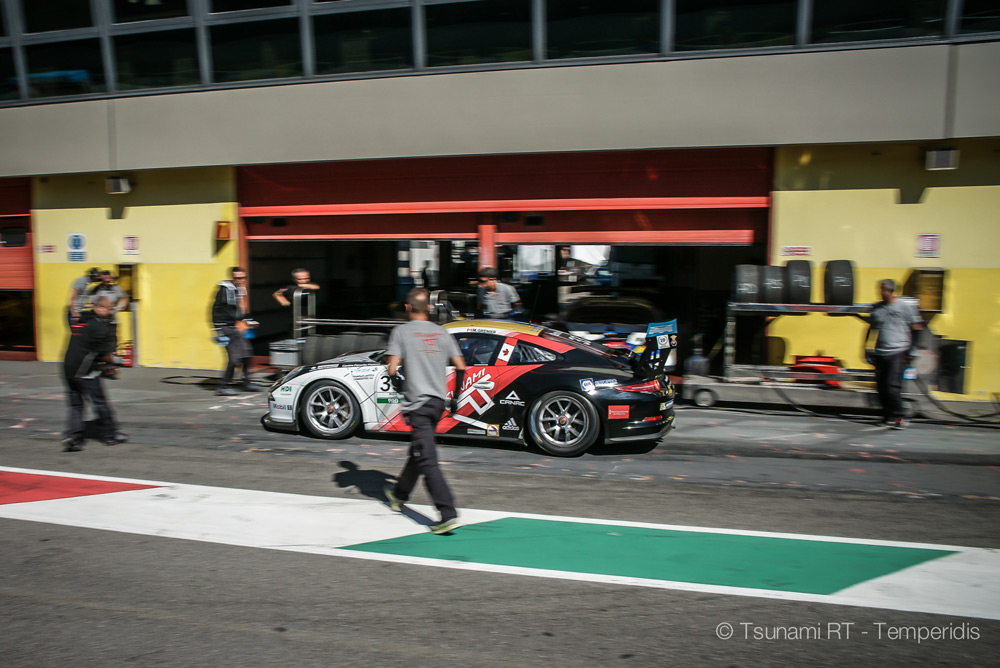 The wave of pit stops began. Côme Ledogar entered the pit lane with 8.9 seconds of leading and left it with the reserve of 15.8 seconds already: the team worked perfectly! The second was Mikael Grenier who would have been attacked gladly by Alessio Rovera, but the latter had to defend himself from Daniele di Amato.

And there we saw Côme Ledogar flying off onto the gravel, stayed there for rather long time and returned on the track only after that: he was still leading but 10 seconds vanished into thin air...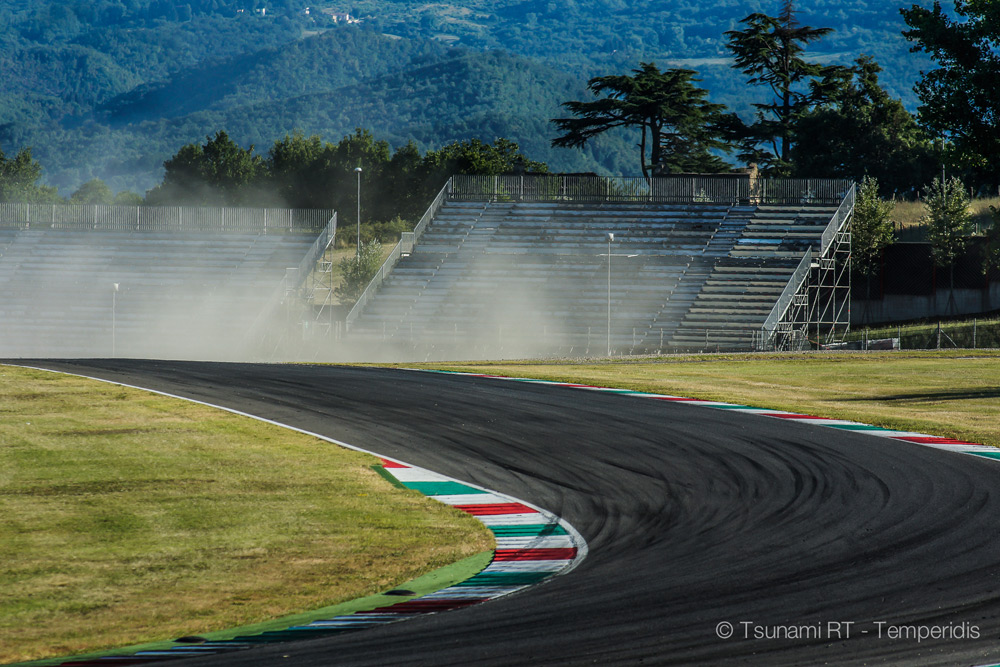 C. Ledogar: "The water from the radiator was running on the wheel, and it was slippery all the time. And I blocked the wheels in one of the turns..."

Daniele di Amato kept attacking Alessio Rovera, but having understood that he couldn't do that... yes, you got it right: he was so disappointed that he flew off the track!

We should say that it wasn't the right moment: Rovera instantly got stuck to Mikael Grenier, and the Canadian was not only fighting for the silver medal but also defending Côme Ledogar with his damaged car from attacks. There were about 4 minutes left...

That was the moment of utter pressure when you forgot how to breathe watching bright beautiful cars ripping on the Toscana track, when the two drivers of our team were leading, when two laps... one lap separated you from the brilliant double.

(Pay attention that at that moment we did not know that Côme was already driving on the punctured wheel!!!)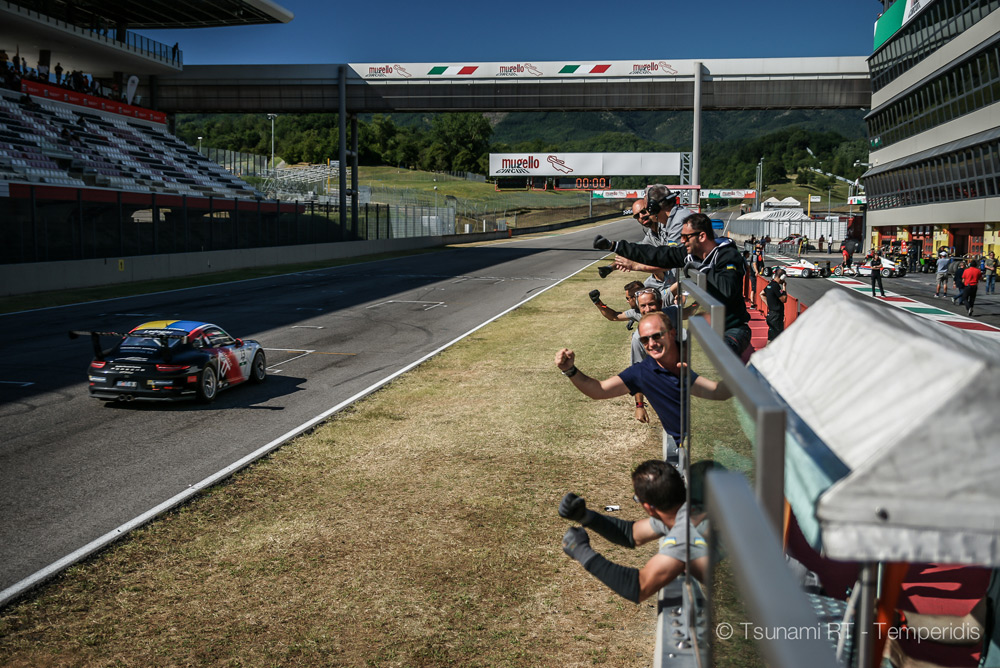 Côme Ledogar was the first to cross the finish line followed by Mikael Grenier!

And here Mugello presented us a surprise. Both Tsunami RT drivers were penalized with 5 seconds for the pit stop rules violation...

Alessio Rovera raised on the golden podium. Côme obtained the cup for the second place, and Mikael Grenier was beyond the prize podium with his fourth position...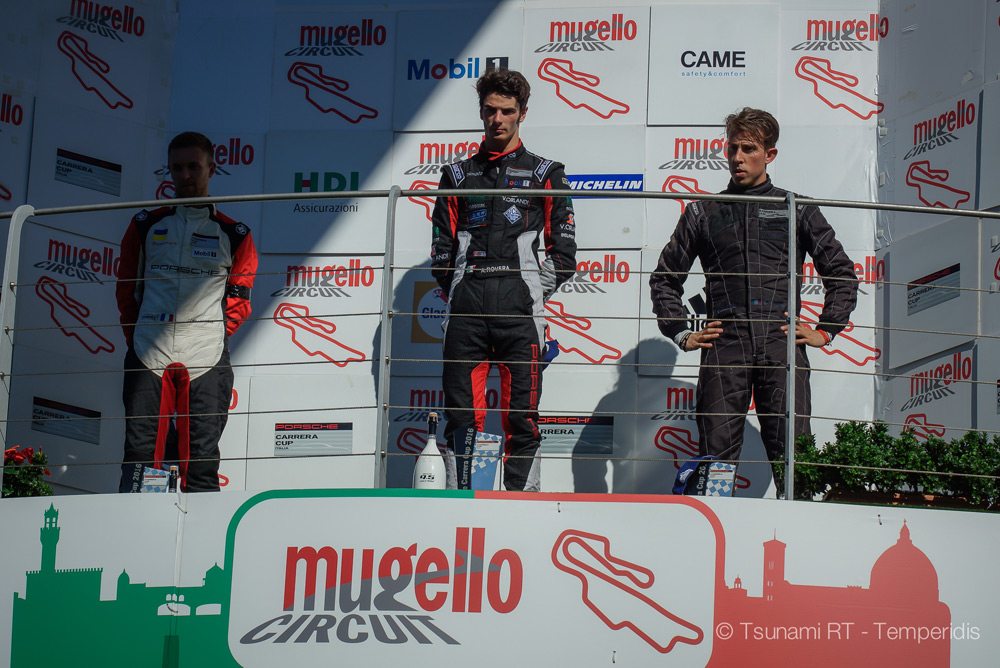 While Tsunami RT was coping up with the misfortune...

Mugello presented one more surprise!

Alessio Rovera was penalized for the collision with Eric Scalvini (do you remember the episode in the beginning of the Sunday race?). So, Côme got his deserved victory back, and Mikael Grenier obtained his bronze cup!

Three races. Three victories. Four prize cups. Five millions of nerve cells. Its the arithmetic of Mugello. Let us pack and leave the circuit. Enough surprises for today...
Porsche Carrera Cup Italia 2016, round 4, Mugello, 16-17/07/16
Race 3
1. LEDOGAR Côme (Tsunami RT) 24 laps
2. FULGENZI Enrico (TAM Racing) +0.218
3. GRENIER Mikael (Tsunami RT) +3.729
...12. DRUDI Mattia (Dinamic Motorsport srl) +8 laps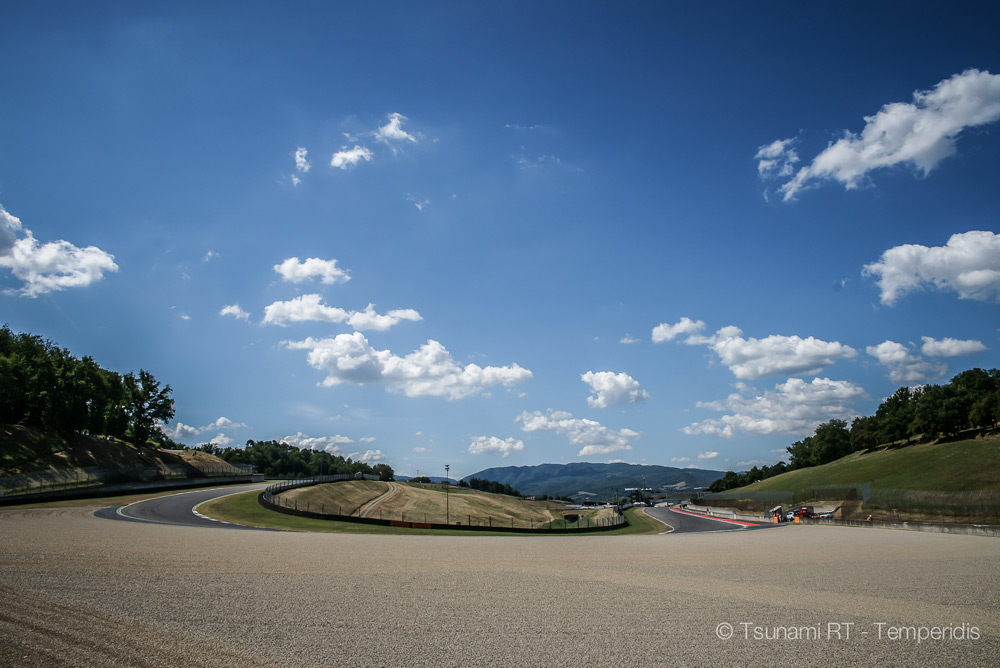 There is a pause until September in Porsche Carrera Cup Italia. It will be enough to subdue our jitters in hands, cure a nervous tic, stop tossing and begin to miss the races again. How can we not miss them? Where can you get such a flood of impressions in one weekend?!
Photogallery of 4th round of Porsche Carrera Cup Italia>>>