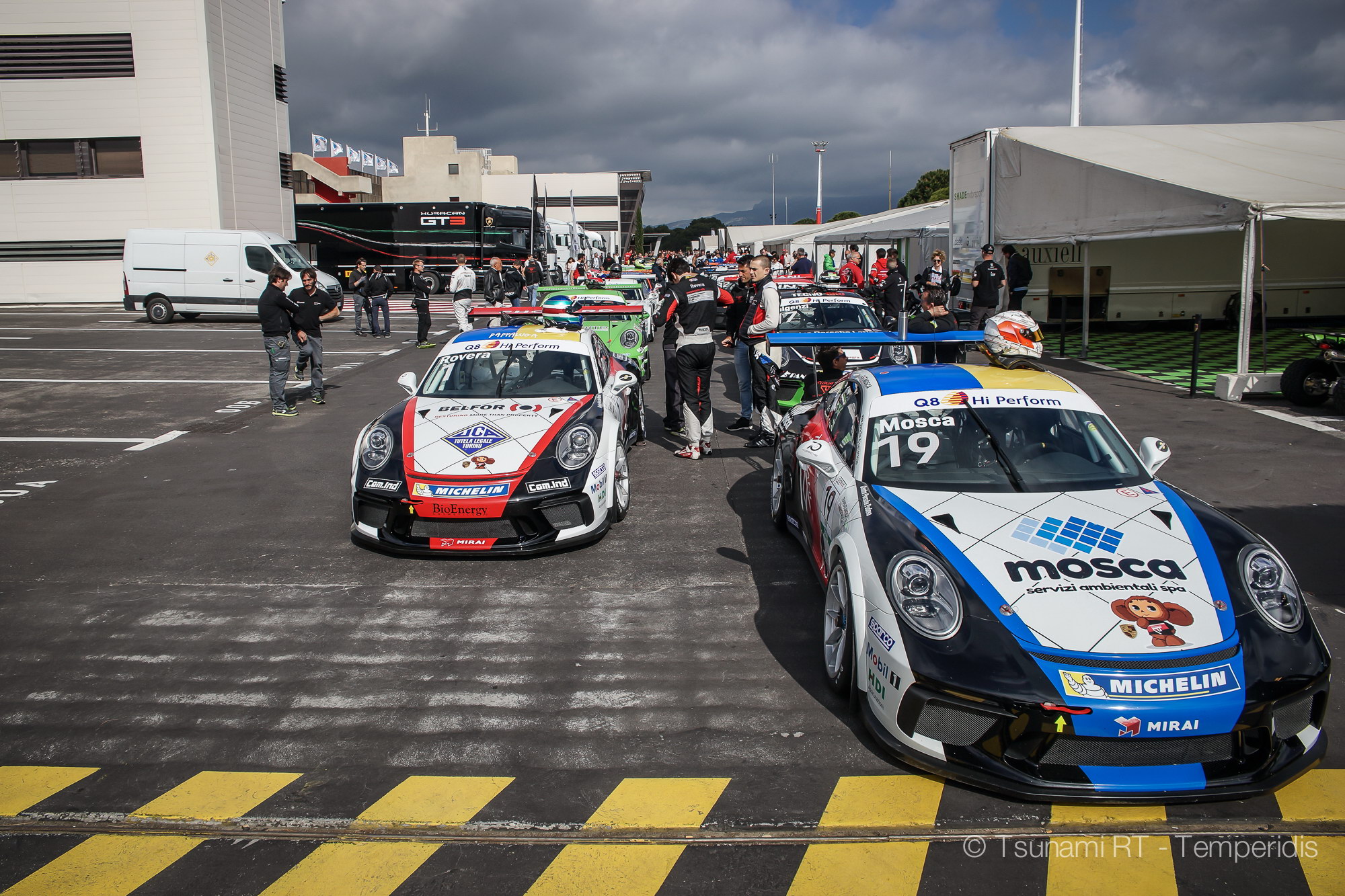 Sometimes it happens that the racing series does not come to some track for a long time. However, when they finally meet, such a racing weekend becomes a completely unforgettable event! Porsche Carrera Cup Italia and Paul Ricard circuit have been missing each other so much!
If Tommaso Mosca and Alex De Giacomi had a week to rest after Imola, Alessio Rovera had no pauses: he went to Belgium last week to rise on the prizing podium there twice and lead the Porsche Carrera Cup France classification. Then he hurried to Paul Ricard to meet his competitors in the Italian Cup. The high tempo has got so much into habit of Alessio in the third weekend of the racing marathon that our driver rapidly won the qualifying.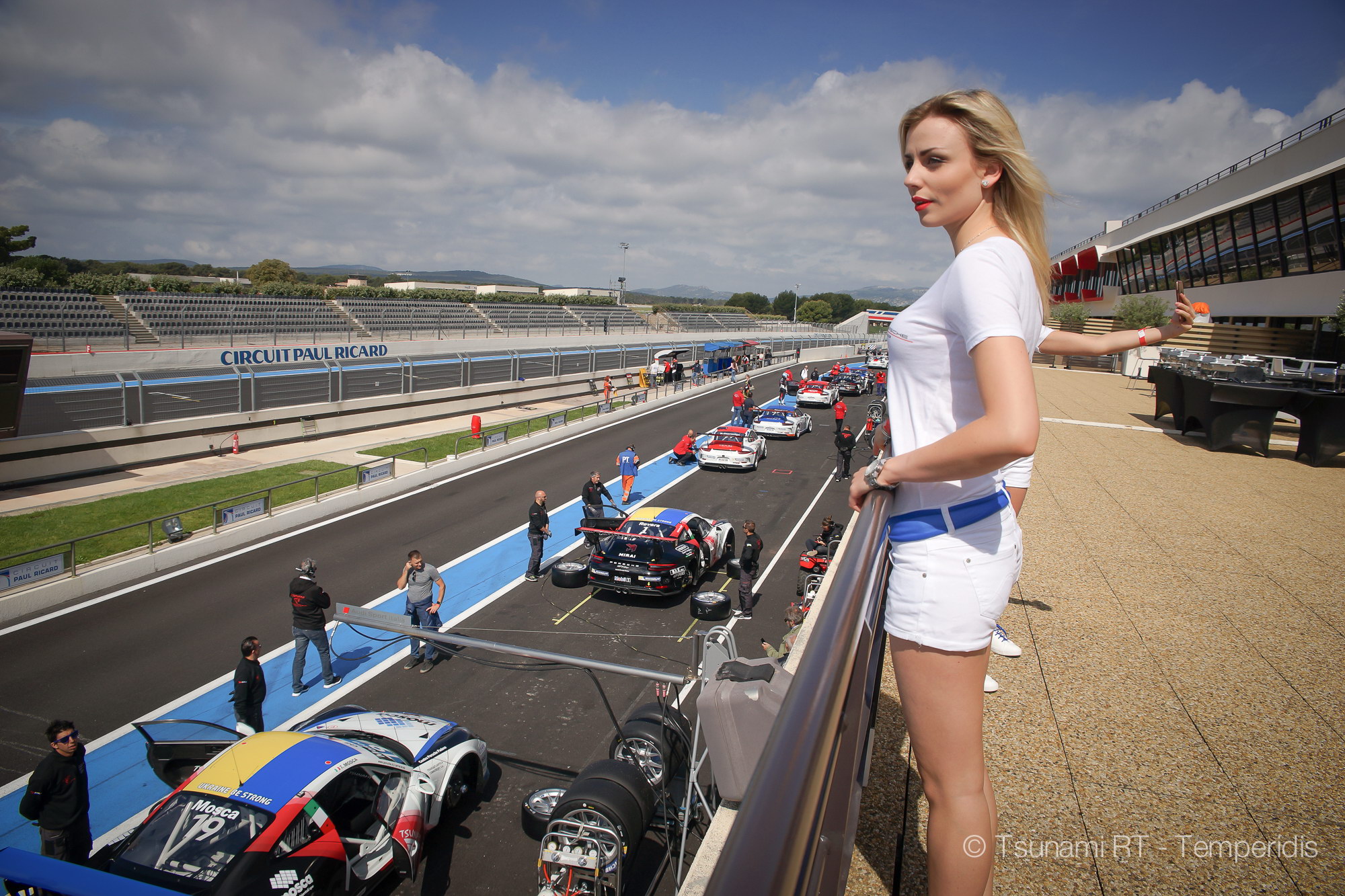 It was none other but another Tsunami RT driver Tommaso Mosca, sincerely disappointed with his small mistake that had prevented him from occupying the pole position, to keep company on the first line. Alex De Giacomi bumped up against a slow competitor on his fast lap that gave him only the third position among Michelin Cup drivers.
It was a good show: the starting grid decorated with two Tsunami RT cars in the first line! But, you know, this is statics. As for dynamics... Oh, something really inimitative was expecting for us there!
Start! 22 cars darted forward, but there was the one to stay put. It was... Tommaso Mosca!..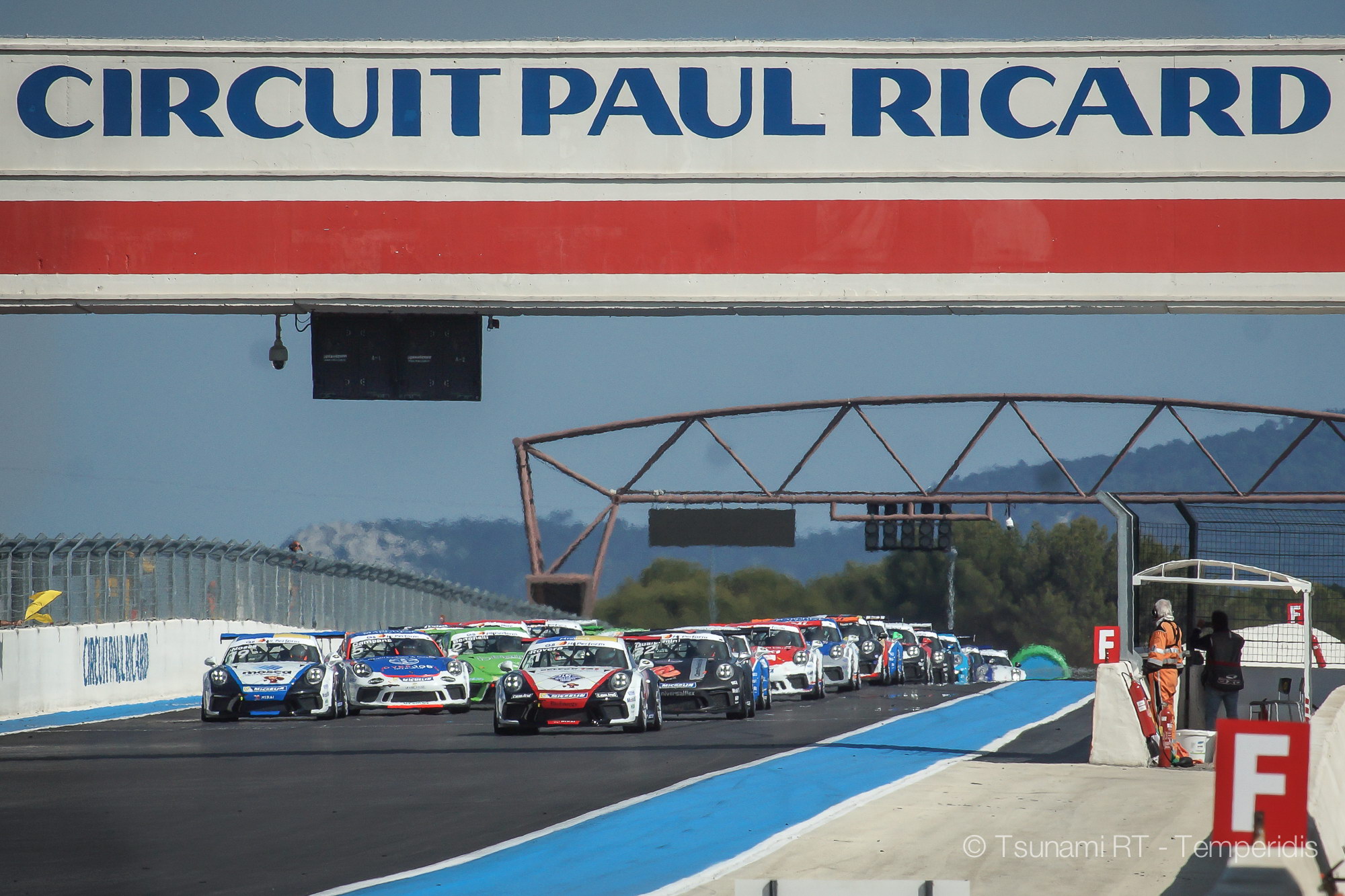 Tommaso Mosca (#19): «At the start 1st gear was not inserted. I was pressing the clutch and when I released it I realised the gearbox was in neutral. In the end I started in 2nd gear from the end of the field....»
It was so bitter to appear on the twenty-first position instead of the second one! However, this stunning guy obviously demonstrated to everybody that even such an embarrassing trouble on the start is not the end, it is a beginning! Mosca begins to overrun, he is the 18th after the first lap, 16th – after the second, and 14th after the third...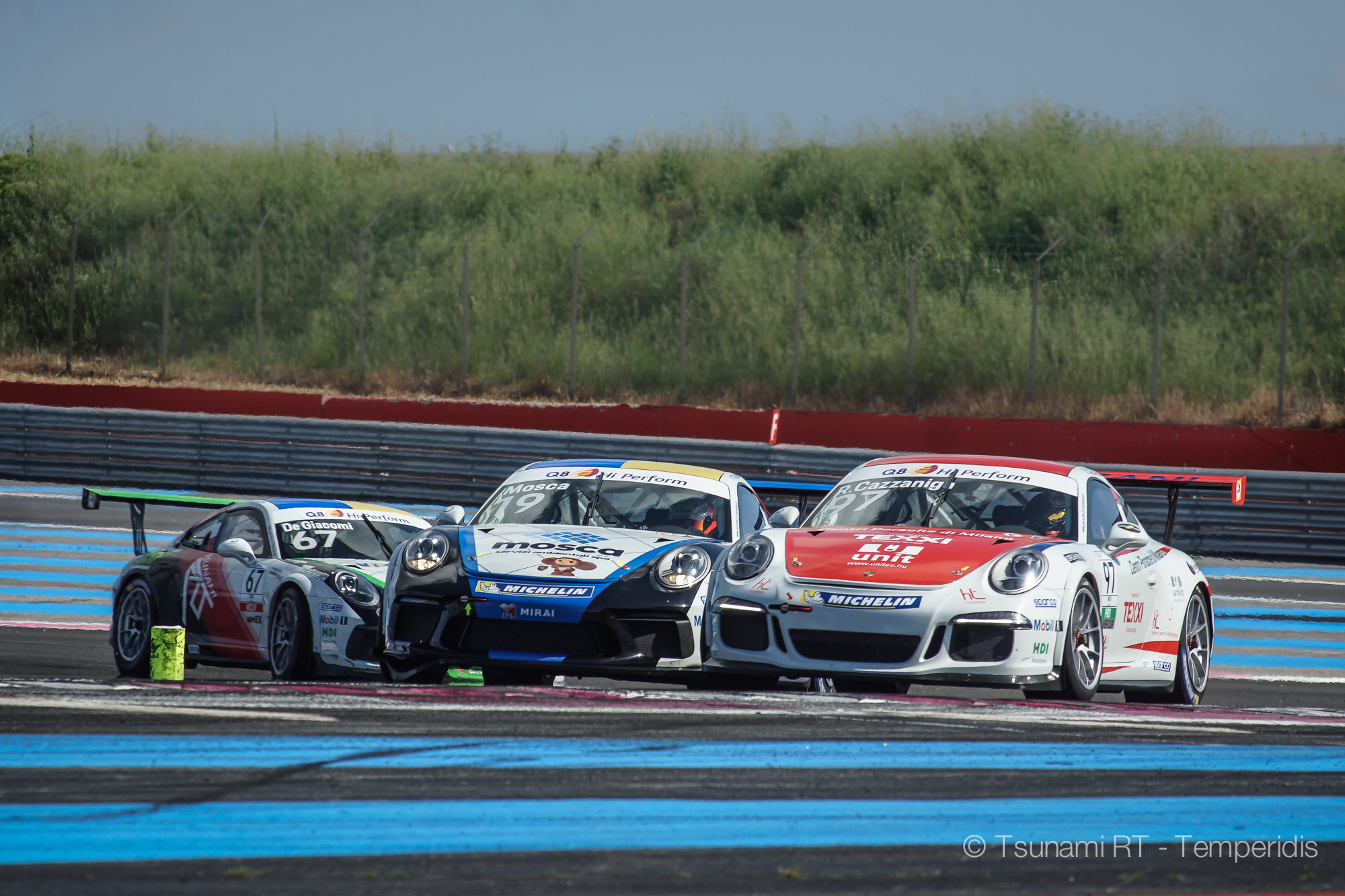 Meanwhile, Gianmarco Quaresmini and Simone Iaquinta are tailgating Alessio Rovera. They both consider that they are able to take the first position away from Rovera. Alessio is of a different opinion about it, however, he cannot drive away from his pursuers over a comfortable distance.
Alex De Giacomi overruns Marco Cassara, Enrico Fulgenzi gets a 10-second penalization. Three exciting scrimmages are happening simultaneously: Quaresmini and Iaquinta fighting for the second position, Luca Segu and Daniele Cazzaniga – for the sixth, and Giovani Berton and Simone Pellegrinelli – for the ninth one. No sooner we shifted gazes here, it revealed that Tommaso Mosca was tailgating the last duet being on the 11th position already!..
It was not happening for a long time, we should say. What a beautiful double overrun! Admittedly, Berton and Pellegrinelli seemed not to notice that they had been overrun being captured with competing each other. Meanwhile, Mosca is the ninth!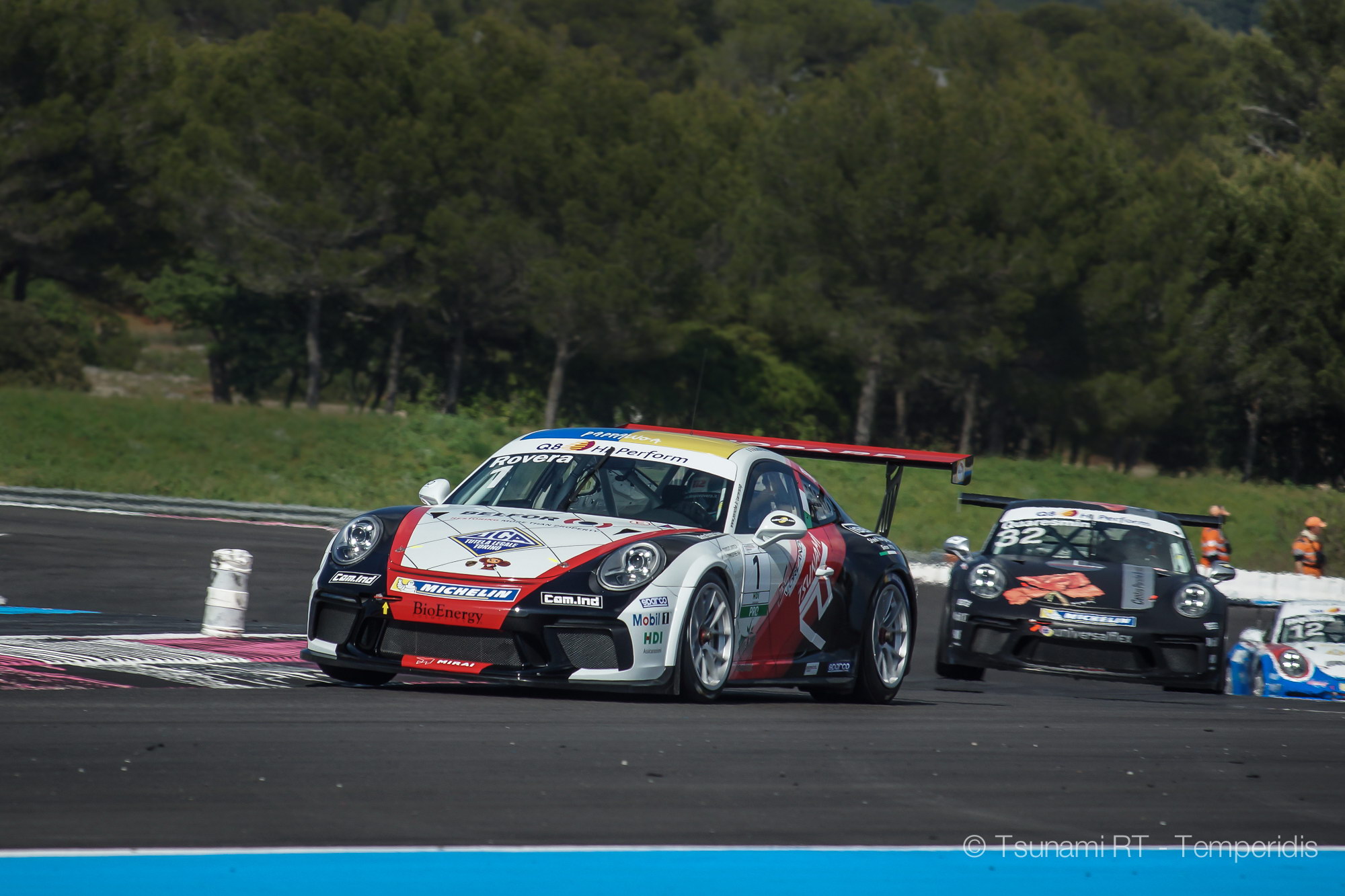 The pursuers of Alessio Rovera gave up on him hopelessly and recognized him unreachable by default. On the other hand, the intrigue about the second and the third step of the podium was picking up its pace – the competition between Quaresmini and Iaquinta did not go off even for a second!
8 minutes left to the finish. Tommaso Mosca is on the seventh position. Alex De Giacomi is holding the line from the two drivers at the same time – Marco Cassara and Niccolo Mercatali are pretty interested in pushing him off the highest step of the prizing podium in Michelin Cup.
One minute left to finish, and Simone Iaquinta manages to overrun Gianmarco Quaresmini. He was not trying in vain for the last half an hour!
Alessio Rovera wins the race! Tommaso Mosca is the seventh and demonstrated the best lap! But where is Alex De Giacomi?..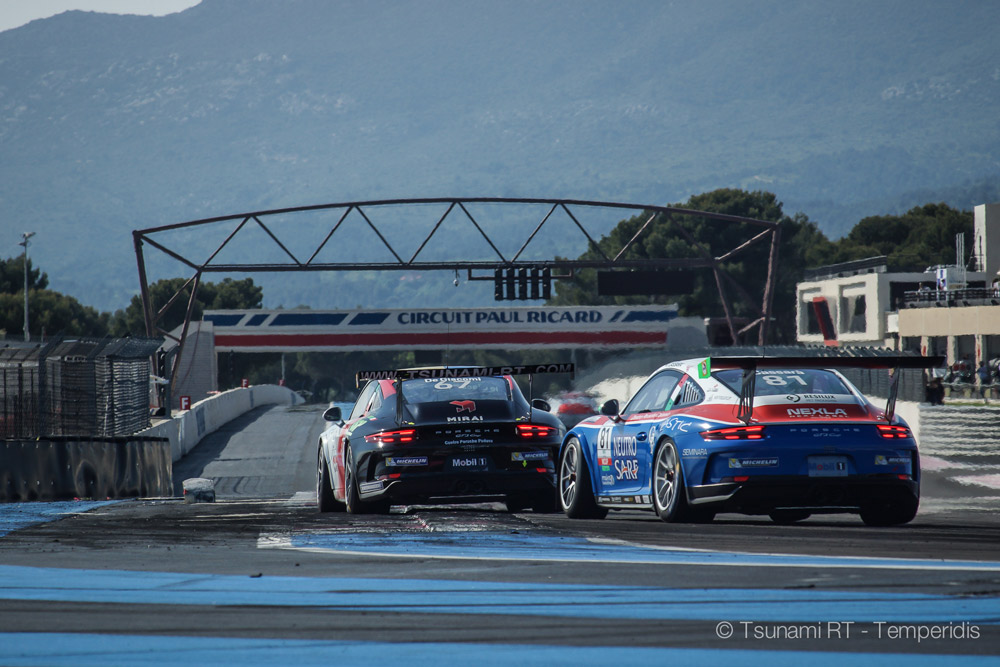 Unbelievable! Marco Cassara strikes our driver directly in the rear bumper in the very last turn before the finish, turns him around and pushes off the track! Oh my goodness! What a plot! Here are all ups and downs in 28 minutes plus one lap...
Alex De Giacomi #67: «I know that he hasn't done it with a purpose. I am not 100% sure but I think his move was not voluntary».
These are the words of the driver who remained without the first victory in this season! What a temperance! Is his name Alex, really? Maybe he is Athos?..
Meanwhile Alessio Rovera gave a serious thought to his future having left the prizing podium and wiped out champagne from his face. Actually, he was going to compete in a big way only in the French Cup, and these two rounds of the Italian Cup were just to warm up... But two victories in one round and a half were a serious thing! Maybe it is a good idea to compete in Italy within the whole season, too?..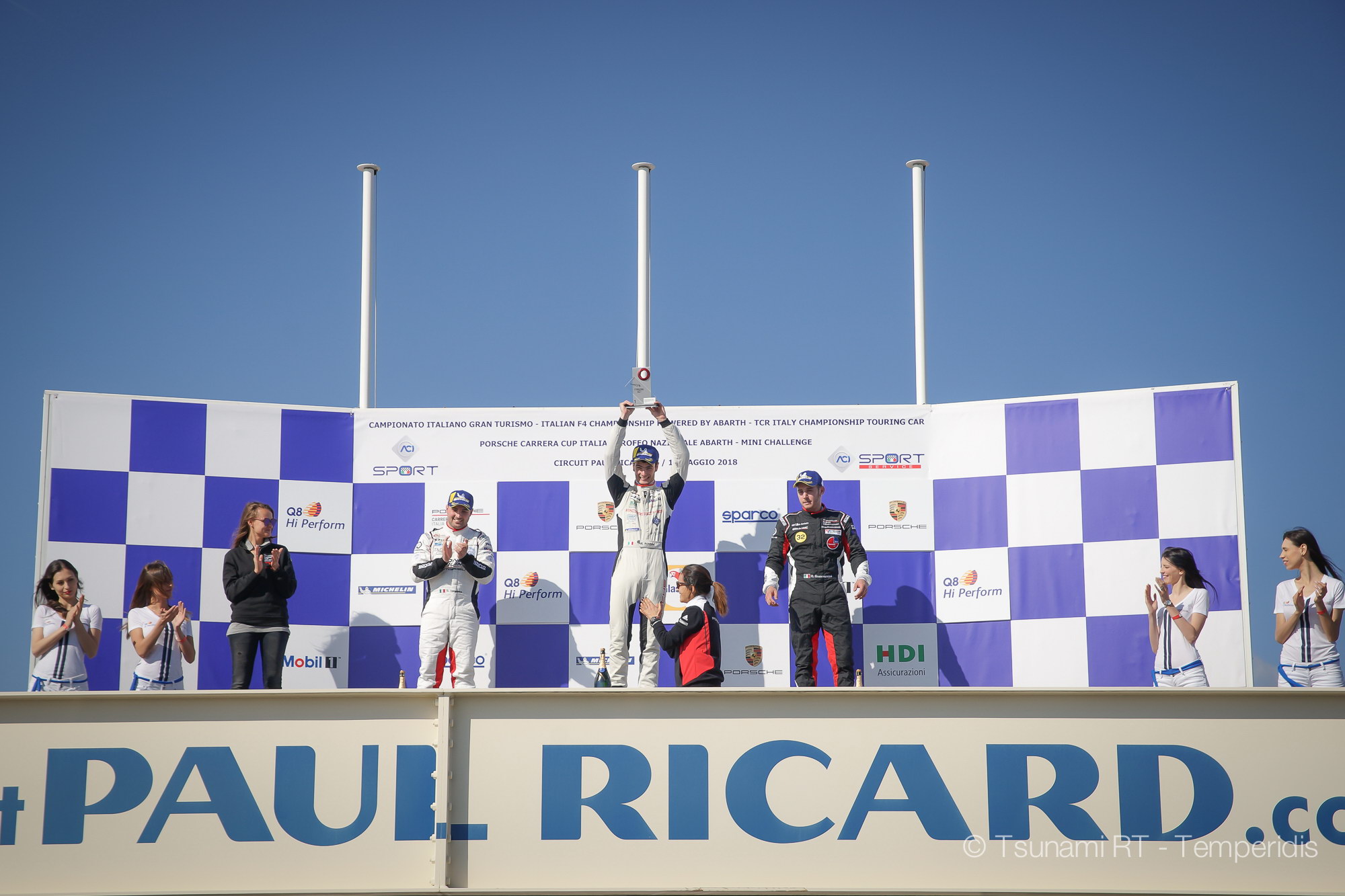 Night fell smoothly on Le Castellet when he was thinking...
Porsche Carrera Cup Italia 2018. Round 2. Paul Ricard.
Race 1.
1. Alessio Rovera (Tsunami RT) 15 laps
2. Simone Iaquinta (Ombra Racing) +2.222
3. Gianmarco Quaresmini (Dinamic Motorsport) +4.151
...
7. Tommaso Mosca (Tsunami RT) +23.255
...
16. Alex De Giacomi (Tsunami RT) +1'02.750
...
22. Sergio Campana (Ghinzani Arco Motorsport) +4 laps
Michelin Cup
1. Niccolo Mercatali (Dinamic Motorsport)
2. Luca Pastorelli (AB Racing)
3. Bashar Mardini (GDL Racing)
4. Alex De Giacomi (Tsunami RT)
...
8. Enrico Di Leo (Ghinzani Arco Motorsport)
The morning began with a shower rain. It was so heavy that the racing weekend organizers on Paul Ricard canceled one race and warned that it could happen to the rest of them too. Fortunately, the PCCI race was the last in the schedule, and the clouds over Le Castellet had run out of water till then. So, the weather misfortunes were limited to the temperature of +5 degrees. This is May on the south of France, if you please.
Forget about the temperature, we can survive that (rhythmically clattering of our teeth). It is curious to know what this race will bring us. By the way, we have two drivers near each other on the starting grid again – Rovera is the sixth (as the Saturday race winner) and Mosca is the seventh.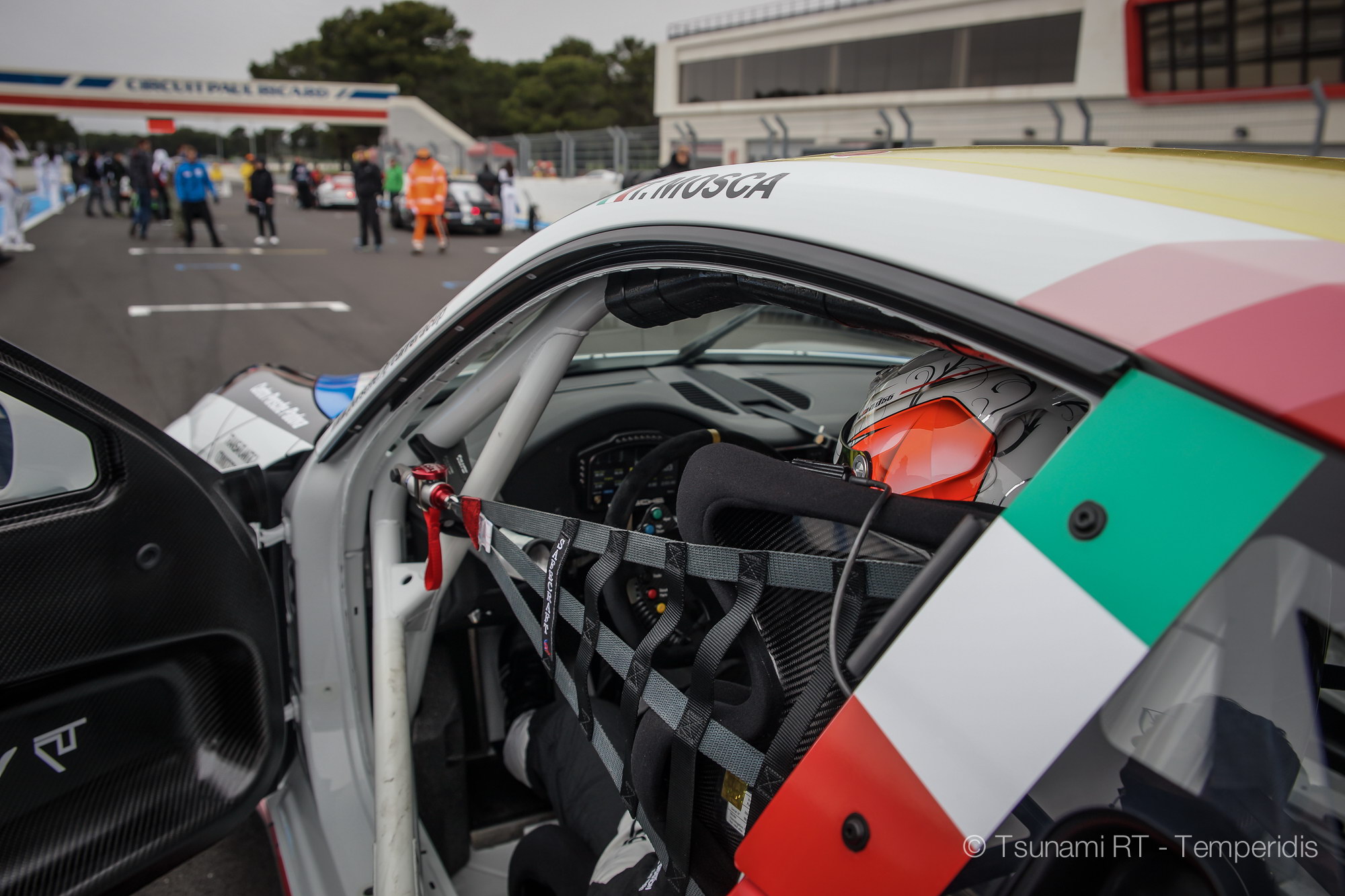 As usual, everything changes so fast on the start that we hardly follow it! Diego Bertonelli becomes the leader coming from the third position. Tommaso Mosca flashed on the ninth position and suddenly became the sixth (how can he do that?!) Alessio Rovera is the forth driver to attack Simone Iaquinta, who, in his turn, is attacking Enrico Fulgenzi.
Alex De Giacomi overruns the Imola triumphant Bashar Mardini and gains the eighth position in the overall classification!
There is a very interesting competition for the first place: Bertonelli - Iaquinta - Rovera. Watching these astonishing attacks you think only about one thing: I wouldn't like to be on Bertonelli's place right now...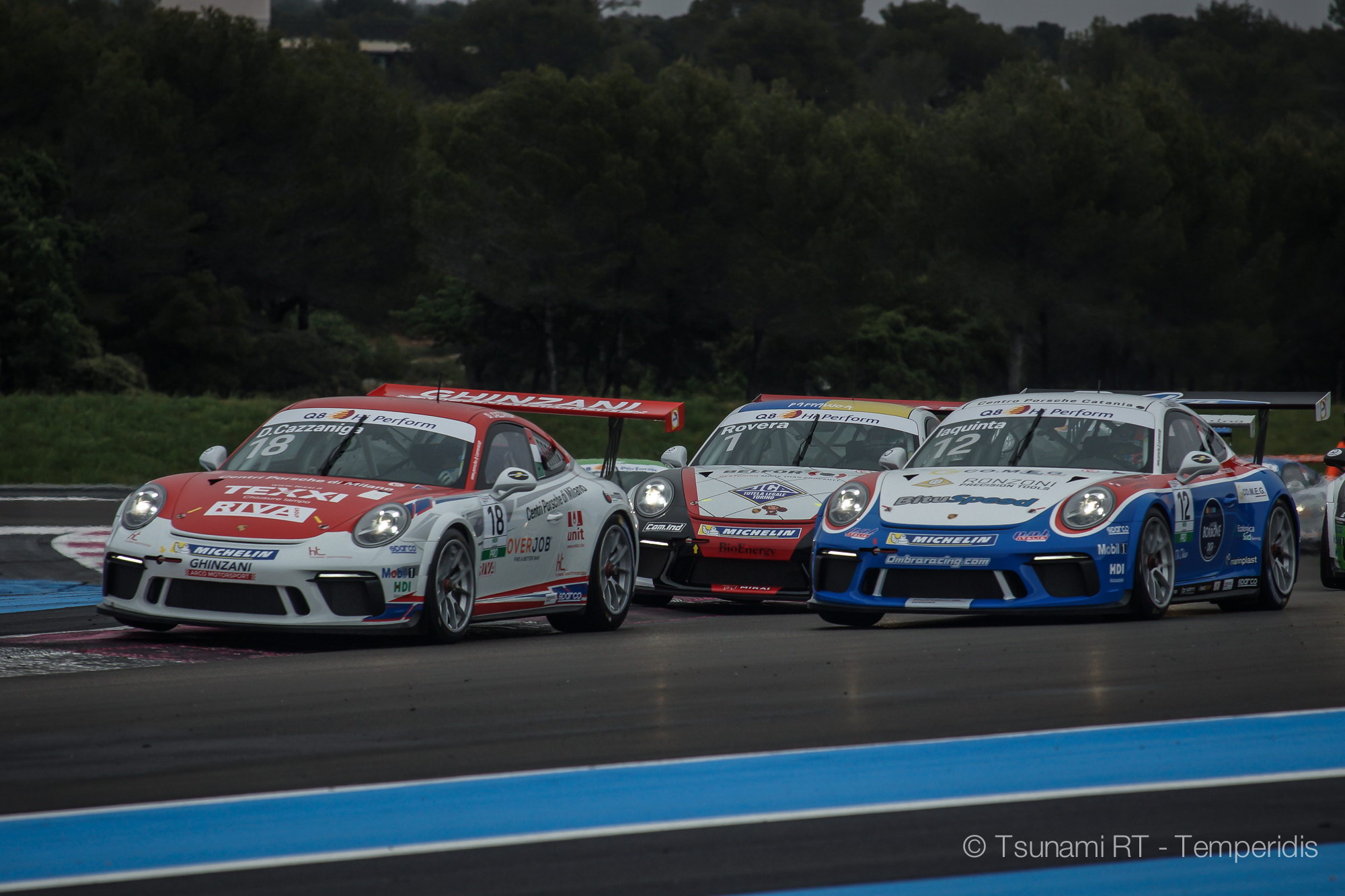 Rovera overruns Iaquinta, and Tommaso Mosca does the same maneuver – yes, he was already the forth and got the third position now! Alex De Giacomi holds his leadership in the Michelin Cup classification!
Alessio Rovera evaluates Diego Bertonelli and overruns him! He is leading the peloton! Diego is raging, signaling with his lights, but honestly he has a lot to worry about – Tommaso Mosca is intensely attacking him from behind. Let us notice that all this is happening on the damp track that is suspiciously shining in the light beams.
28 minutes plus one lap – is that a lot or a little? Try to spend them driving the racing car on a difficult track when your injured hand hurts... Alex De Giacomi gives way to Luca Pastorelli, but holds the second position in the Michelin Cup classification.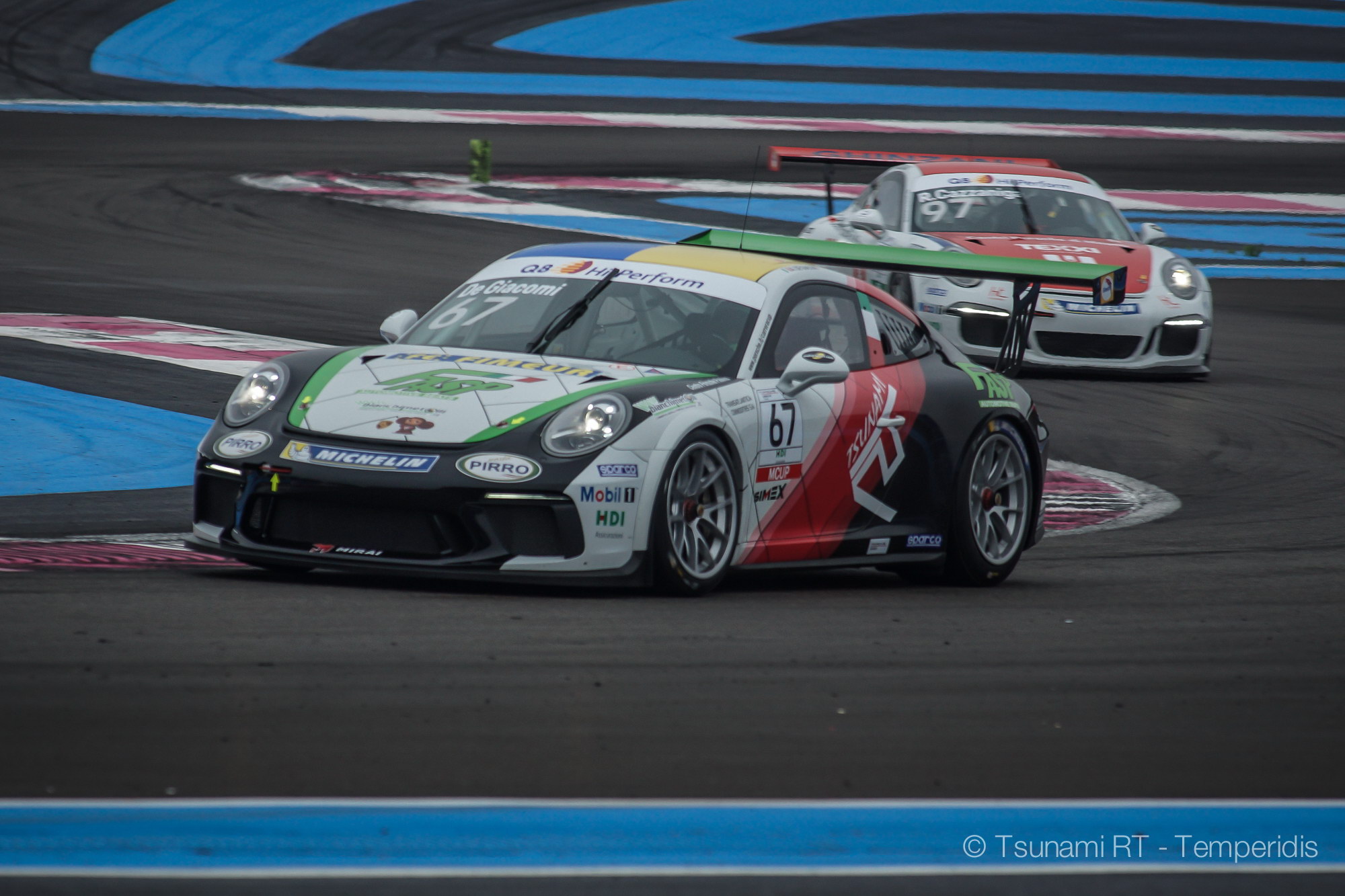 The race finish brings also Rovera's gold, De Giacomi's silver and Mosca's bronze to Tsunami RT! Who wanted to cancel the race? Could this amazing show be canceled?!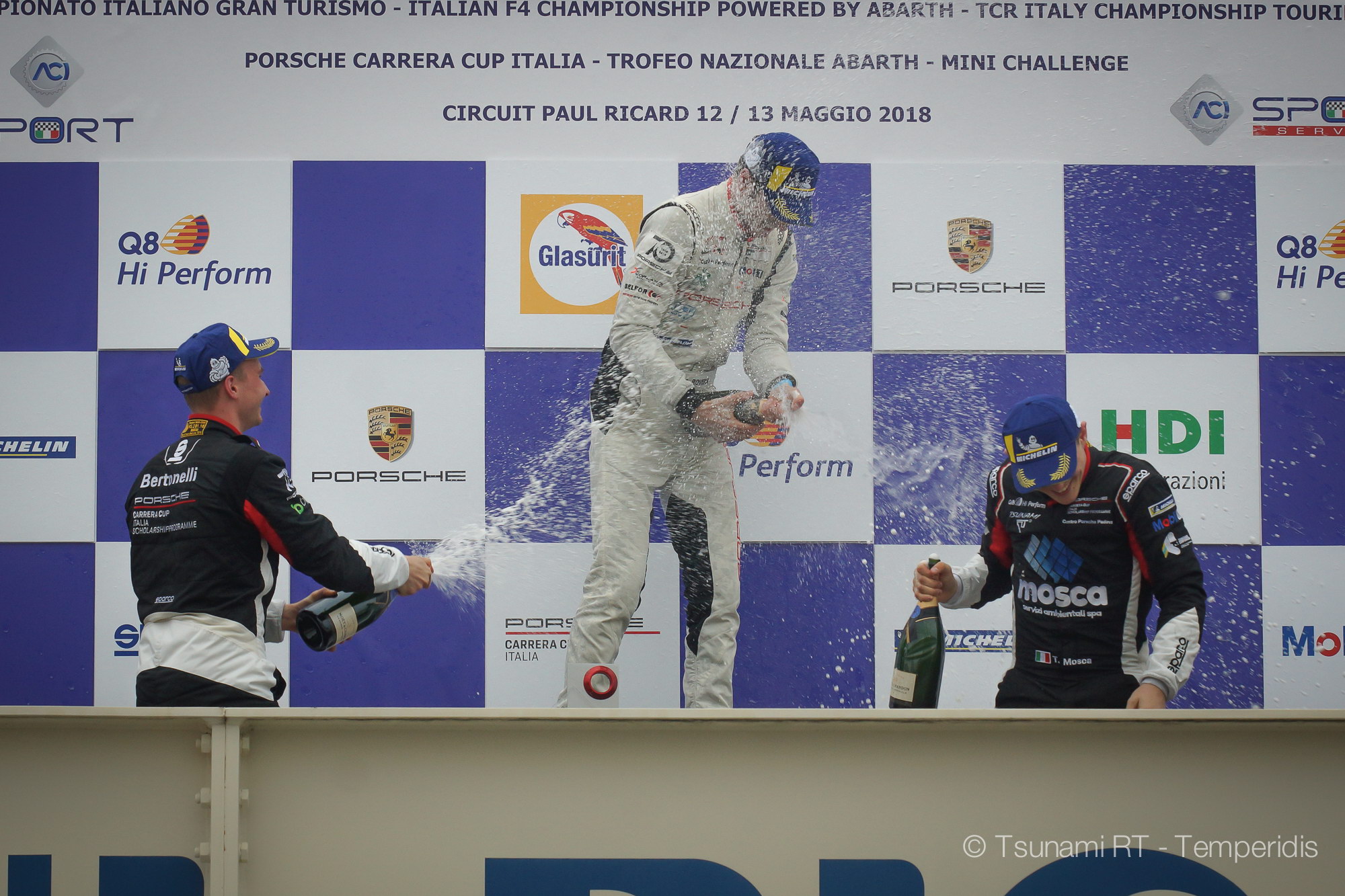 Alessio Rovera #1: «I did a quite good start and looked to stay away from troubles because with so many cars in front it's not difficult for somebody to spin. Nothing special after that. This time the tyres worked immediately and as a result I could push right away. I looked to pull out some overtaking and it went fine. I managed to overtake Bertonelli on the S of the Mistral straight, where I had attempted one more time from the external line. Now we have to take out the ABS and go to Zandvoort and we will see what's next. I want to thank my team for the great job done!»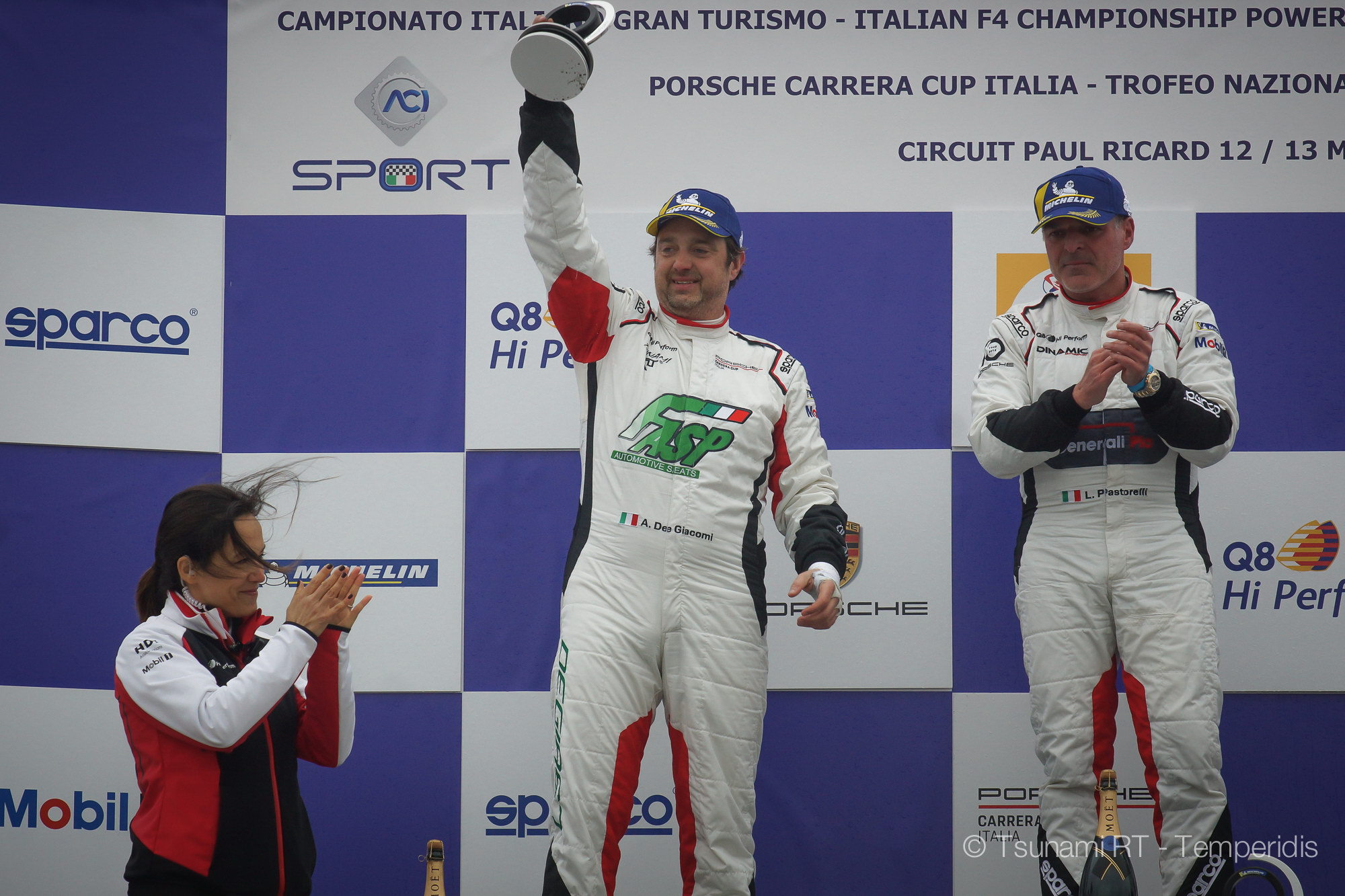 Alex De Giacomi #67 ("Bronze" in the Michelin Cup): «We did a great start today, everything ran smoothly, the car was perfect and the team did a great job. Unfortunately, my fitness deteriorated in the last three laps and Pastorelli could overtake me. But I see an improvement in my arm and also see a great potential from the team. I had a great pace throughout the race, I could actually see the front group till the moment I felt the fatique. I am sorry for this but we will see in the next race».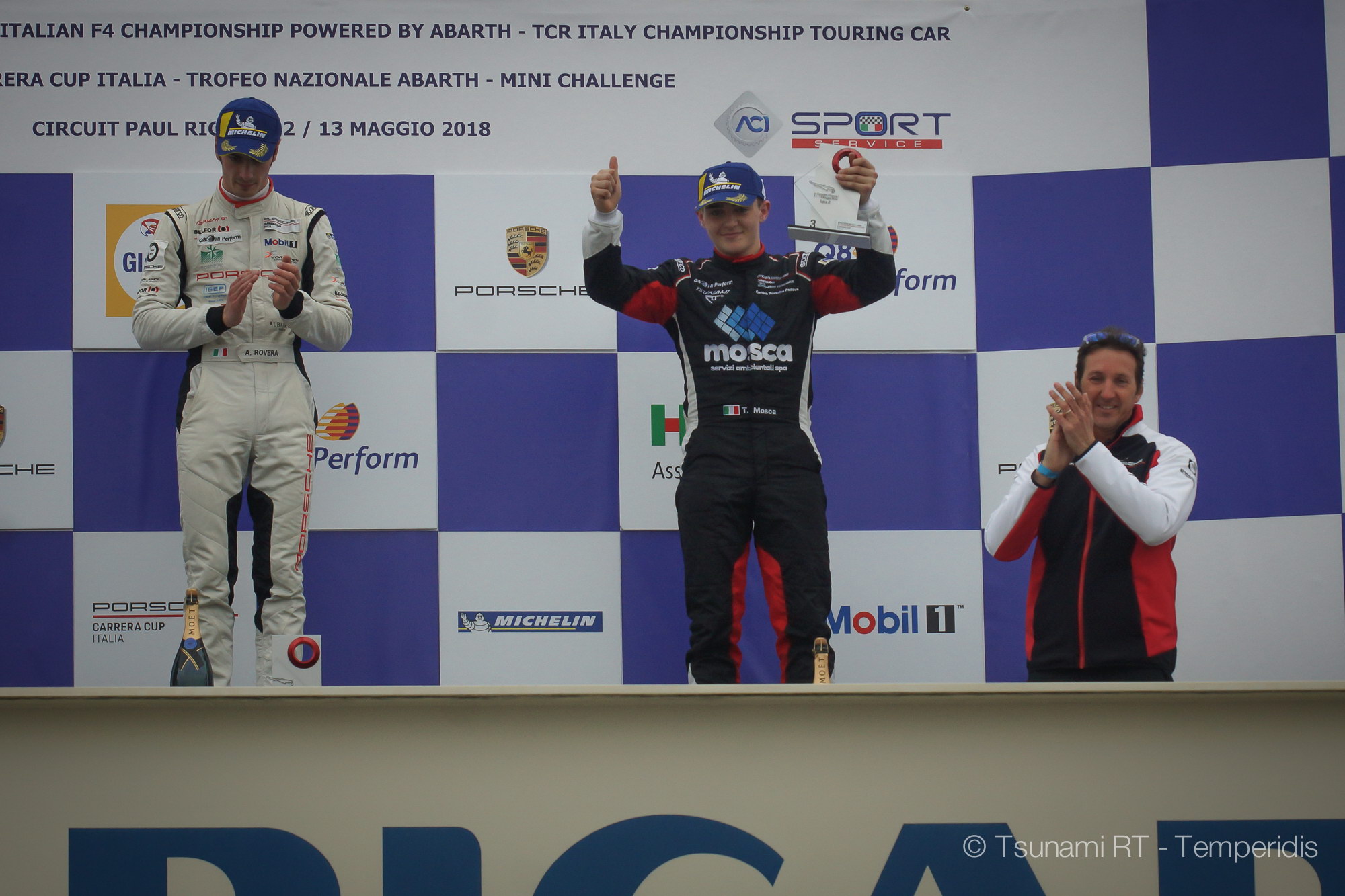 Tommaso Mosca #19: «it was a quite nice race, from 7th to arrive 3rd. Unfortunately I had problems with the car after I hit Pellegrinelli by mistake – I didn't see well – and after that the steering wheel was completely crooked. I could have done something more in this race but since we are still at the beginning of the season, I prefered to wait. If I did a risky move, I could have thrown out both Alessio and me. So it's better to wait. But t has been a great catch up. I need to get better at the start but anyway it has been a nice race, both from my side and the team's side».
Porsche Carrera Cup Italia 2018. Round 2. Paul Ricard.
Race 2.
1. Alessio Rovera (Tsunami RT) 15 laps
2. Diego Bertonelli (Dinamic Motorsport) +2.038
3. Tommaso Mosca (Tsunami RT) +2.694
...
10. Alex De Giacomi (Tsunami RT) +27.032
...
18. Enrico Di Leo (Ghinzani Arco Motorsport) +2 laps
Michelin Cup
1. Luca Pastorelli (Dinamic Motorsport)
2. Alex De Giacomi (Tsunami RT)
3. Marco Cassara (Ombra Racing)
...
10. Enrico Di Leo (Ghinzani Arco Motorsport)
No, we gain momentum and do not make any breaks: the team sets off to the Dutch Zandvoort without riding over home – the second Porsche Carrera Cup France round is waiting for us.
Nobody told that it would be easy. However, it is so great! The main thing is not to release the gas pedal!
Photogallery of second Porsche Carrera Cup Italia 2018 round
By: Irina Boyarskaya
Photo: Akis Temperidis