The plot of the third round of Porsche Carrera Cup Italia in Imola caused a feeling of deja vu to anyone who watched or participated in the final weekend of last season – on the same track, by the way.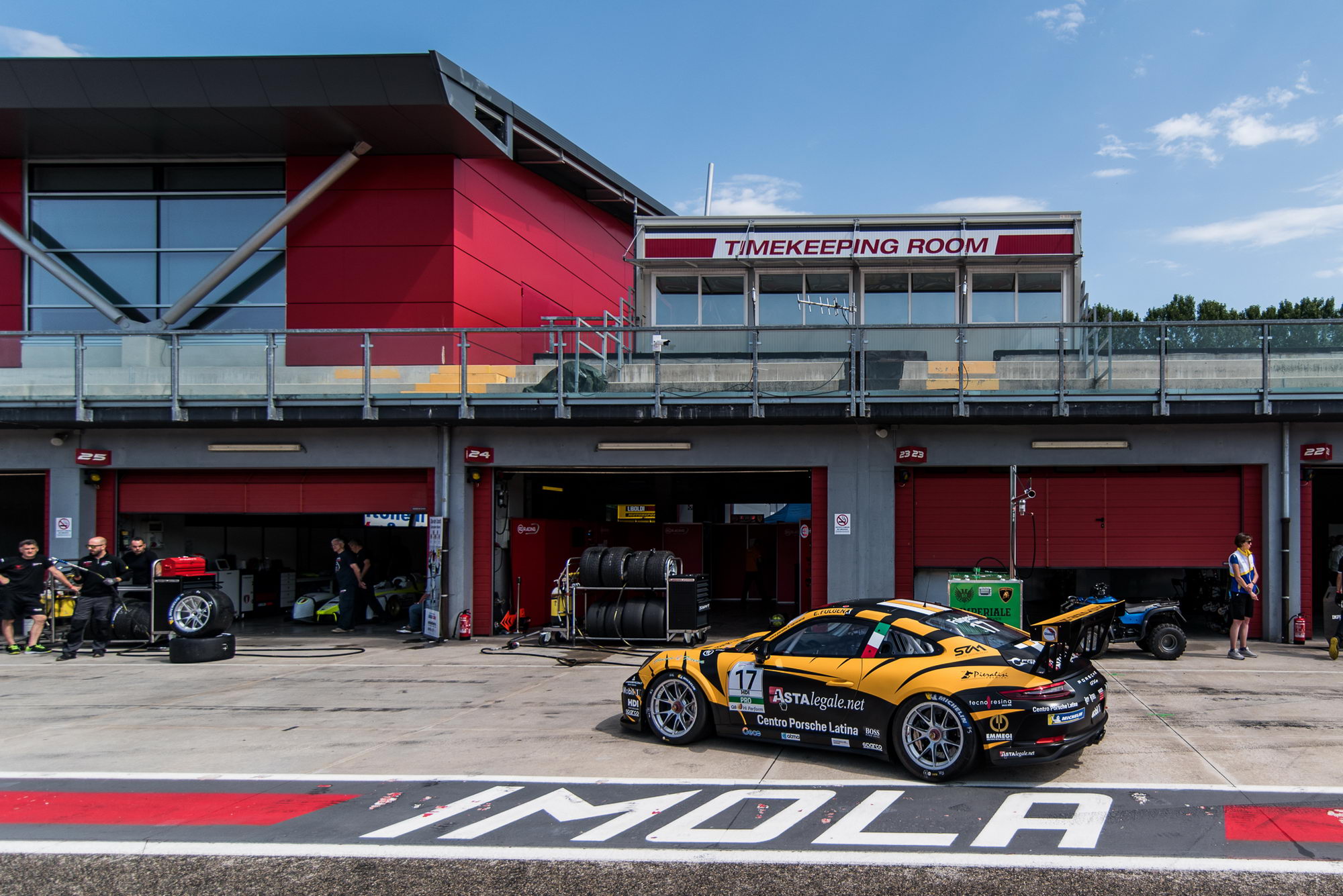 Qualifications passed in a normal mode. Alex de Giacomi earns a pole among Michelin Cup drivers, Enrico Fulgenzi shows the sixth time overall – so up to this moment everything goes according to the global plan...

Alex de Giacomi: "This is a proper way to start our saturday! Unfortunately we had Full Course Yellow while I was improving my time, and so I had to slow down: it's a pity – also for Tsunami RT – because I think that even today we could have ended in Q2. Now we have to focus for the race in order to catch a great result!"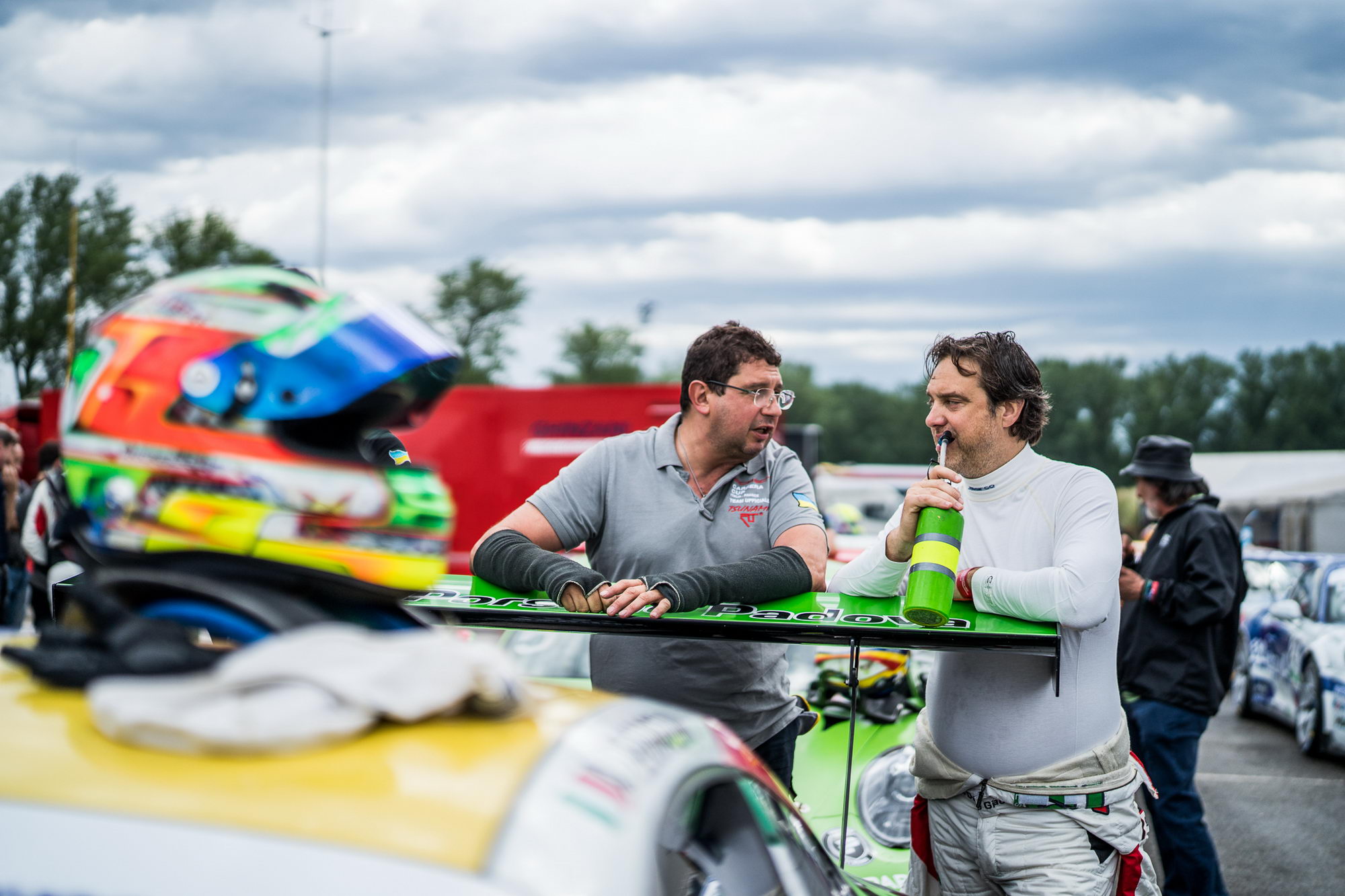 Enrico Fulgenzi: "Until now we have been faster in qualifying than in races, so today that our qualifying session was not so good I hope that this could be a sign of a great race! We ended in 6th place due to a small mistake made at 'Tosa' during my best flying lap, and at that point was quite difficult for me to improve my time. However, our starting position is not so bad: yesterday we showed a great pace, so I think that this could be the opportunity both to demonstrate our improvements in race conditions and to catch the podium".

But then... a heavy downpour breaks out over San Marino track. Cars float on the starting grid. The flagship, of course, is the safety car, but it's difficult to keep the route even after it! Four laps in the fairway - and the flotilla commander-in-chief (that is, sorry, the race director) decides to wave the red flag. It is impossible to drive, but the podium will still be held. The streams of water wash away the prize champagne, which is opened by Alex de Giacomi – being the poleman, he logically becomes the winner of Michelin Cup classification.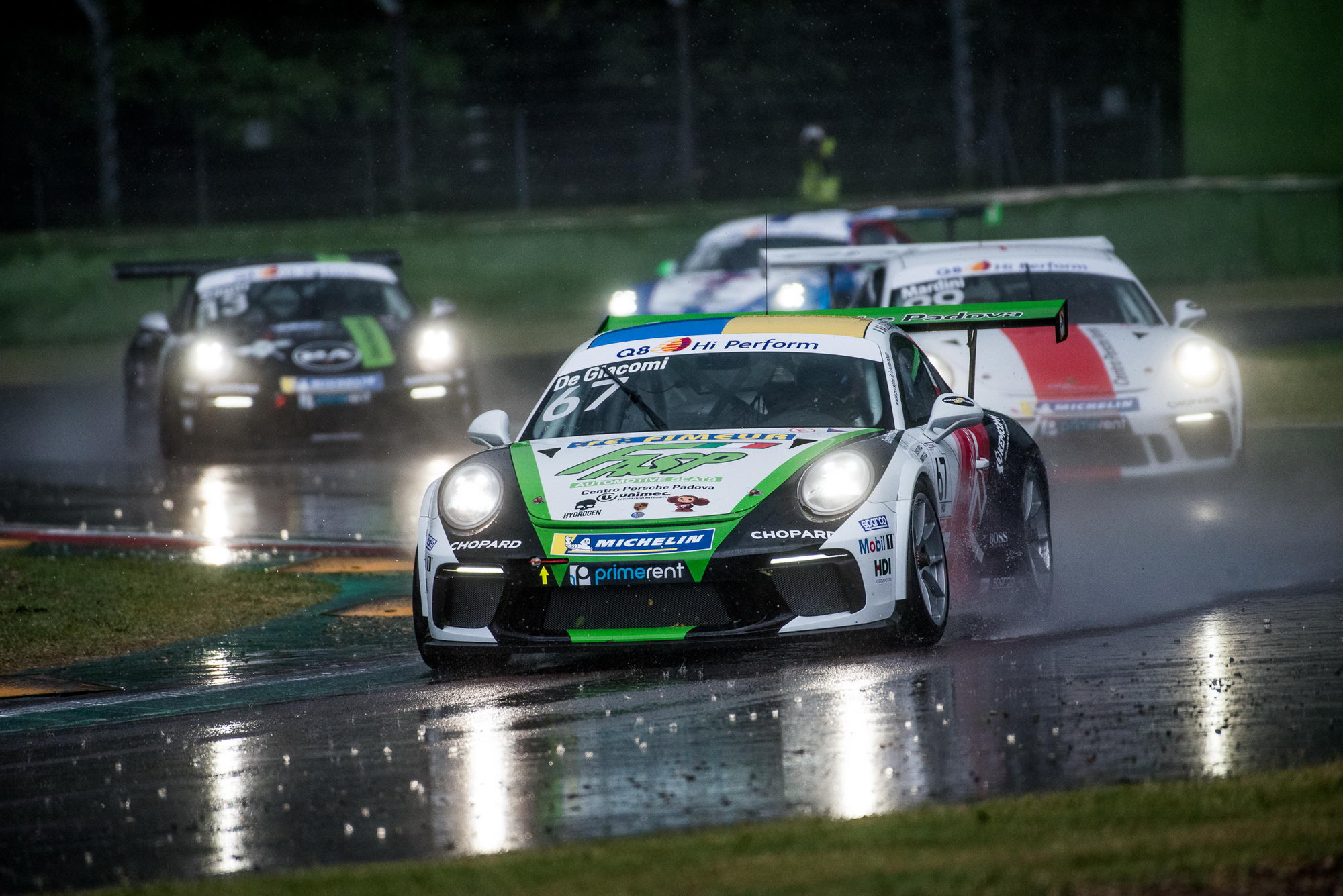 There is also another significant advantage: as you remember, on Sunday the first six drivers start in reverse order. This means that Enrico Fulgenzi will start from the pole! Of course, if the weather allows that...

Alex de Giacomi: "The track was tremendously tricky this afternoon. There was too much water at the Villeneuve Chicane, at the climb of 'Piratella' and at the downhill of 'Rivazza'. Even staying behind the Safety Car was quite difficult, so I think that waving the red flag in order to stop the race was the right decision".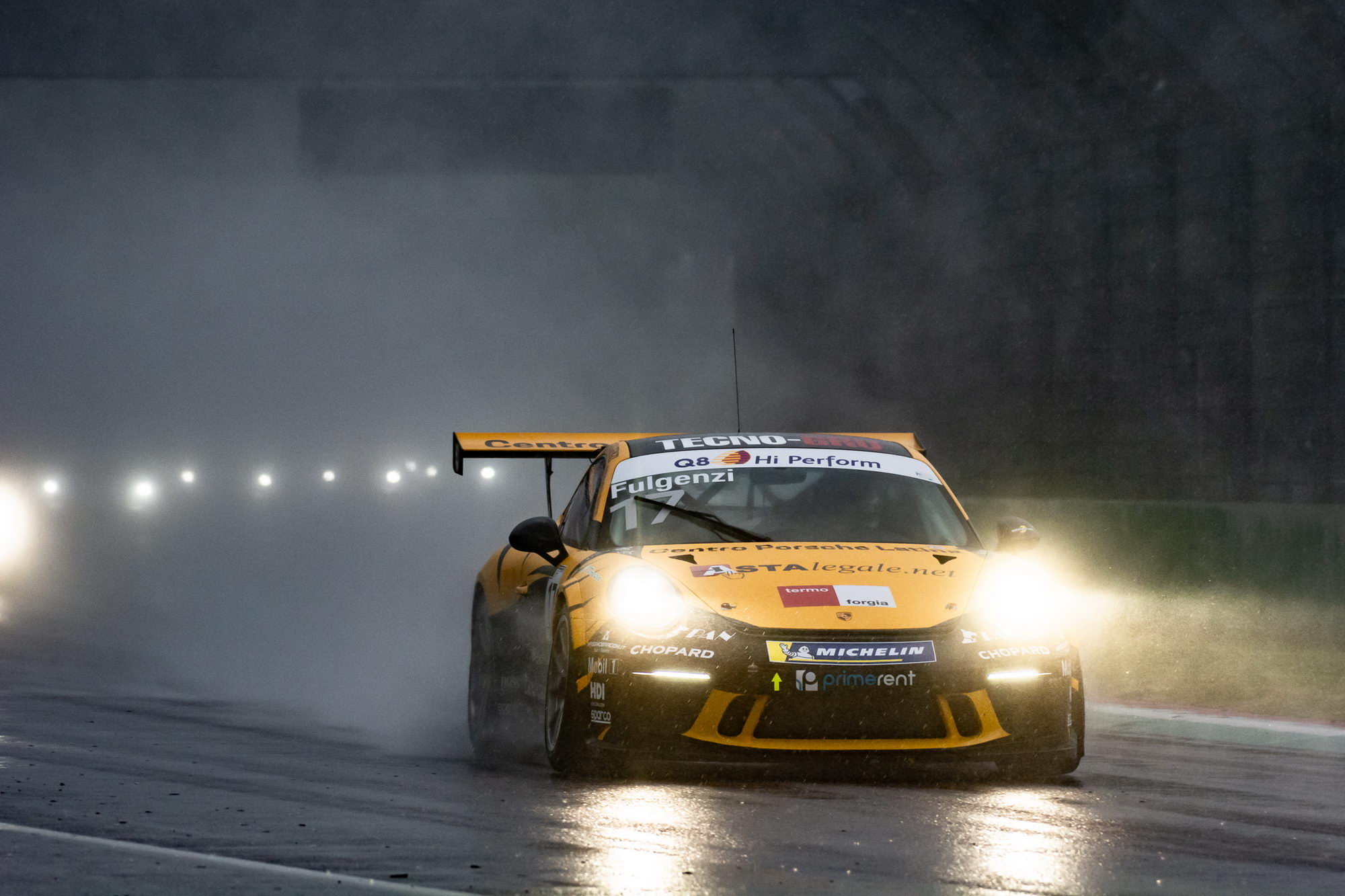 Enrico Fulgenzi: "In the past we have already lived a similar situation, and for the second time we haven't raced. I think that today the Race Director should have listened to all the drivers, because we all knew – after only one lap behind Safety Car – that it was impossible to race. We stayed behind SC until the red flag was waved, and so the race ended even if it didn't really start".

Porsche Carrera Cup Italia 2019. Imola, round 3. Race 1.
1. Tommaso Mosca (Ombra Racing) 4 laps
2. Simone Jaquinta (Ghinzani Arco Motorsport)
3. Jaden Conwright (Dinamic Motorsport)
...
6. Enrico Fulgenzi (Tsunami RT)
...
13. Alex de Giacomi (Tsunami RT)
...
23. Paul Tressider (GDL Racing)
Michelin Cup
1. Alex de Giacomi (Tsunami RT)
2. Bashar Mardini (GDL Racing)
3. Marco Cassara (Ombra Racing)
...
8. Paul Tressider (GDL Racing)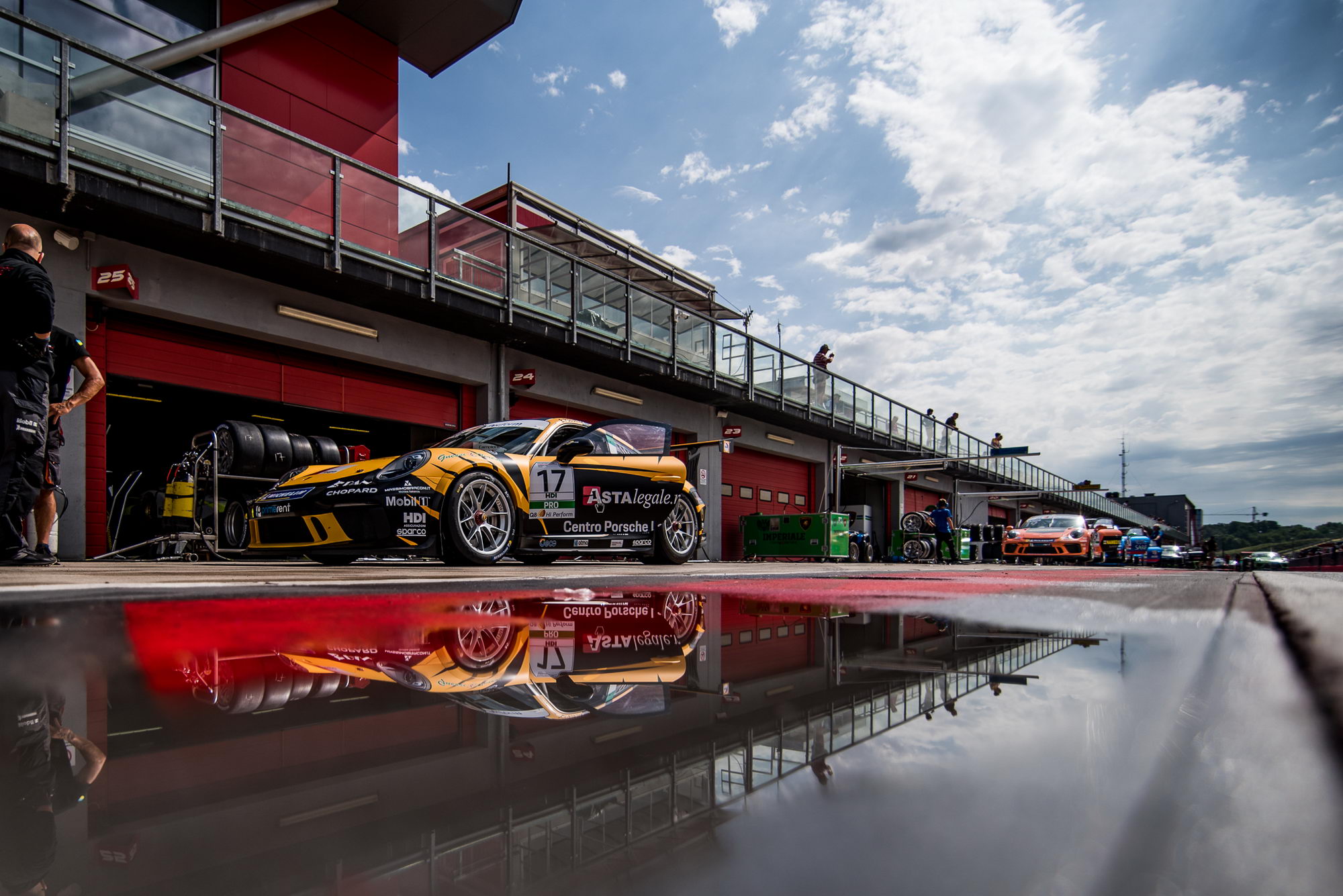 And on Sunday, the clouds disperse, revealing the bright Italian sky, the June sun, taking away the feeling of deja vu. Today everything will be different!
Enrico Fulgenzi has a good start and pushes forward. Diego Bertonelli hangs on his tail, trying in every way to take the lead, but the Tsunami RT driver is not going to give up.

Alex de Giacomi has a hard time: although he is the leader in the Michelin Cup, he is physically in the middle of the peloton. Therefore, the audience enjoys multiple attacks and overtakes performed by Alex and his three colleagues: Bashar Mardini, Marco Cassara and Moritz Sager. Unfortunately, one of these overtakes is not so clean: the contact of Sager and our driver leads to damage on de Giacomi's car. He still can reach the finish line, but not able to keep the lead...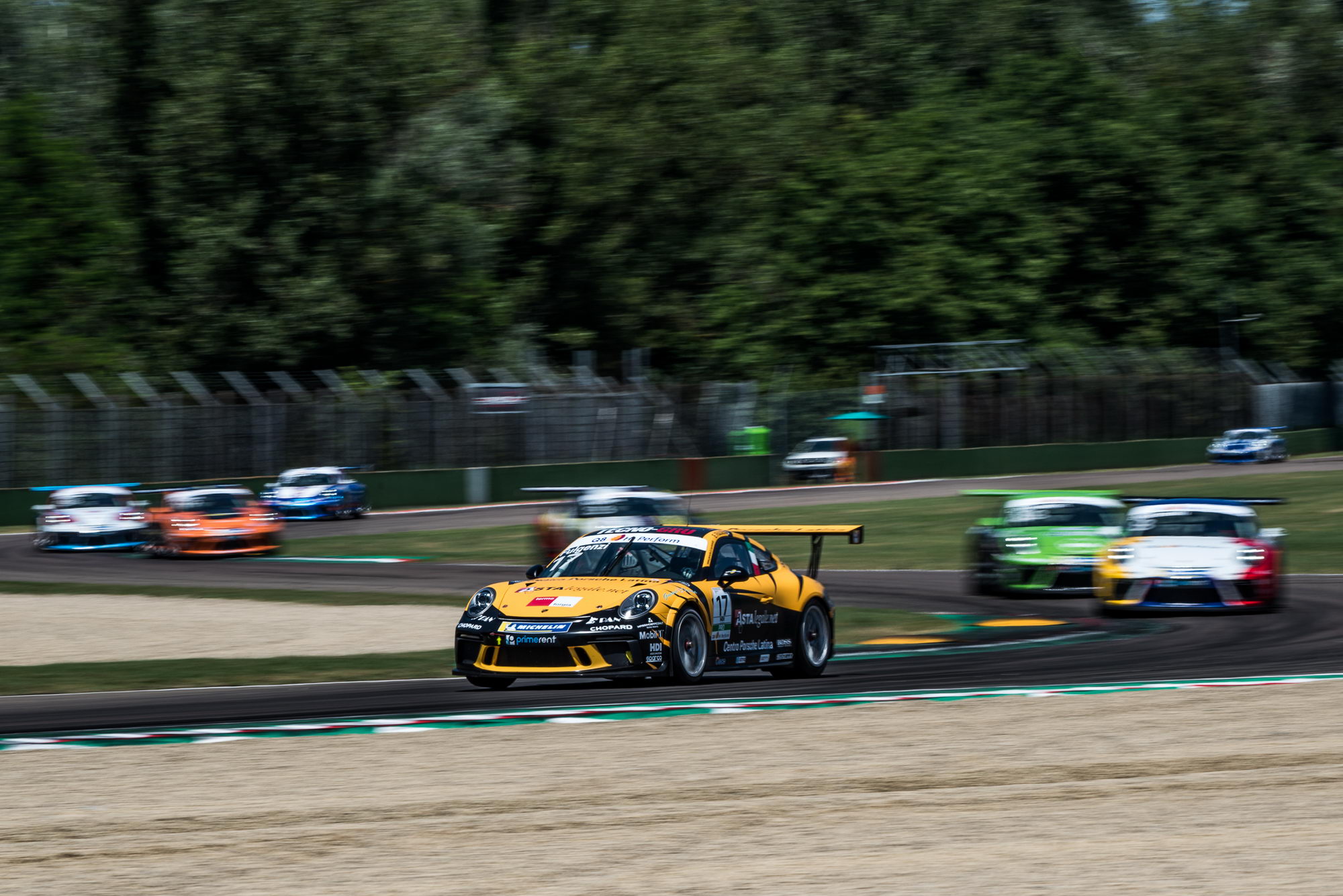 Meanwhile, Enrico Fulgenzi managed to create a lead over the restless Bertonelli. And then, as if ordered, to save the intrigue and to the delight of the spectators, Luca Pastorelli flies off the track (do not confuse: at the start there was also Nicola Pastorelli, but he has retired during the very first laps). The safety-car drives on the track to perform its favorite job. And this means that all diligently created gaps from rivals turn into nothing, and the struggle will begin anew...

After the restart, Diego Bertonelli happily rushes into battle. But overtaking Fulgenzi, who is in the lead, who is driving a great car, and who eagerly needs a victory — that, you know, is almost unreal! Enrico keeps the lead and even manages to create a more or less comfortable gap per second from the opponent. Finally, it's the first victory of Fulgenzi with Tsunami RT!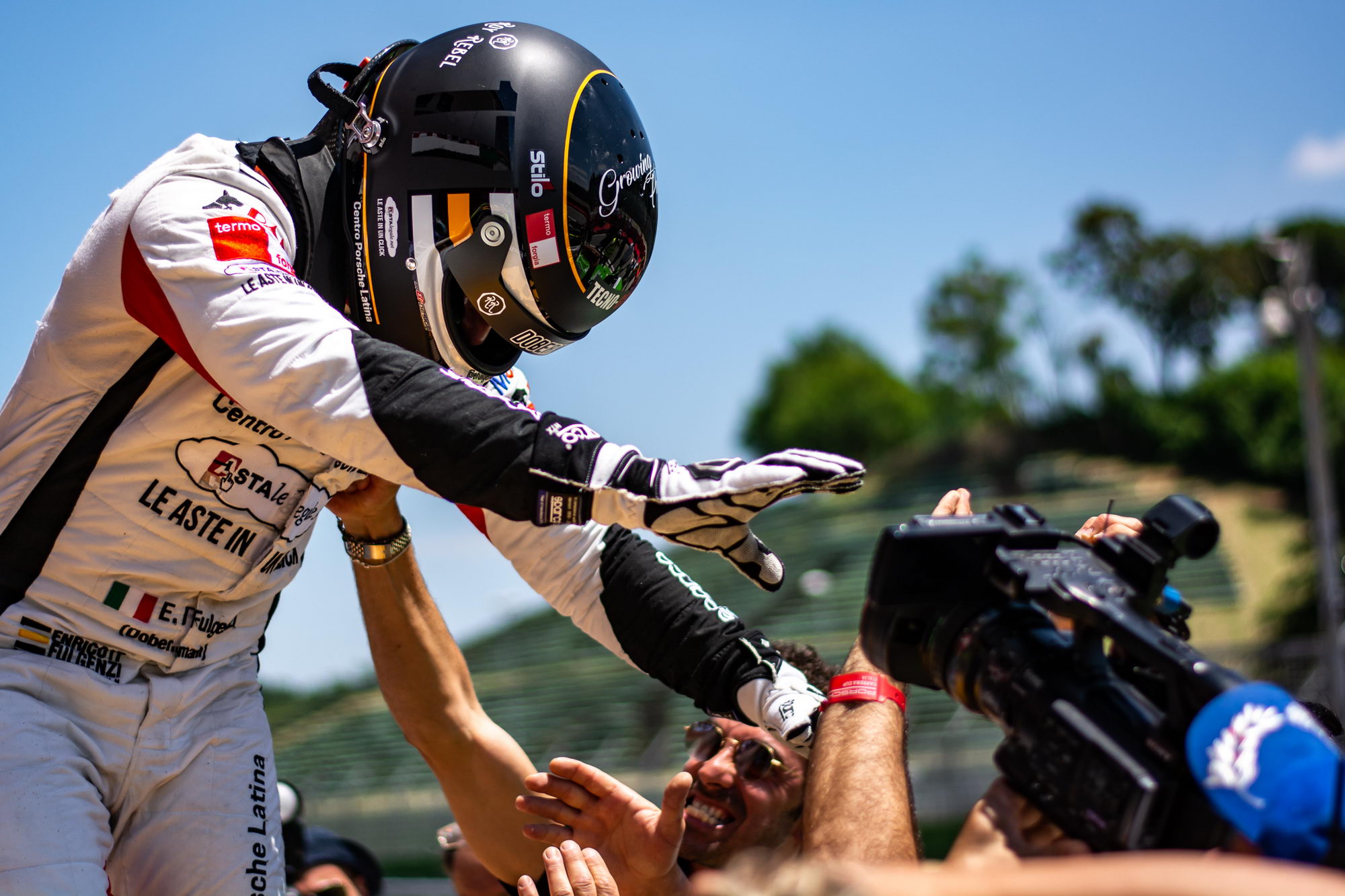 Enrico Fulgenzi: "This is a stunning victory, and I catched it exactly how I wanted to: starting from Pole Position, staying in first position and managing the pace. That's the result of our great effort, and it shows that hard work always pays off. During previous races we have been unlucky, so this weekend must be a turning point of our season: now we are aware of our potential, and we must try to gain victories throughout the whole rest of the season. I would also like to thank all the people who support me: firstly Tsunami Racing Team, then my staff, my sponsors, my friends and my family".

Alex de Giacomi managed to bring his damaged Porsche to the silver podium in the Michelin Cup.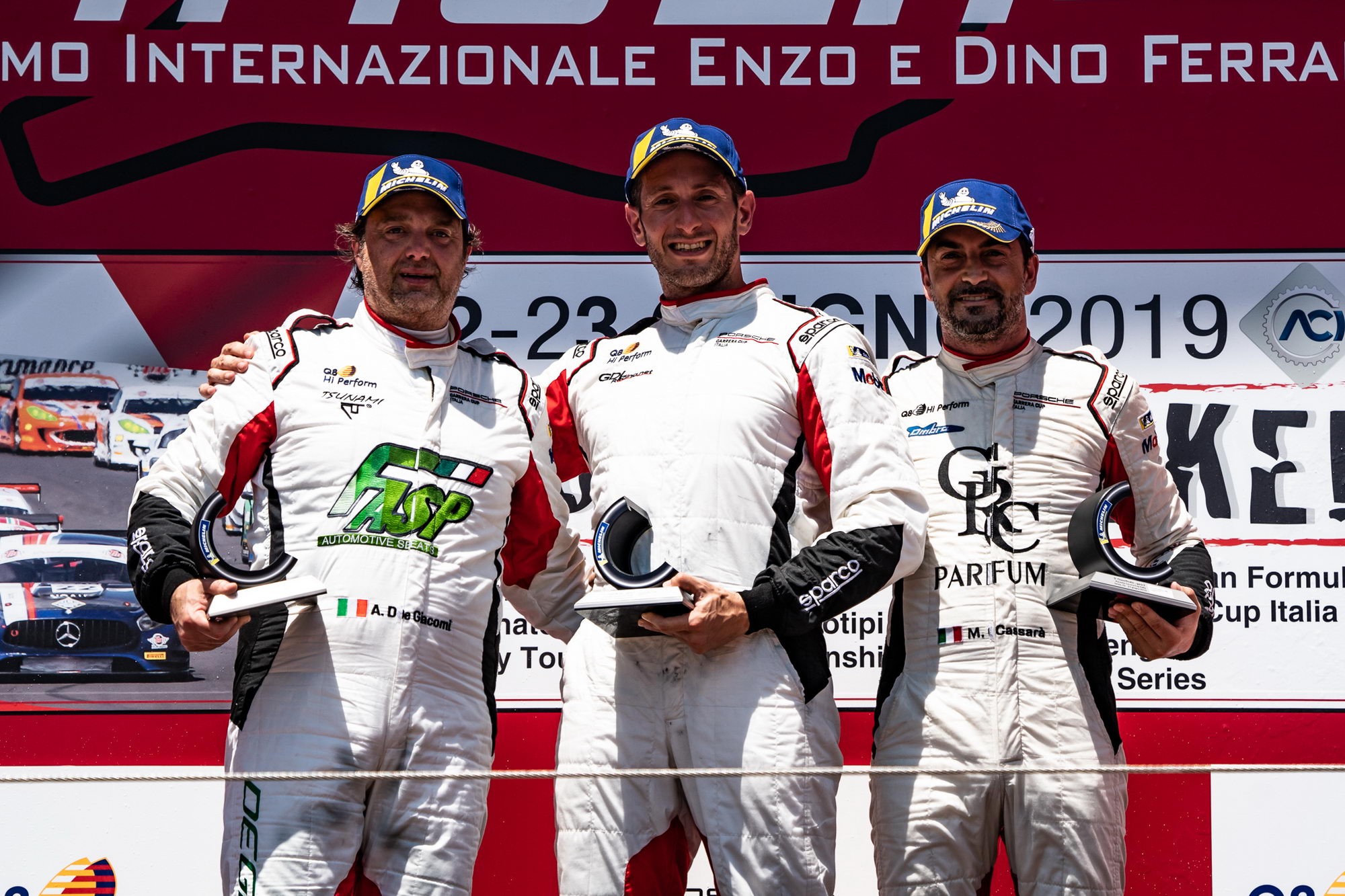 Alex de Giacomi: "It was a tough race, full of duels – some of them a little bit borderline – that made this one quite difficult. I have unexpectedly been the only driver put under investigation, but I think that I always left enough space. The contact with Sager was a pity, because the damages didn't allow me to fight for 1st place and to catch a victory that we would have deserved".
Porsche Carrera Cup Italia 2019. Imola, round 3. Race 2.
1. Enrico Fulgenzi (Tsunami RT) 16 laps
2. Diego Bertonelli (Dinamic Motorsport) +1.096
3. Jaden Conwright (Dinamic Motorsport) +1.206
...
11. Alex de Giacomi (Tsunami RT) +11.574
...
21. Luca Pastorelli (Dinamic Motorsport) +5 laps
Michelin Cup
1. Bashar Mardini (GDL Racing)
2. Alex de Giacomi (Tsunami RT)
3. Marco Cassara (Ombra Racing)
...
7. Luca Pastorelli (Dinamic Motorsport)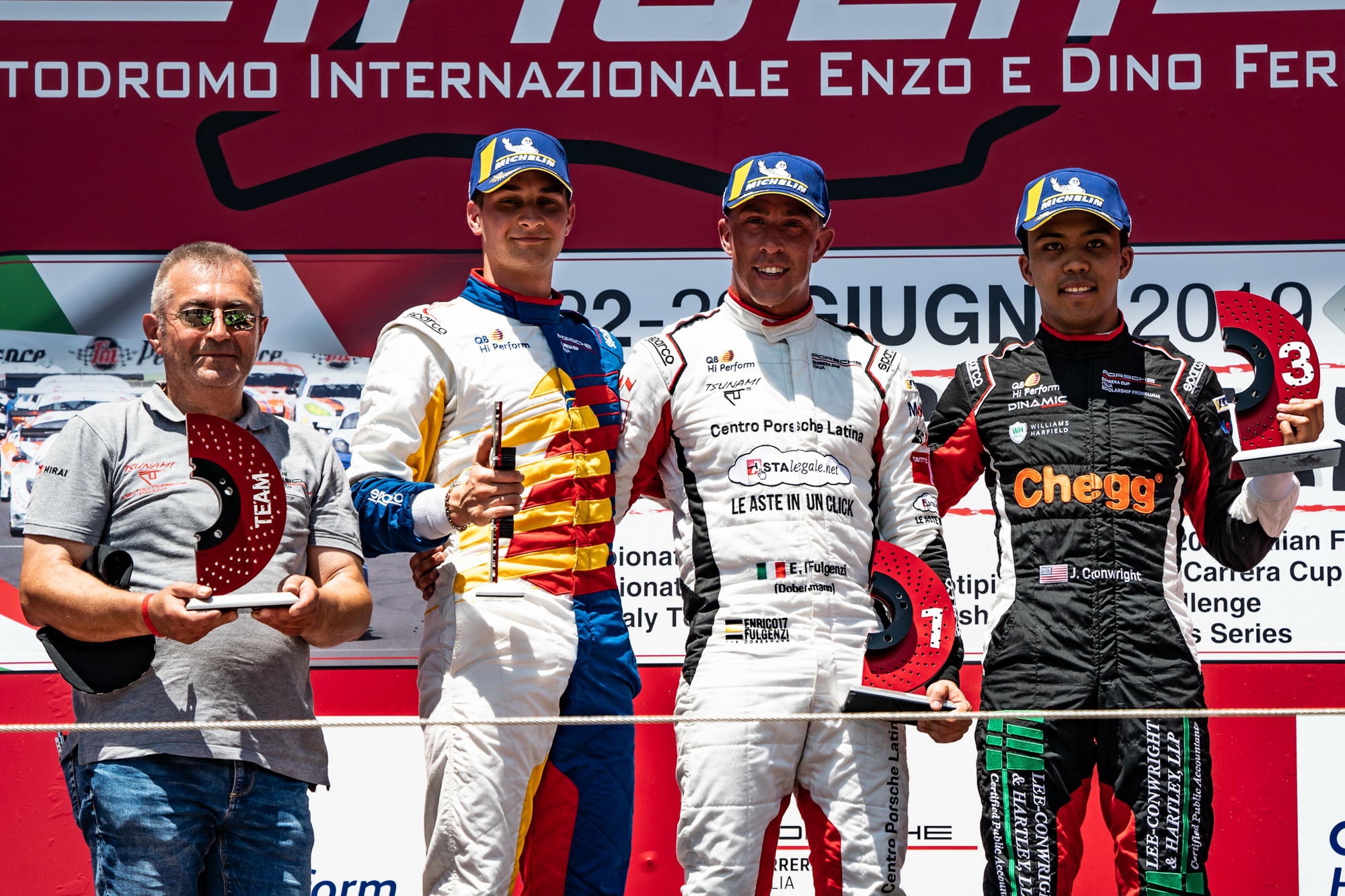 Four cups in one and a half races - this is a good result! And thank God that last year's Imola deja vu flashed by only a shadow, rained on the track - and was gone. The Sunday race was fascinating, lively and enjoyable to both spectators and participants.

And the best part is that the adventure continues! In less than two weeks we will meet on a completely new route for us – Hungaroring – with rivals in GT Cup Open Europe! You just do not have time to get bored. Summer is in full swing!