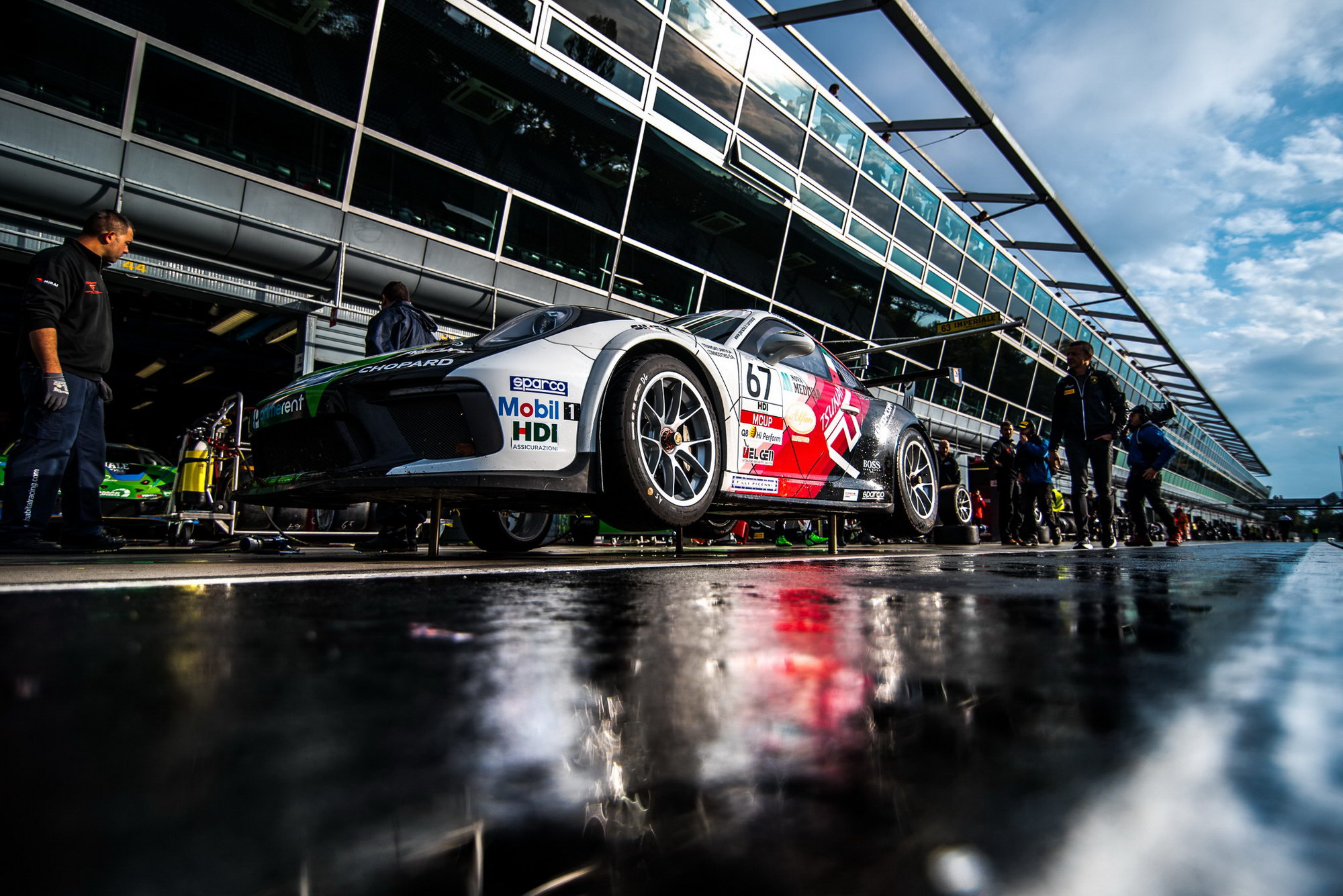 The season is coming to its end so fast! This thought constantly comes to our minds during the final rounds of the series: is it really the final?! Yes, it is Porsche Carrera Cup Italia final, let it be as bright and expressive as the previous races!
Not only Enrico Fulgenzi (15 points behind the leader of the series) and Alex De Giacomi (current leading position in Michelin Cup), but also the defending (at the moment) PCCI champion Gianmarco Quaresmini came to the final in Monza with us. Friday pleased us with successful practices, but weather observers had botched it up, as always, with their forecast of rain for Saturday morning.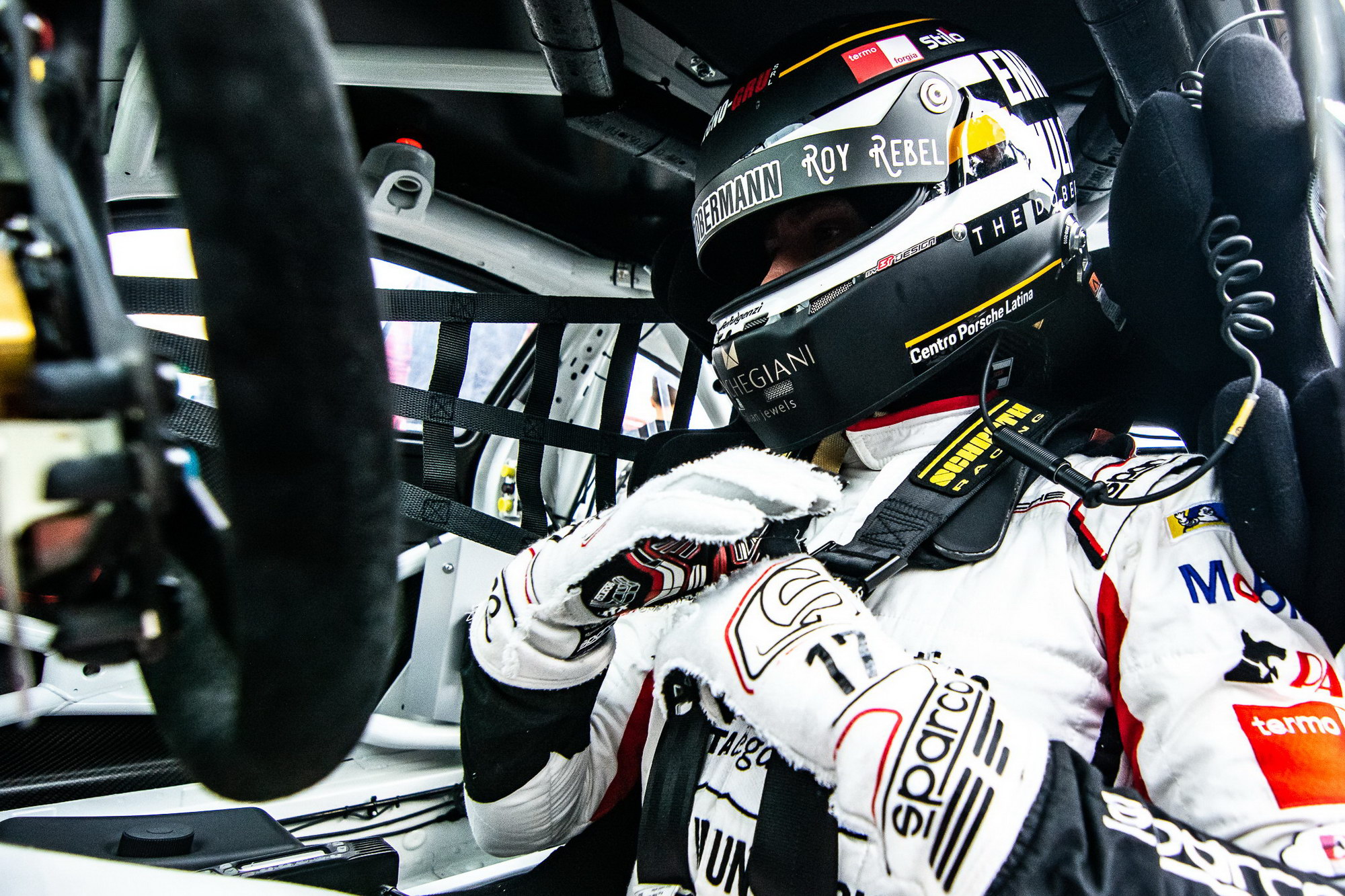 #17 Enrico Fulgenzi: "Everything was perfect during free practice. I didn't drove in a very aggressive manner, but nevertheless we managed to stay in 1st place for almost the whole session and the car felt really good both with used tires and both with fresher ones. I would say that we could have expected this result due to the pole position catched in the first round, but now I feel better in the car and the feelings are great. We'll be ready if tomorrow will be sunny, but I think that we could have to reset everything due to the rain. Discovering our pace on a wet tarmac will be interesting and funny!"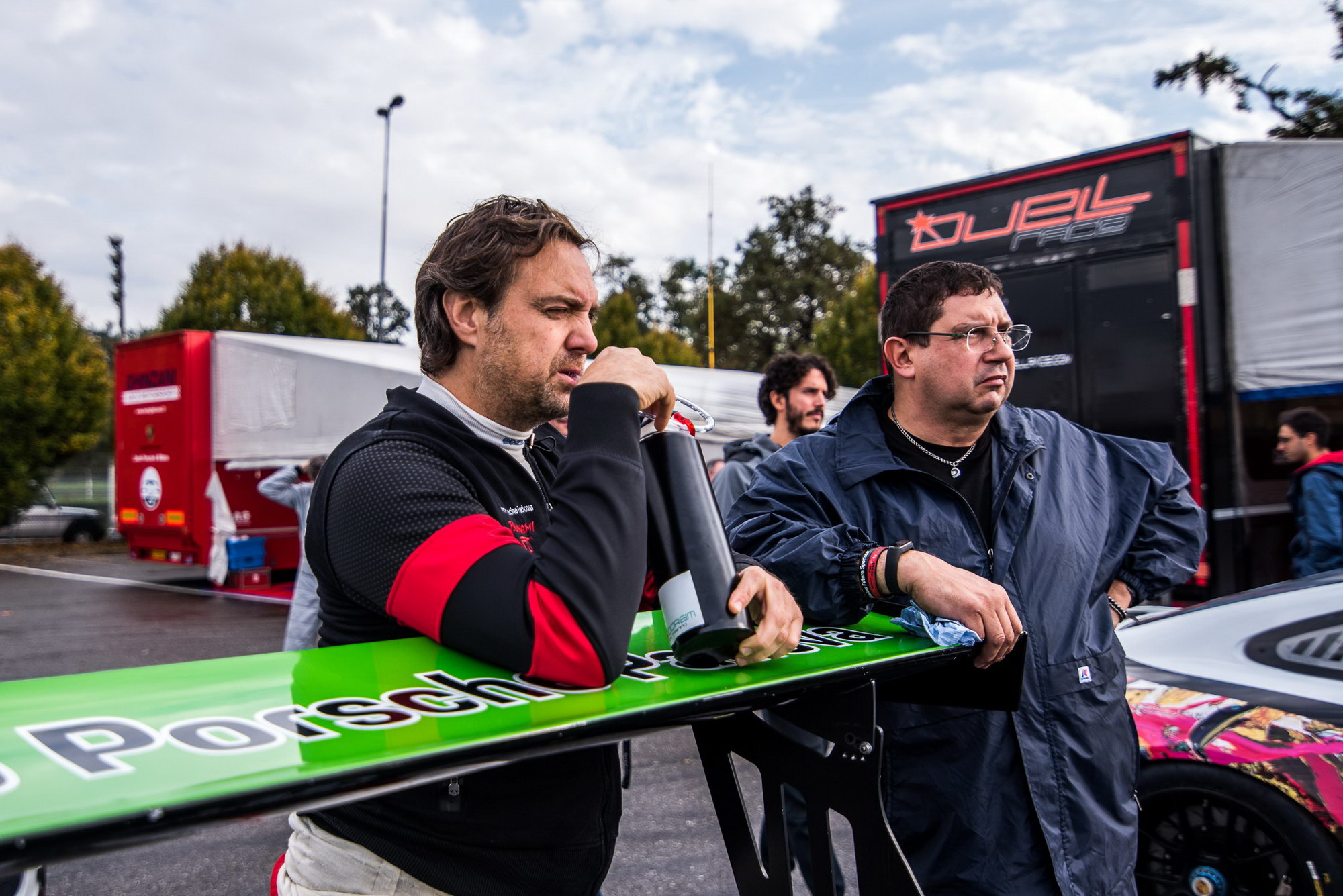 #67 Alex De Giacomi: "It's great to get in the car again! Unfortunately in Misano I had to give up, but now I feel much better and I'm really happy to hit the track. With dry tarmac our car has a really good balance, but the weather forecasts say that tomorrow will be rainy so we have to wait until qualifying in order to see our real strength here in Monza".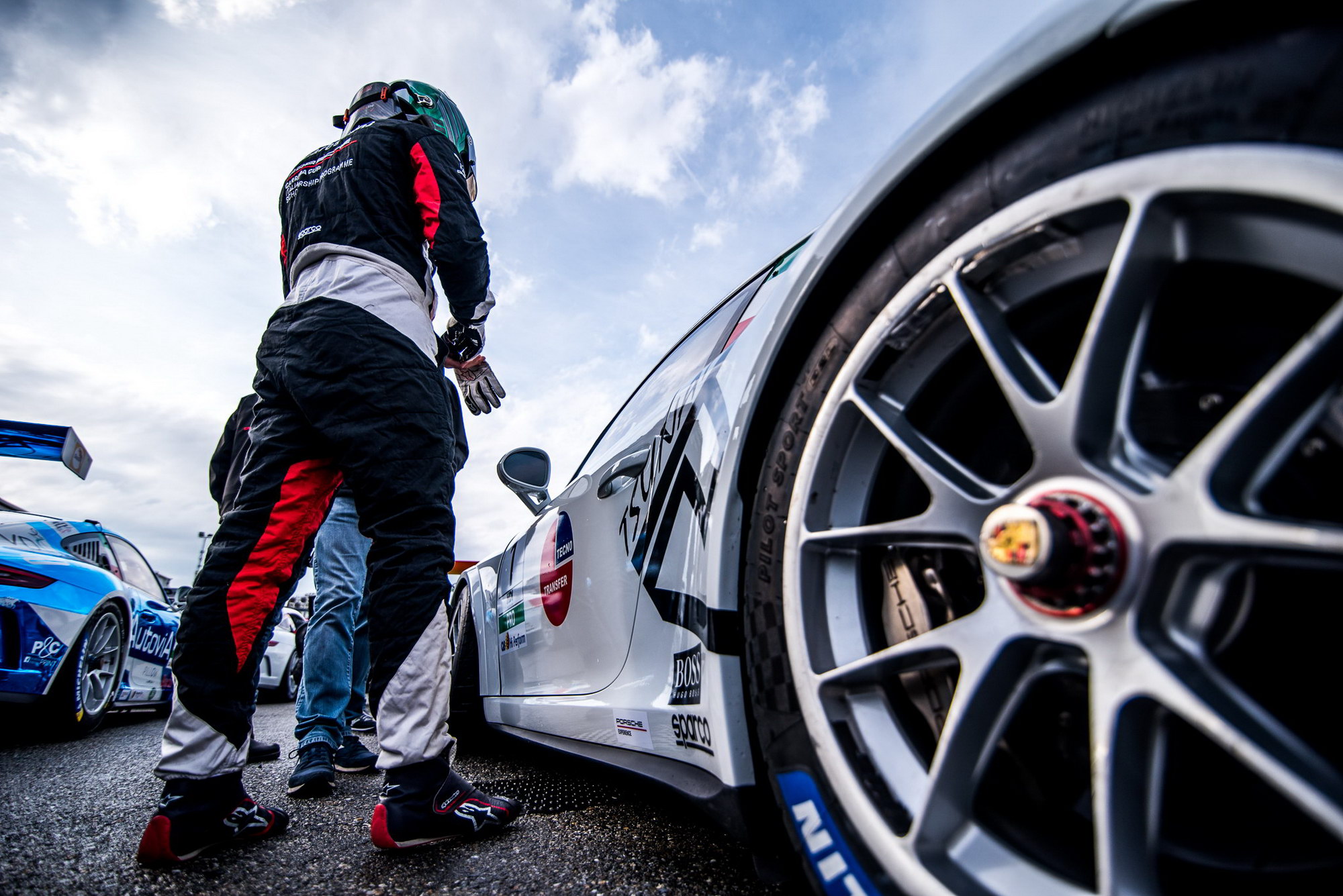 #1 Gianmarco Quaresmini: "It was a positive beginning! This is my first time both with Tsunami RT and both with this car, so during this free practice session I had to face a bit of understeering because I'm used to drive the same car but with another setup. Thing got much better when I started using fresher tires, and also when I slightly changed my braking approach. Considering that this is my debut with the team, it's a good starting point".
Unfortunately, meteorologists were right: Saturday qualifications went off first in the rain and then in the downpour. The results were extremely unfavorable for all the three Tsunami RT drivers: Enrico Fulgenzi was the best with his ninth starting position, Gianmarco Quaresmini got only the 19th, and Alex De Giacomi – the 22nd position. Unusual numbers...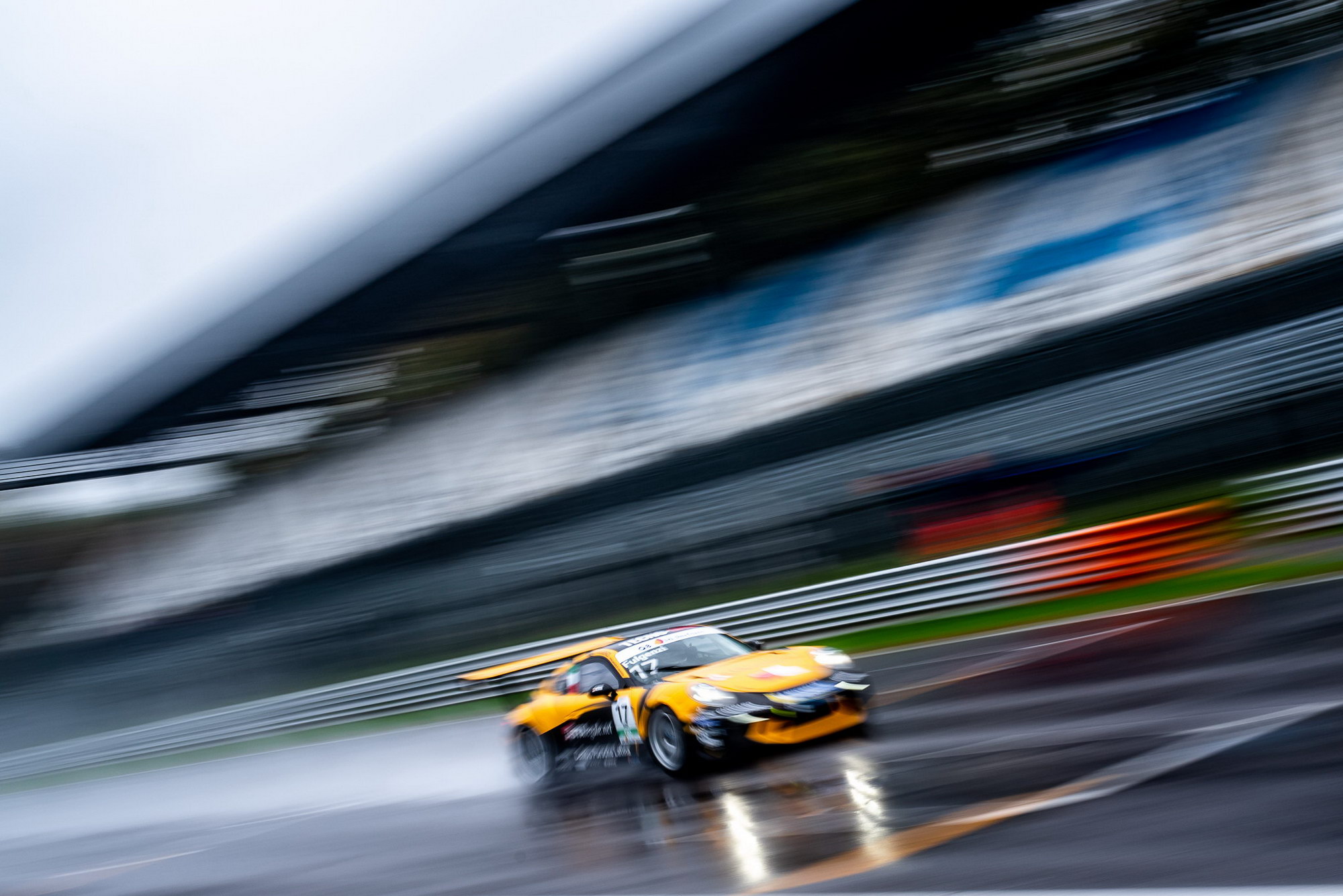 #17 Enrico Fulgenzi: "It was a really difficult qualifying session. Track conditions were not so simple: during Q1 we managed to hit the track when there wasn't too much rain, but in the Q2 all things got worse and so it wasn't easy to find the right feeling with this tarmac. Now we have to focus on this afternoon, because we need to work in order to improve our pace for the fundamental Race 1"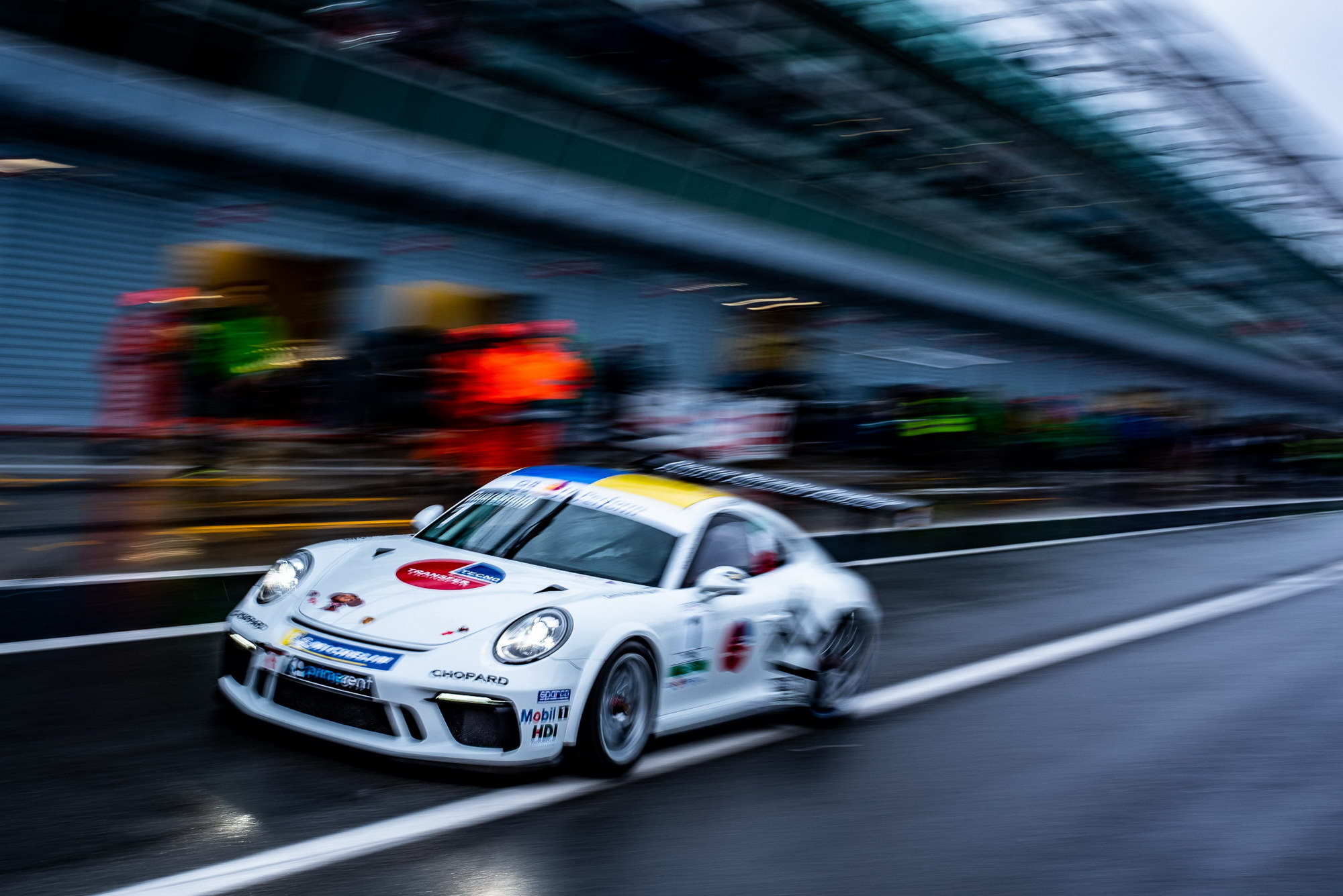 #1 Gianmarco Quaresmini: "This qualifying session wasn't easy at all. I needed better track conditions to improve my feeling with this new car, and such a wet tarmac was not the best thing I could have hoped for. We unfortunately struggled since the beginning, and we also didn't manage to improve our pace during the session. We'll have to recover in Race 1, but it won't be easy".
#67 Alex De Giacomi: "It definitely wasn't our morning today. I hadn't a good feeling with the track, and unfortunately I had to set a lap when it was raining heavily: that's why I almost couldn't finish a decent flying lap. Now we have to work in order to make a great recovery during Race 1, but we all know that it won't be easy".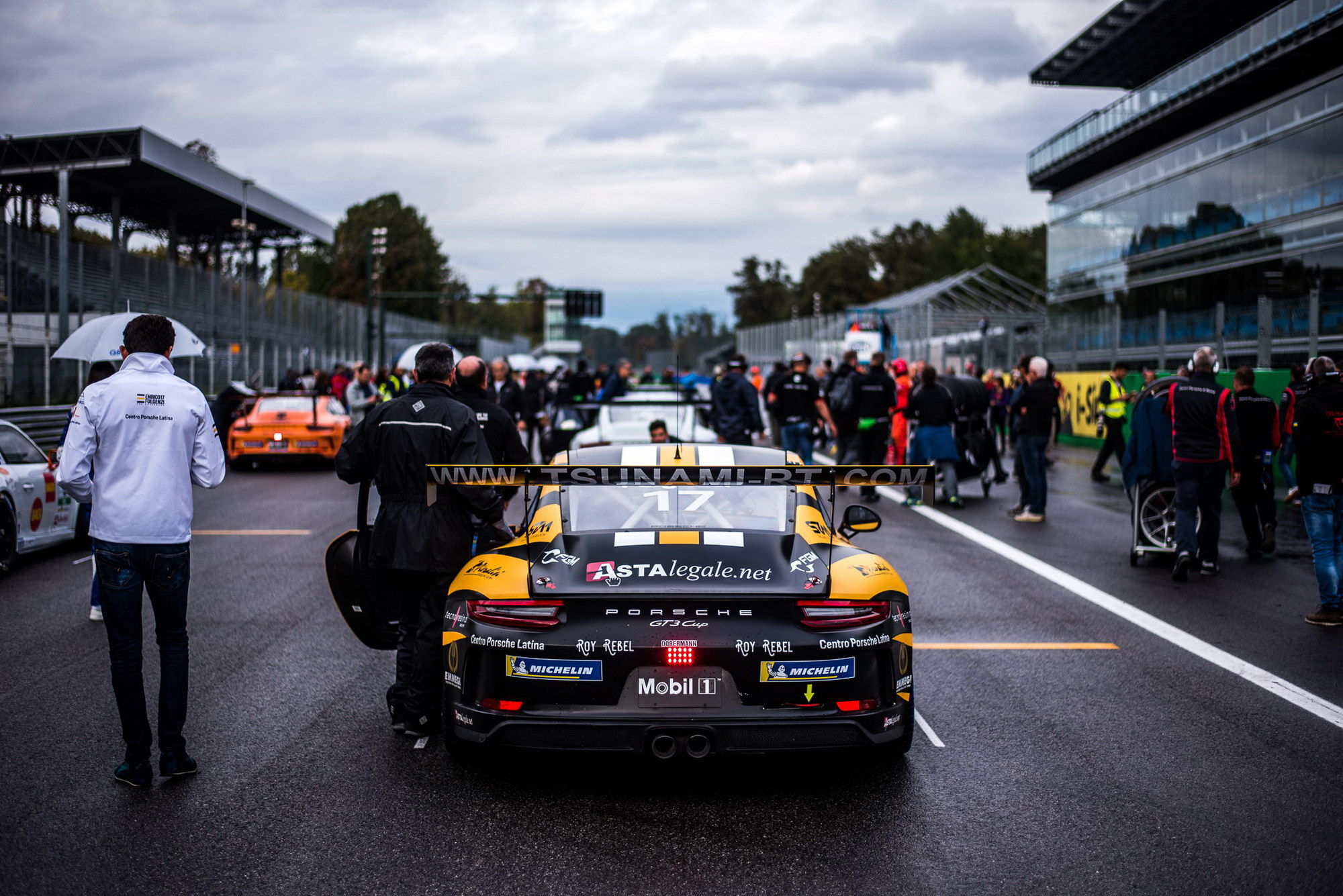 Overrun, and overrun, and overrun again is strategy, tactics, plan and motto for the first race of Saturday. It is still wet on the track, but the Sun is shining bright turning the water spray from the wheels of competitors into a dazzling impenetrable curtain. Enrico Fulgenzi misses Rettifiglio chicane in the first two laps, and his competitors are making a lot of mistakes too. However, Enrico is the fifth after the first two laps, and Quaresmini is the 10th... What about De Giacomi? He also started to break forth, but unfortunately his contact with the competitor resulted in suspension failure and a visit to pit lane, that meant the switch to the category of fans...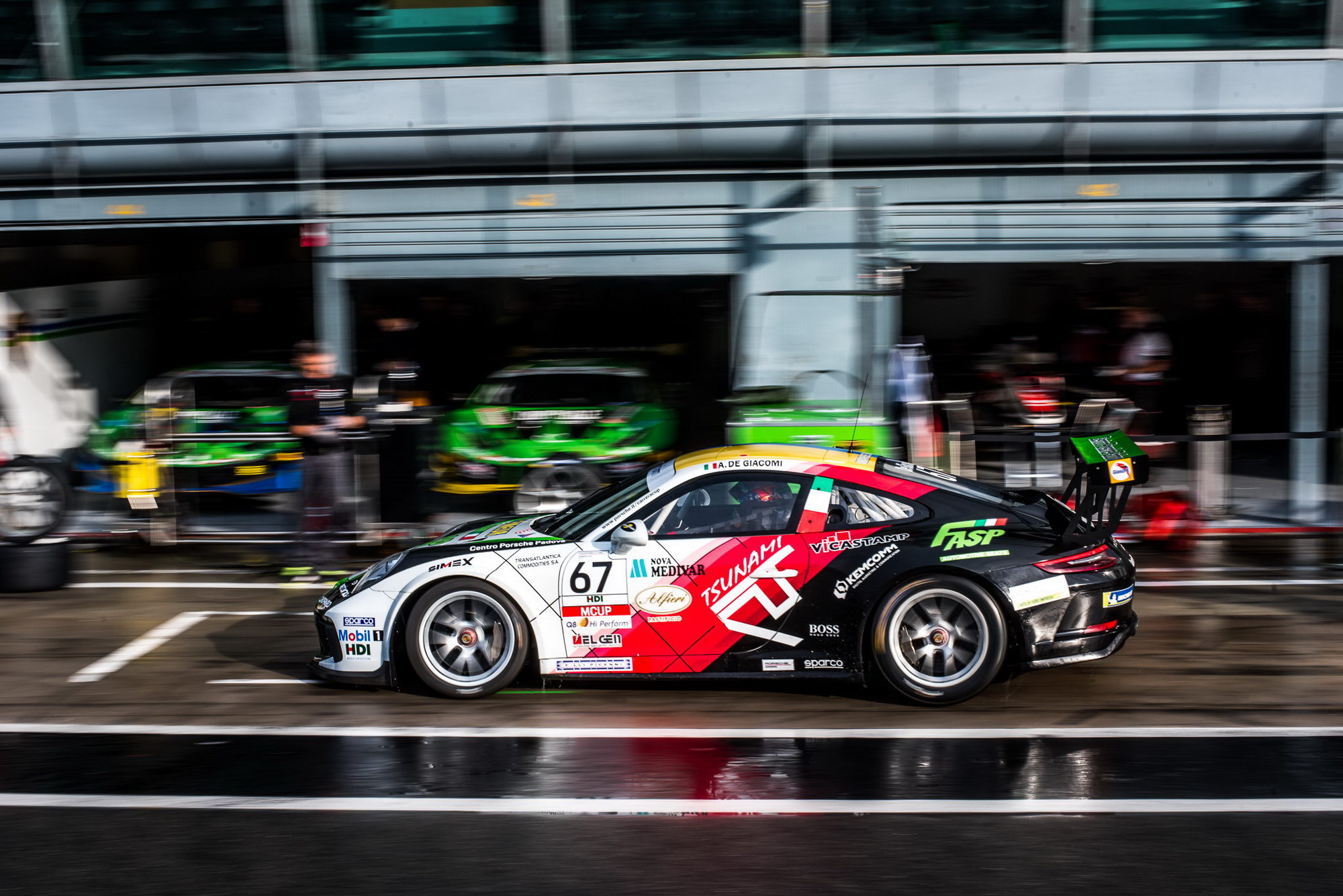 #67 Alex De Giacomi (not сlassified): "It was not a great way to finish our saturday. I had a really good start, but during the first few laps I unfortunately made contact with another car and so I broke my front right suspension. With that damage I couldn't continue my race and I was forced to retire, and it's a pity because I think that we could have had the pace to gain places".
A tough competition is going on among the leaders: Jaden Conwright attacks Simone Iaquinta, and here he is, leading the peloton, but he makes a mistake and goes to the third position. In this very Rettifiglio turn Enrico Fulgenzi pushes Diego Bertonelli in the crowd... The verdict is harsh: a drive-through. From that moment, Enrico has no chance to win in this season...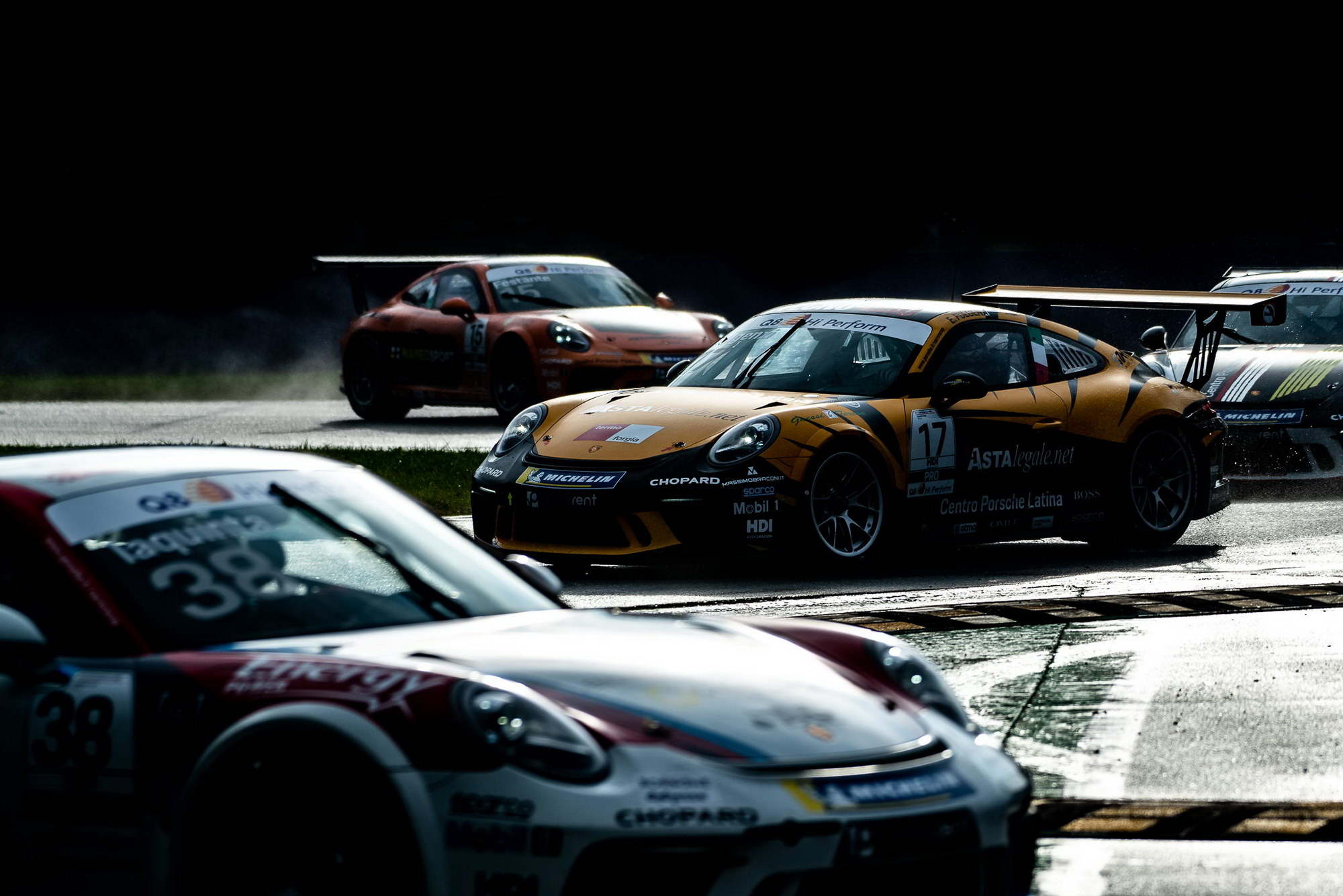 #17 Enrico Fulgenzi: "This saturday definitely wasn't our day. I gained lots of places at the start and immediately managed to capture the leading group, but our hopes for a great result were broken in pieces after the contact with Bertonelli. I almost stopped when I noticed to be on the inside, I couldn't disappear, but unfortunately I touched his rear and he span. Then, due to the Drive Through, I completely lost the chance to win the championship again. It's a shame, I'm really disappointed".
Only Gianmarco Quaresmini finally has caught courage showing all the competitors who is the defending champion here! Having started on the 19th position, he finishes the race on the fifth position! Tomorrow he starts from the second position accordingly!
#1 Gianmarco Quaresmini: "I'm definitely satisfied! Starting 19th I was cautious during the first part of the race in order to avoid any kind of contact, but despite this I managed to earn some places with a really good start. I struggled a little bit too much in the first half of the race because we were a little bit lower with tire pressure, but when I had no one in front of me and the tires were warmed enough I started to have a really strong pace. I also set the fastest lap of the race, and that's the proof of my growing feeling with this car. Tomorrow we will start from 2nd place, and I think it could be another opportunity to catch a great result!"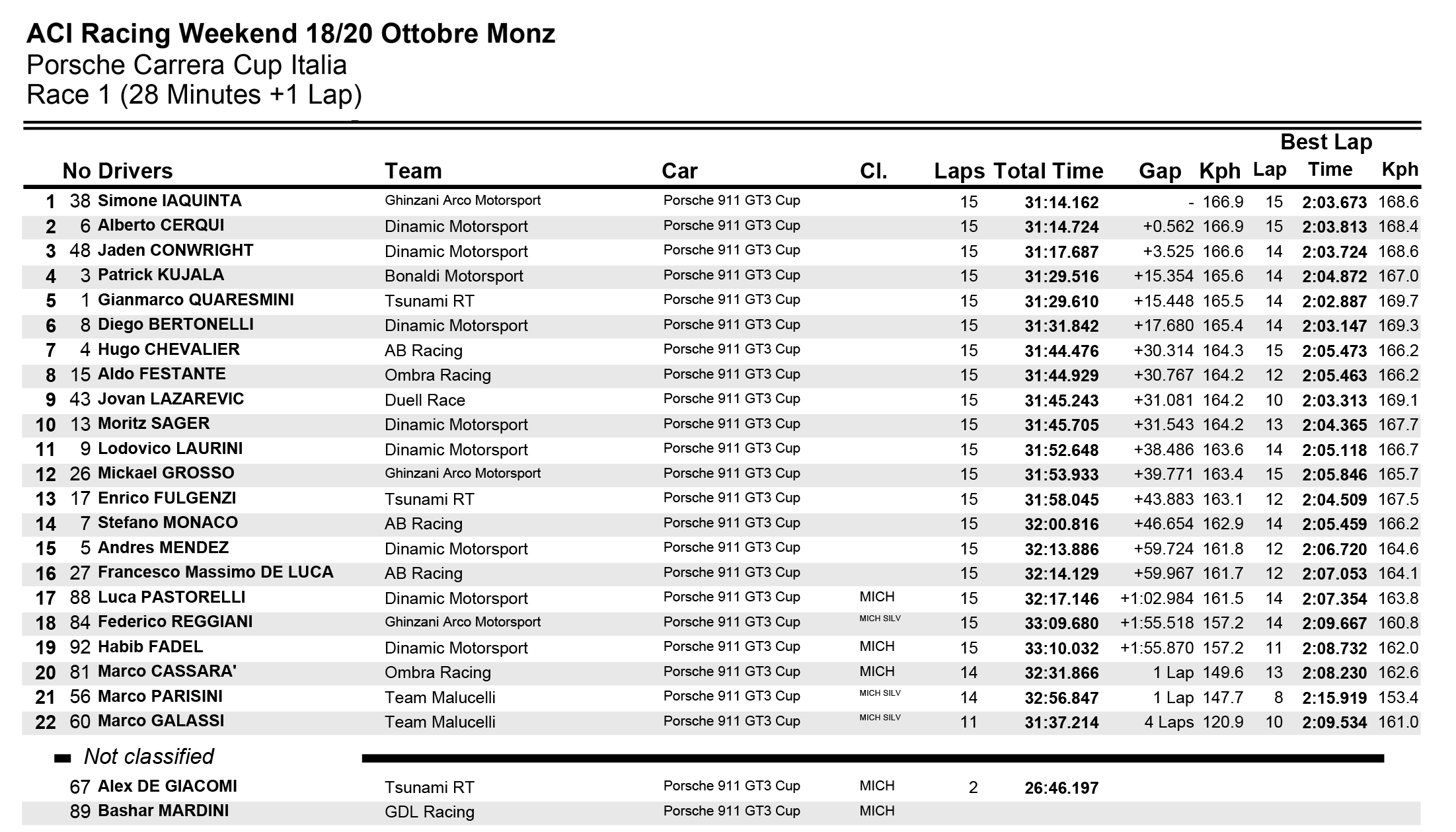 It is not raining on Sunday before the start, but the asphalt is still damp. Which tires should we choose? Fulgenzi and De Giacomi are bucking the tiger: they are starting on slick tires. It means that the pace will not be very high in the beginning of the race, because they should wait until the track coverage dries out, and the tires warm up.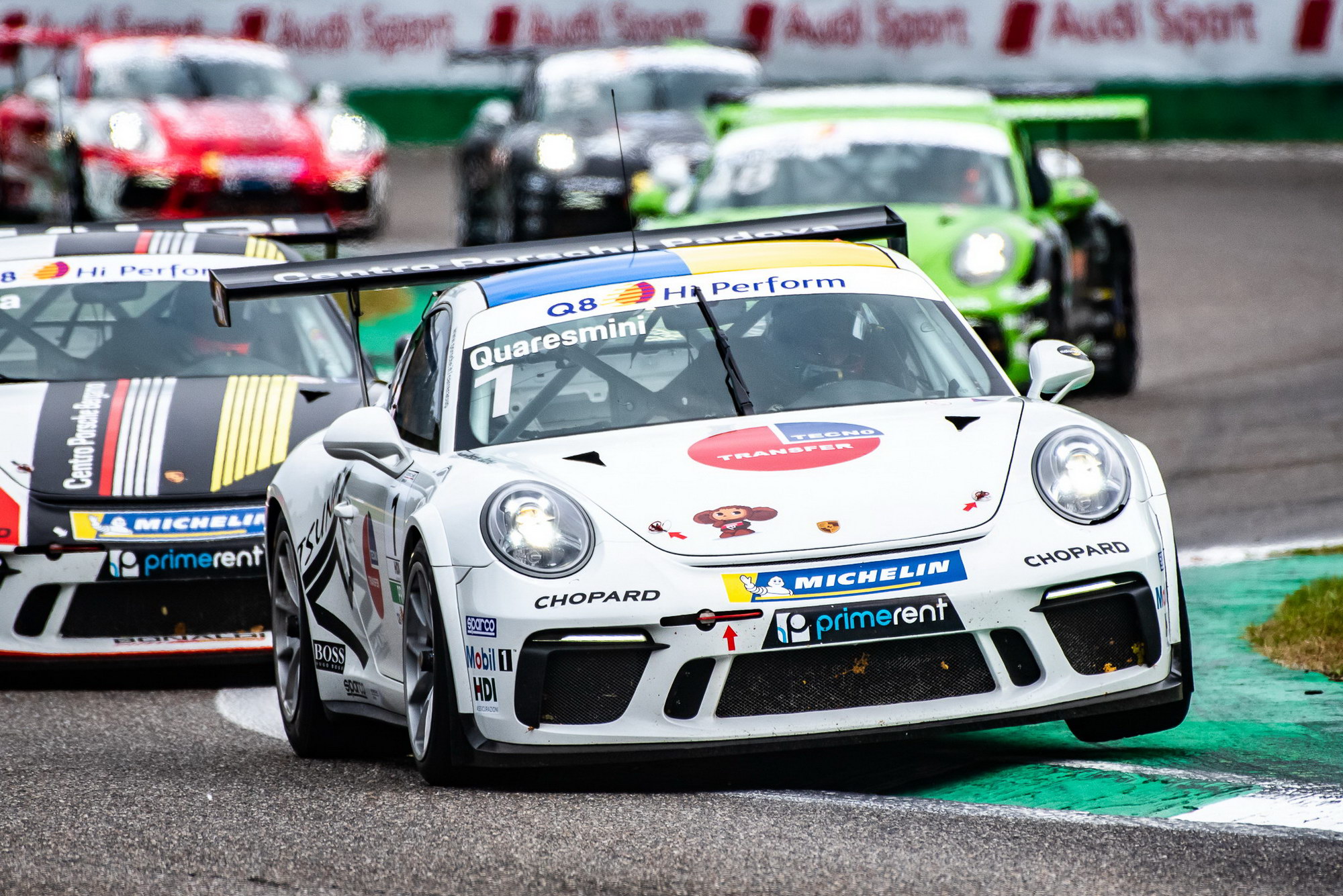 Meanwhile Gianmarco Quaresmini who has started from the second position is overrunning Diego Bertonelli and becomes the leader of the peloton, but the latter occupies the first position having taken advantage of our driver's mistake. While Gianmarco is getting on Bertonelli's nerves with continuous attacks, De Giacomi and Fulgenzi are increasing the pace: the tires have warmed up, and the grip is good. And now our drivers are unstoppable! Fulgenzi is stamping the best laps, Giacomi becomes the leader among the Michelin Cup drivers!
On the last lap of the race Enrico demonstrates all he can to everybody: having overrun three competitors, he takes the 4th position despite of having started 18th!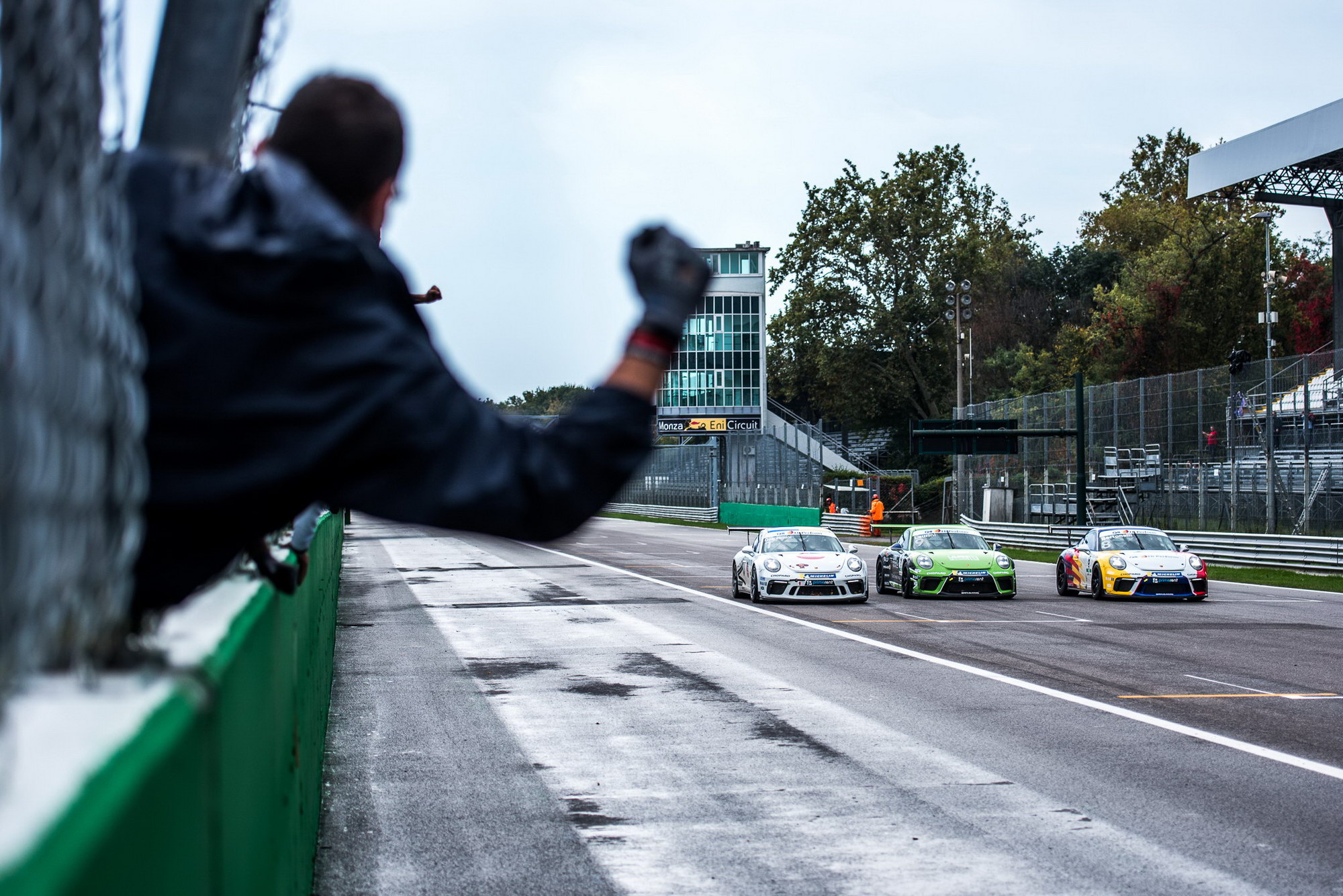 To finish it all, Monza presents the viewers with a really faery finish: the top-3 summed it up in 0.025 second! Lodovico Laurini drives first under the checkered flag followed by Diego Bertonelli and Gianmarco Quaresmini, but only the photo finish helps to puzzle it out. Fulgenzi is the fourth. Alex De Giacomi not only receives the last gold trophy of the season in Michelin Cup classification, but also becomes the vice-champion of the season-2019! What a beautiful final!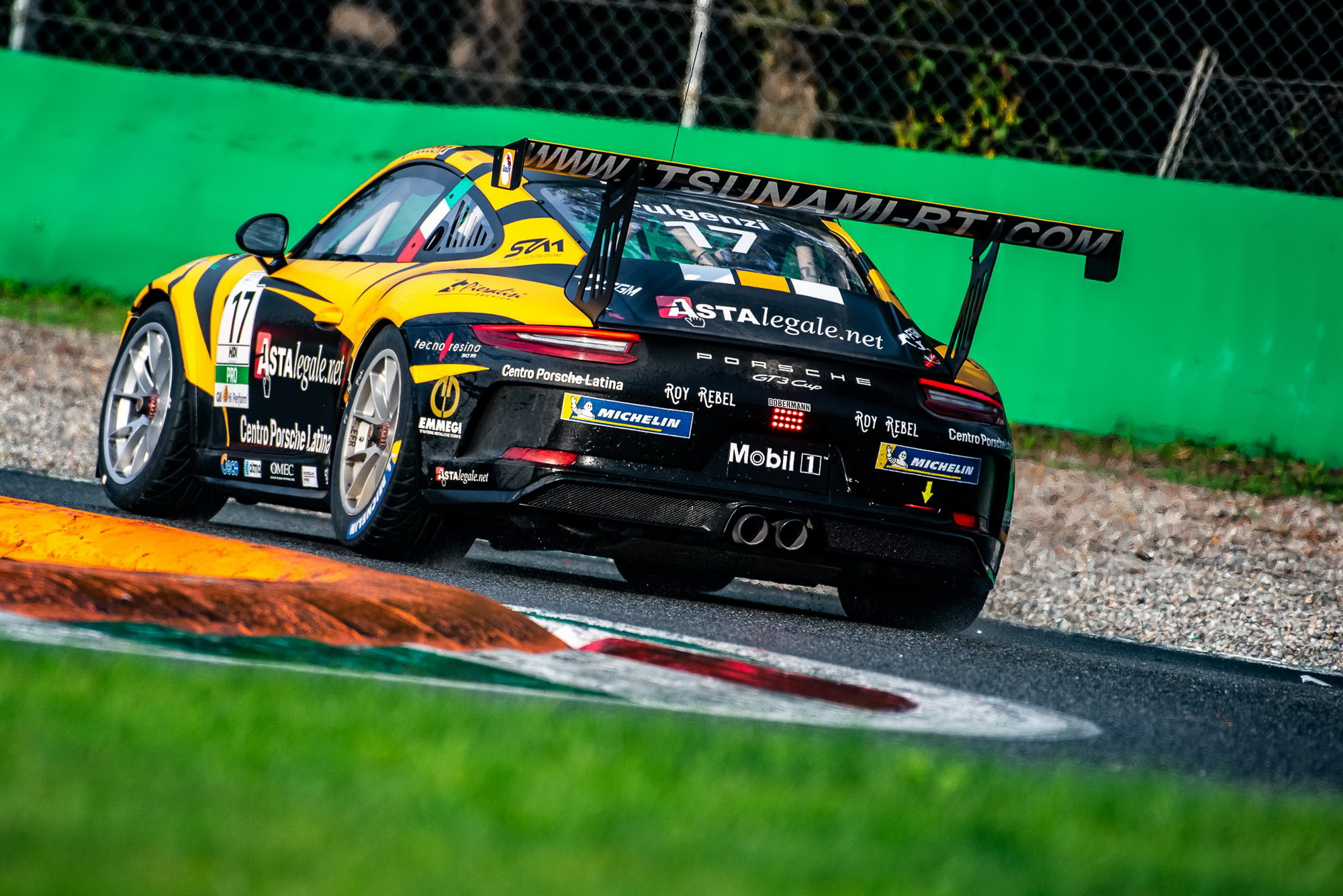 #17 Enrico Fulgenzi: "It was a funny race! We started with slick tires even though the tarmac was wet, but we saw some dry sections and so we decided to make a gamble. During the first few laps we struggled, but when our tires warmed up we became the fastest on track. I had really great fun while I was making my comeback, and even though we didn't step on podium it's a very good way to finish a stunning season like this. I would like to thank the whole Tsunami RT and my staff for the support, and I would also like to congratulate Iaquinta for his championship win. That's all for this 2019, but from tomorrow we will start to work again: we have to prepare there's the 2020 season of PCCI!"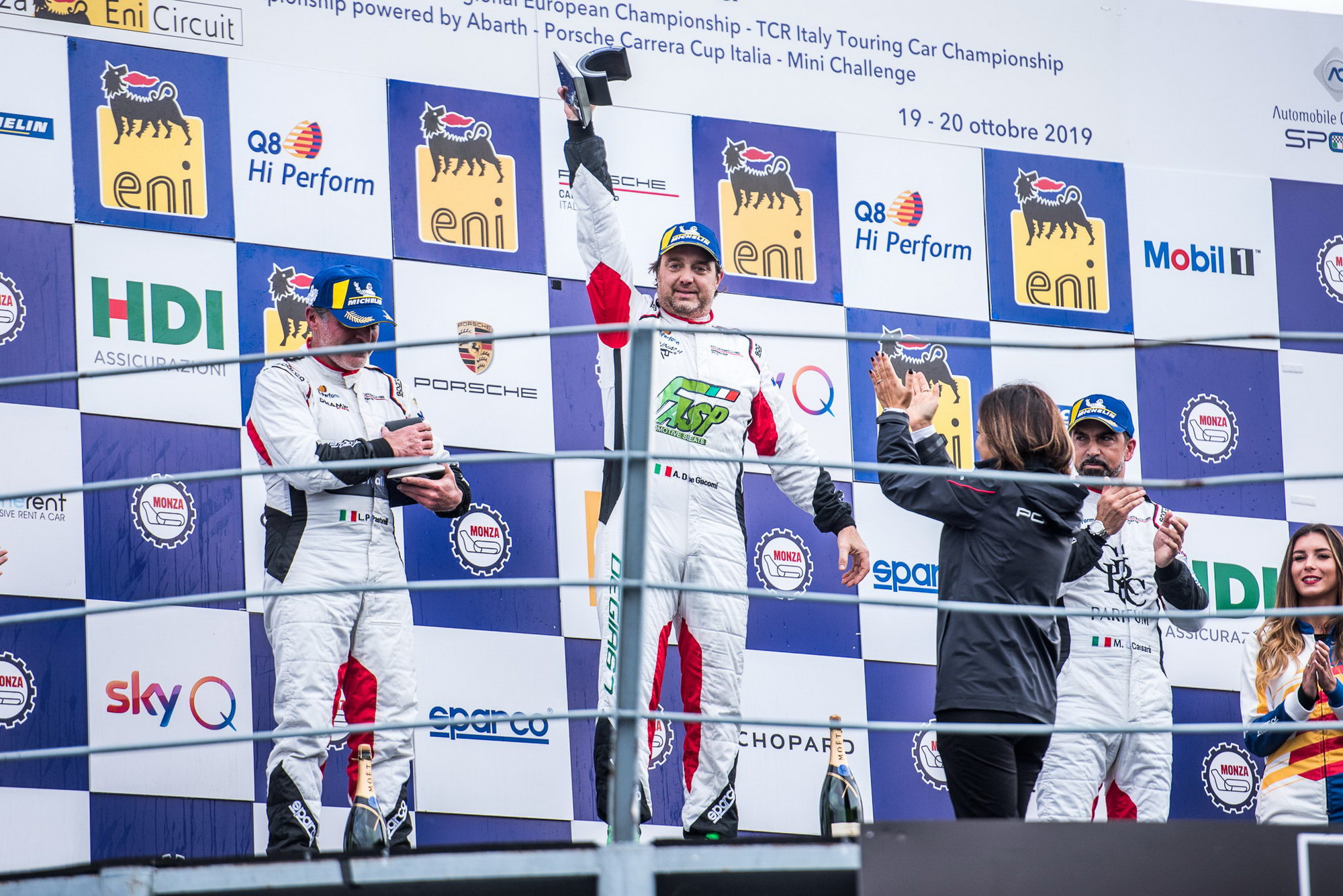 #67 Alex De Giacomi: "Without any doubts this is a great way to end our season! We decided to use slick tires, and our gamble paid off: we had a really strong pace when the tarmac started to dry, and the victory is the result that we deserved for what we showed on friday. We lacked a little bit of constance during this season, but we will be stronger in 2020"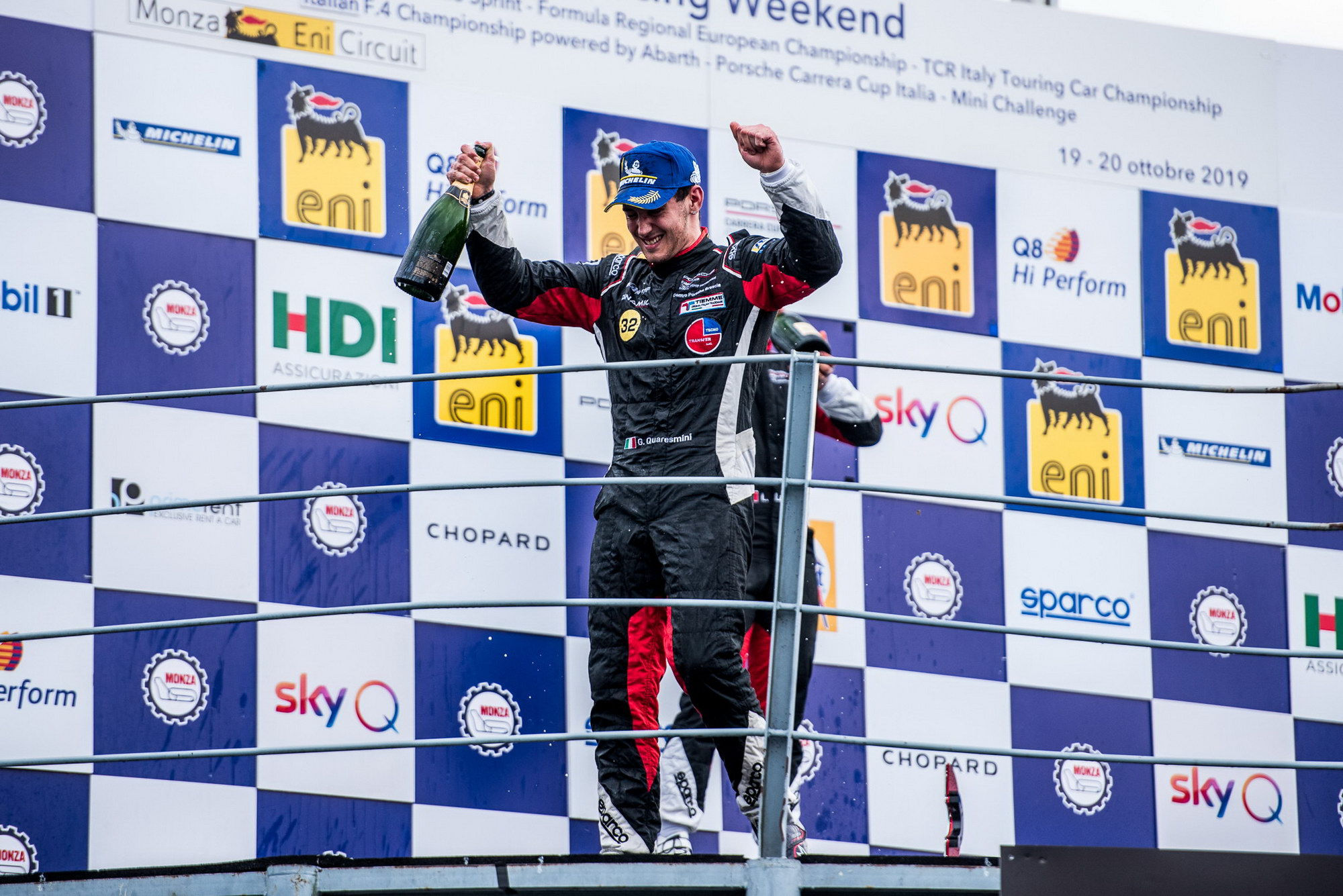 #1 Gianmarco Quaresmini: "I'm happy! Today I had a really good feeling with the car, and so I am glad to finish this weekend with a podium. I even managed to earn 1st place at the start, but due to some small mistakes I wasn't able to stay with Bertonelli throughout the whole race. At last turn I knew that I would have the chance to win, but unfortunately I lost grip at the exit and I had to leave the throttle for a while. It's a pity, but I'am however really happy!"
Congratulations to the newly qualified PCCI champion Simone Iaquinta and the Michelin Cup champion Marco Cassara!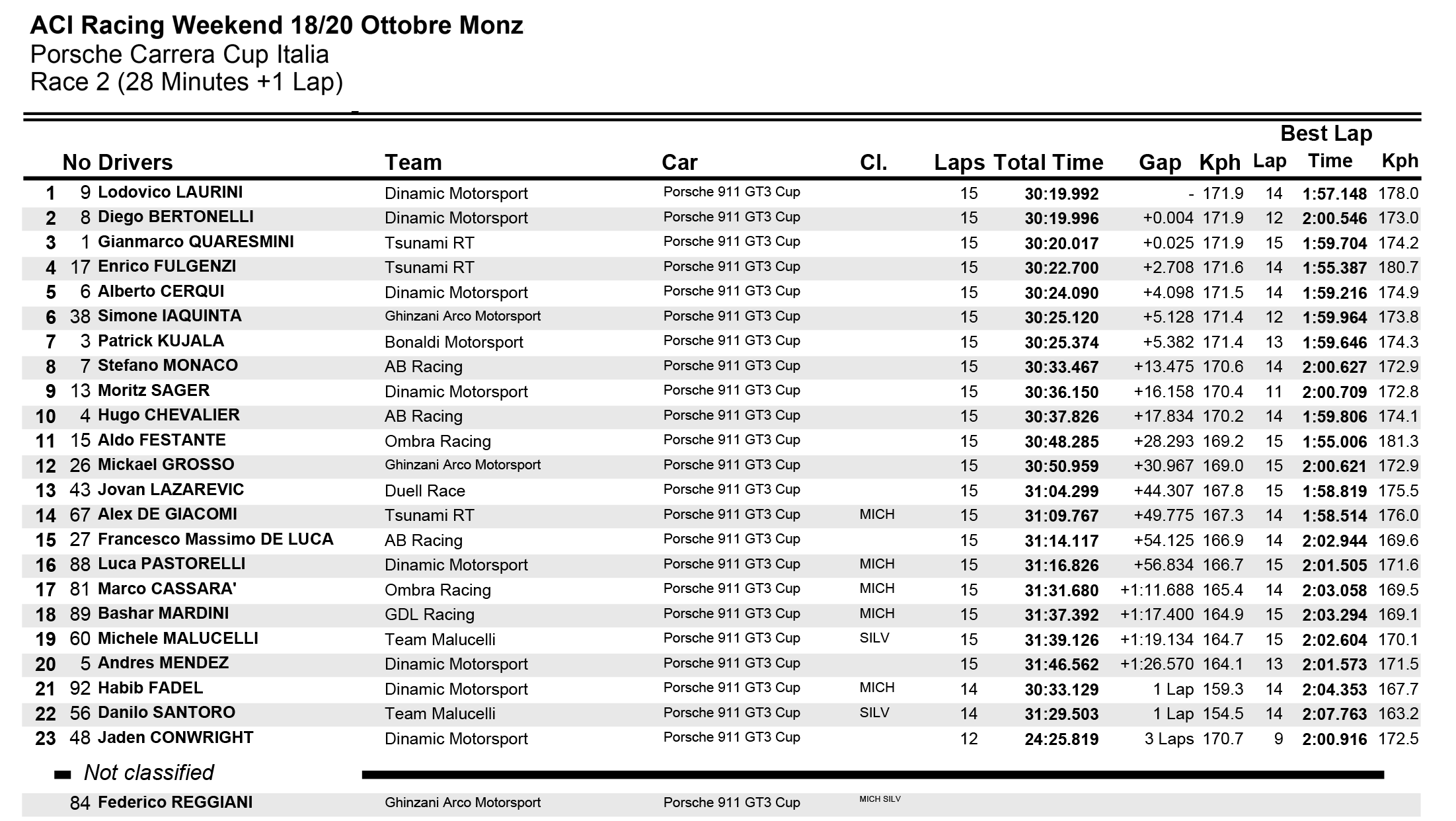 Autumn is asserting itself. Racecars go into their dens and hibernate. Helmets and gloves yawn on the nails. Autumn is the time to collect stones. It is the time to summarize and make plans. Actually, it will happen very soon – a new spring and a new start!