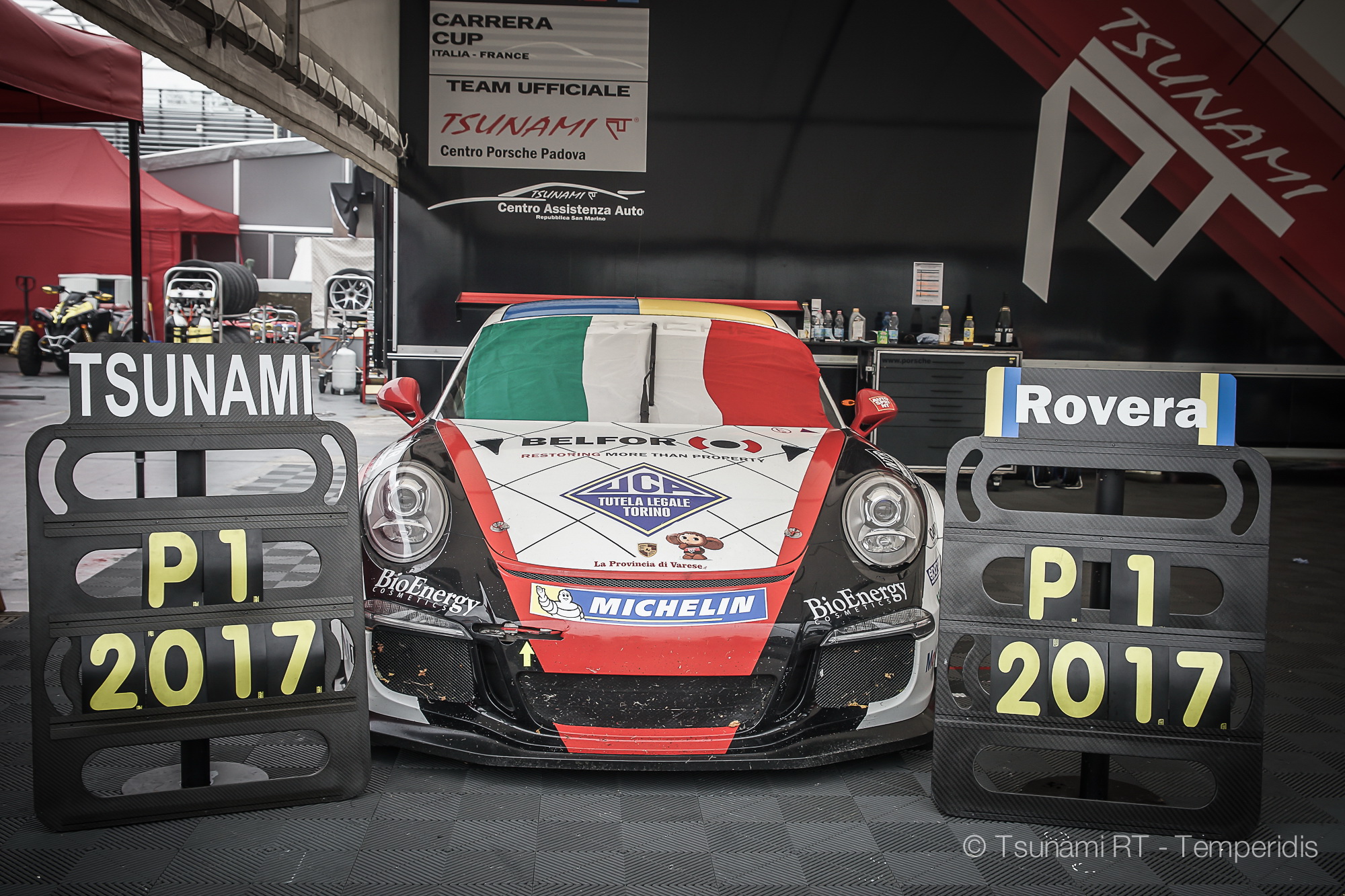 To tell about Porsche Carrera Cup Italia round in Monza, one needs to take his mind off emotions. And this is so difficult when your driver in a laurel wreath celebrates his champion's title, when the whole team also becomes the Champion of Italy, when happiness overflows everyone, and everyone chants: "We are champions!"
Yes, we have already told you the main thing, but, believe us, the plot of this Monza race is worth being known in detail.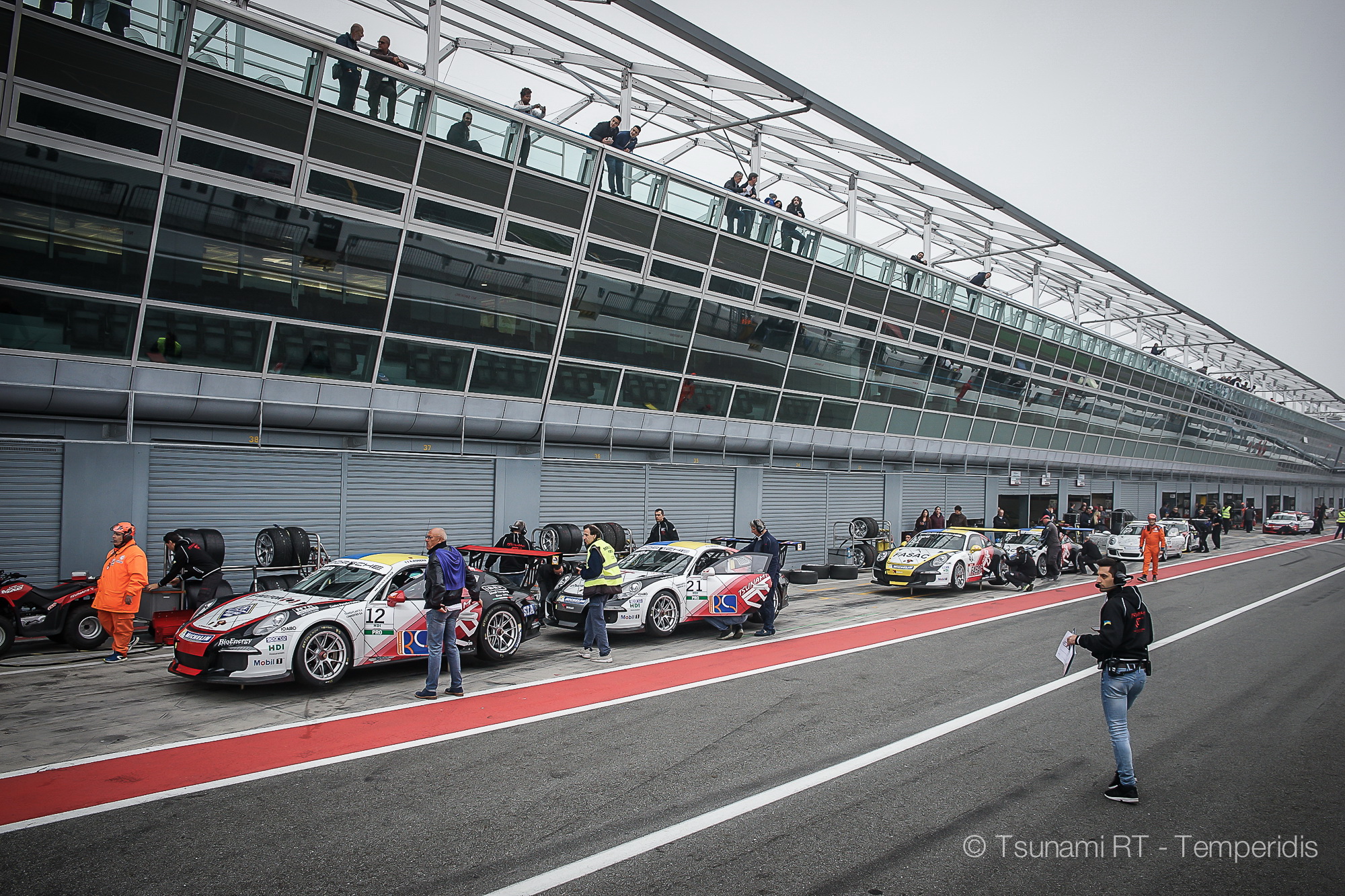 So, the four Porsches in Tsunami RT colors lined up on the start this time. Besides Alessio Rovera aspiring for the title, and brothers Curti, also our sports director, Andrii Kruglyk, took to the wheel of the racing car! It was not an experiment – Andrii is a very fast driver and has proven it repeatedly also as a part of our team.

We reached the final round with the difference of 13 points in the individual and 11 points in the team classification, and both times this difference was not in our favor. So, we had to compete on every meter of the track during the races... and even before them: two points could be received for the pole position!..

And Alessio Rovera did it! Having won the qualification, he not only ensured his pole position, but also reduced our gap. But is it possible to win back 11 points in two races, especially when your rival is Riccardo Pera, a very fast driver?.. We did not ask ourselves that question. We were just ready to fight.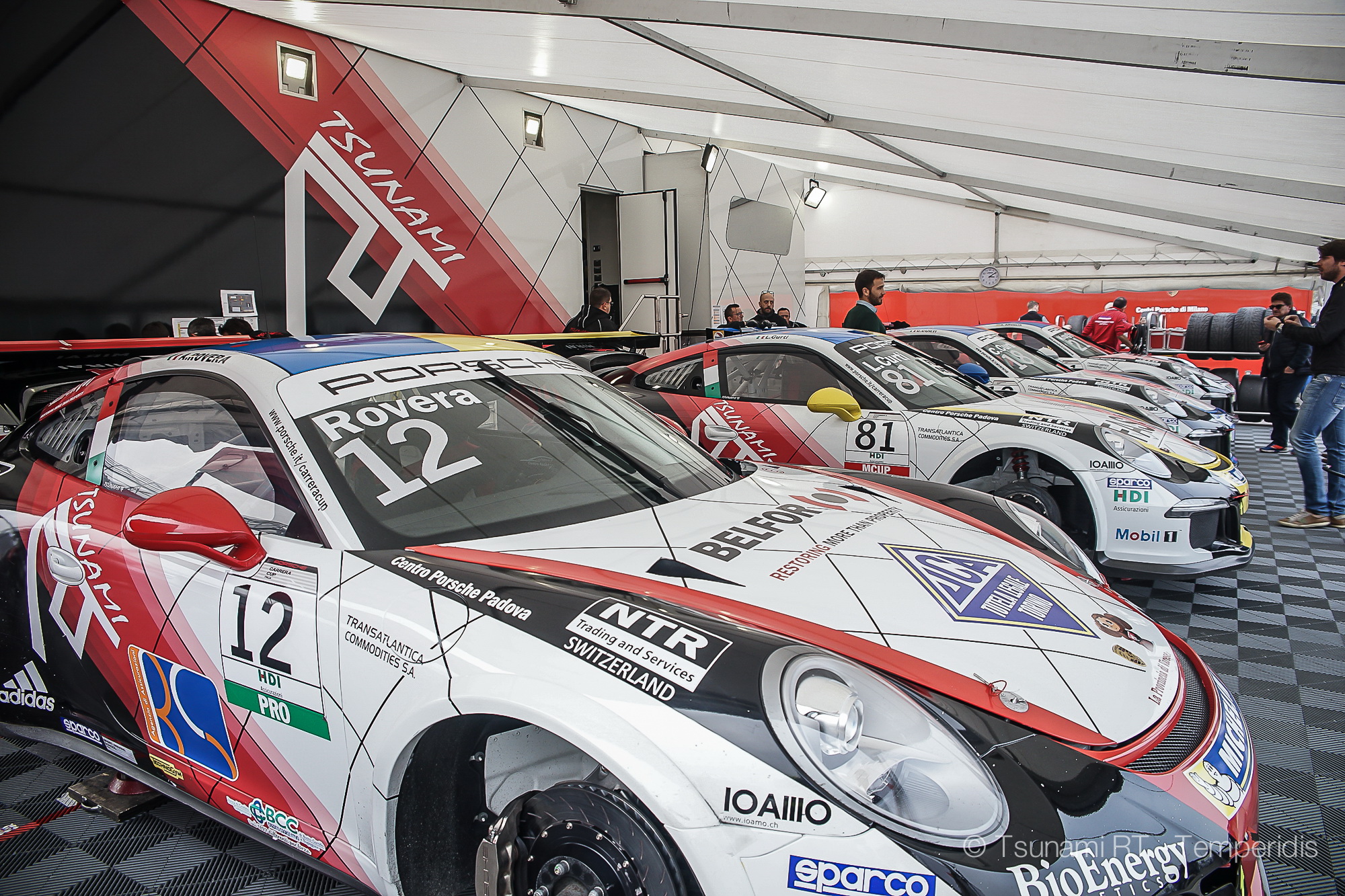 Riccardo Pera who had demonstrated the second time result in the qualification was moved 10 positions back on the starting grid for his not quite consistent performance in Mugello. However, Mattia Drudi, well-known to our fans, took stand in the first row next to Alessio Rovera. We love this driver a lot for his speed and perfect gentleman behavior on the track, but the presence of such a driver tailgating our driver means huge additional efforts to keep the former behind. We were facing a difficult race...

Of course, Mattia started to attack Rovera just after the start. The collision of Gianmarco Quaresmini with Ivan Jacoma gave some break, after which the safety car entered the track. Damn it, it was the first time of the season when the safety car helped Alessio Rovera, not impeding him! By the way, till that moment Pera already was the ninth, and Andrii Kruglyk – the seventh.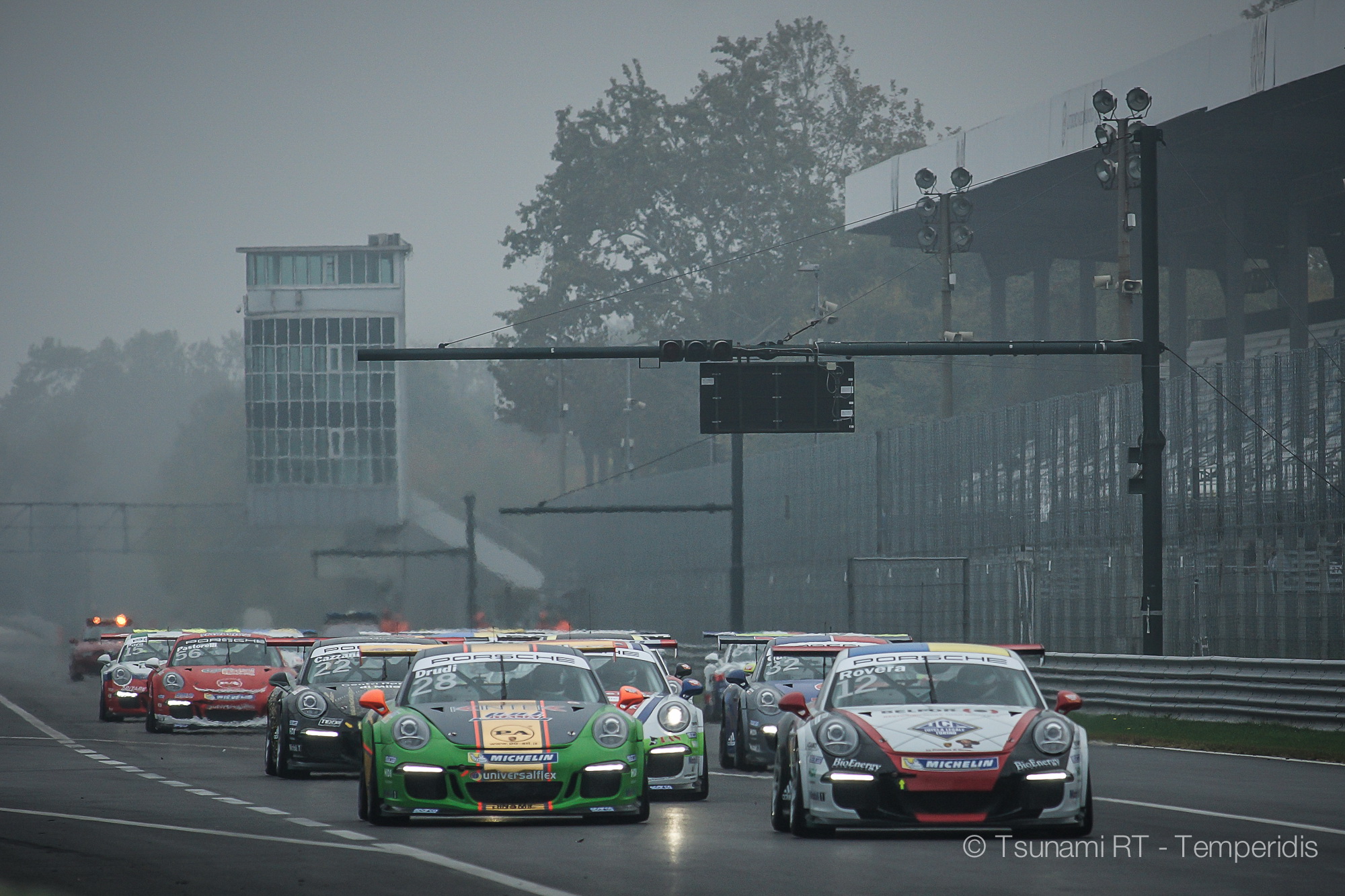 So, a small pause was followed by the restart. 20 minutes plus one lap remained till the finish of the race. What could be done within this time? Anything!..

Anything was what happened during this crazy race, the brightest in the season. It was Andrii Kruglyk to become its star!

Riccardo Pera reached Andrii (who was on the sixth position already) and began to attack. Rovera and Drudi were ahead, and they had already the gap of two minutes with the others. Let us not disturb them, we have something to see.
Kruglyk is concealed artistically and jumps on the kerbs cheerly. A whole bunch of cars is late to brake in one of the chicanes, but it ends with the fall-out for Simone Pellegrinelli and Daniele Cazzaniga. We are rushing forward – Kruglyk is the fourth, Pera – the fifth. Andrii managed not only defend but also simultaneously attack Enrico Fulgenzi who did not expect such a hard pressure!

In that moment Kruglyk touches Fulgenzi, the latter is turned and is hit by Ronnie Valore, a guest driver of the Dinamic team. Both Valori and Fulgenzi retire! There are already six cars not to reach the finish!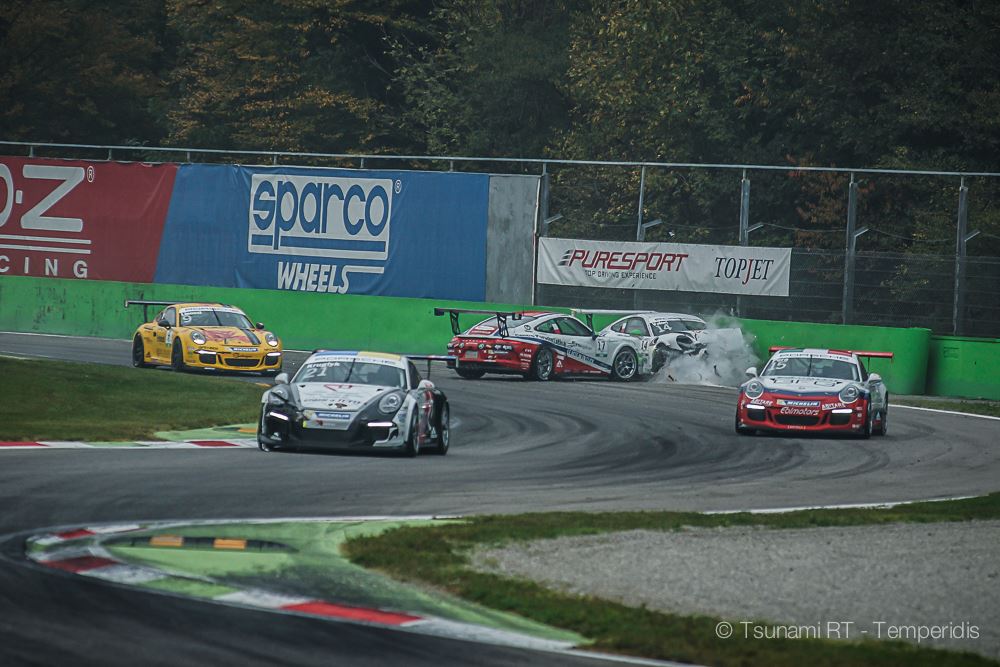 The safety car appears again. You can keep breething now. Alessio Rovera wins this race! Riccardo Pera is the fourth... oh, excuse me. Just after the finish Andrii Kruglyk with the third result is penalized for Fulgenzi's incident, and Pera goes to the third step of the podium.

But each team driver did everything he could, and we lack three points to the Sunday race. Three points!

Lino Curti finishes on the eighth position, he would have competed for the podium in Michelin Cup, but the second safety car had spoiled the game. Carlo Curti is the tenth, and it is a perfect result!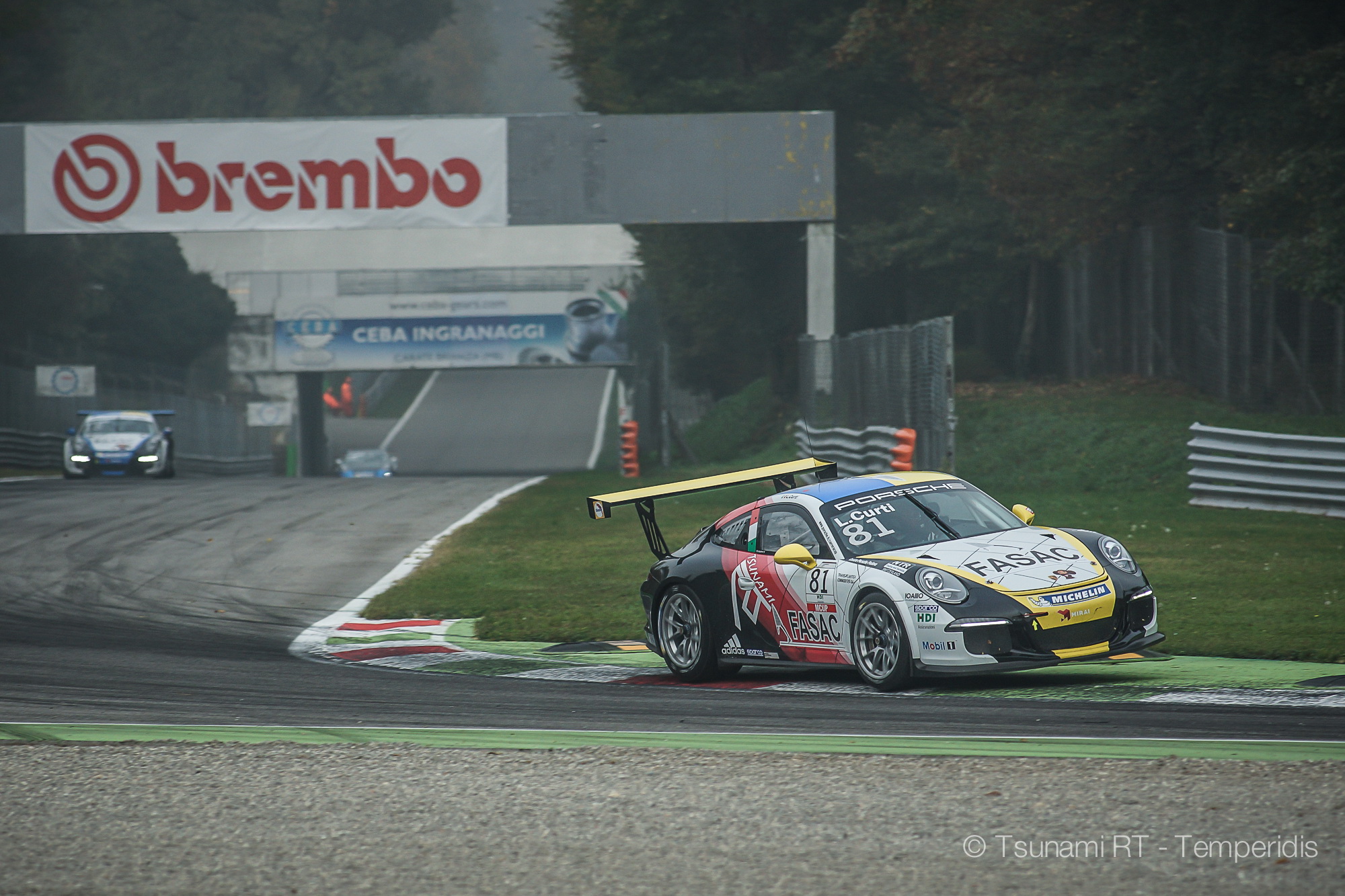 #12 Alessio Rovera:"It's been very hard because it is difficult to keep Drudi behind. And he was really fast. At some points he tried to attack but he was always correct and as he told me after the race he didn't want to ruin the championship. He was good, I closed my lines but he never attempted any breaking on the very limit. Tomorrow, I need to win".
#21 Andrii Kruglyk:"it was a beautiful race, only the last two laps were bad, when I started attacking Fulgenzi. I think he is - what they say in Italy - "furbo" (cunning), because at that point he applied the brakes 300 mts than usual, while we were approaching the Ascari corner on 6th gear. This is not normal. And after the race, the director didn't want to see the on-bpard videos or the telemetry data. Because it is a universal practice to check all data before giving a penalty. I hope this is the last time we get penalised like this".
#81 Lino Curti:"I did a bad start as usual and lost three positions - I retook two of them and in the end I was attached to Selva hoping to make it to the class podium. But because of the accident and the safety car there was nothing to do. The car was very good, everything worked fine".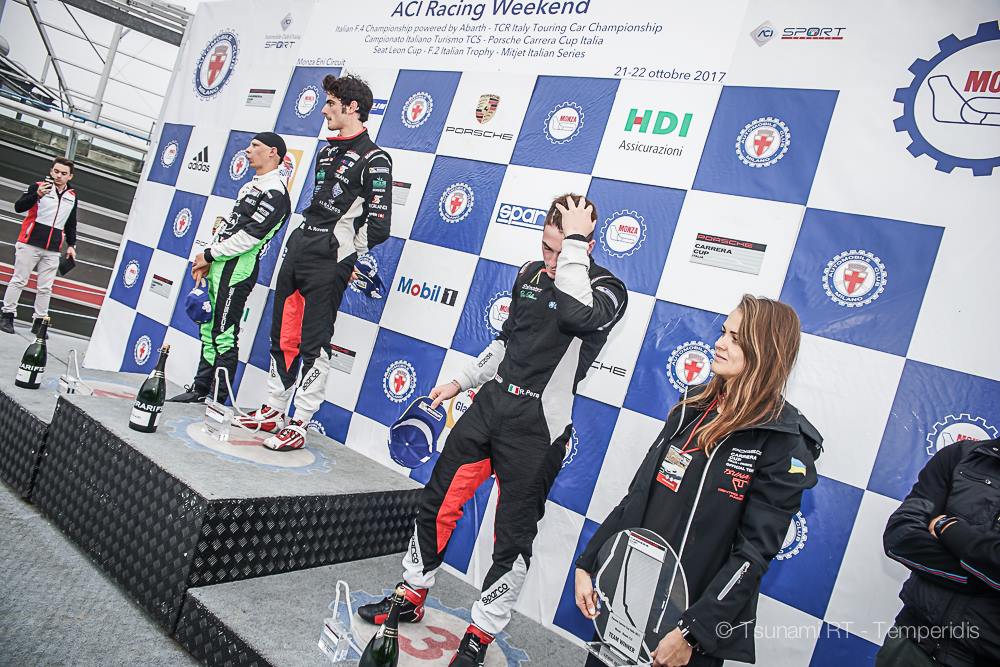 Porsche Carrera Cup Italia 2017, Final round (7), Monza
Race 1 overall

1. #12 Alessio ROVERA (Tsunami RT) 15 laps
2. #28 Mattia DRUDI (Dinamic Motorsport) +0.643
3. #15 Riccardo PERA (Ebimotors) +2.887
...
8. #81 Lino CURTI (Tsunami RT) +9.958
...
10 #18 Carlo CURTI (Tsunami RT) +11.365
...
13 #21 Andrii KRUGLYK (Tsunami RT) +26.647
...
15 #14 Ronnie VALORI (Dinamic Motorsport) +3 laps
Race 1 Michelin Cup

1. #56 Luca PASTORELLI (Dinamic Motorsport) 15 laps
2. #67 Alex DE GIACOMI (Dinamic Motorsport) +1.153
3. #64 Livio SELVA (Ebimotors) +3.114
4. #81 Lino CURTI (Tsunami RT) +4.130
...
7 #69 WALTER BEN (Bonaldi Motorsport) +7.503

Not only numerous fans but also Irina Kolomeitseva and Oleksandr Gaidai came to support our team. Gaidai informs: "Tomorrow we'll see: if, for example, it rains, then Rovera will have a better chance to win, because Pera is not so strong on the wet track."

Oleksandr's prophesy comes true – the final race of Porsche Carrera Cup Italia in Monza takes place under the rain! The happiest person about it is Andrii Kruglyk – the more diversity in one weekend, the more interesting it is.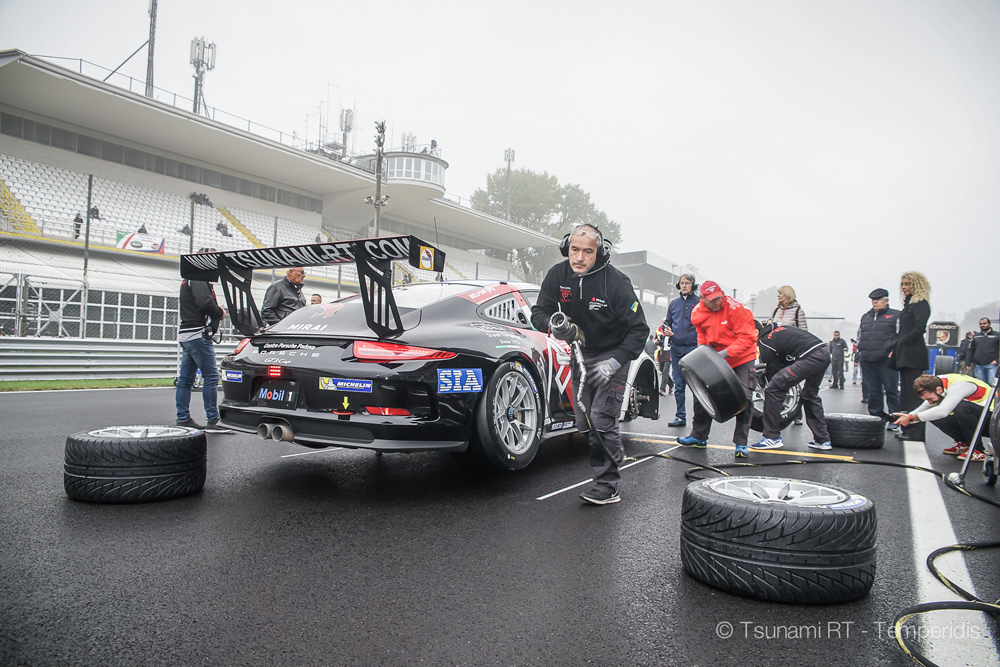 Let us remind you: we have a reverse start for the first six drivers in the second race. It means that Rovera starts from the sixth position, and Pera – from the fourth. It will be not so simple, besides, Kruglyk has been moved to the 13th position...

Start! Pera instantaneously reaches the second position, Drudi – the third. Carlo Curti collides with Hans Peter Koller, they are both turned, and Carlo rolls back to the 16th position. Rovera begins to overrun blow-by-blow (don't get the jitters!). He overruns Alex De Giacomi and becomes the fifth. Then comes Francesca Linossi, and he is the fourth now. Luca Pastorelli, and he is the third!..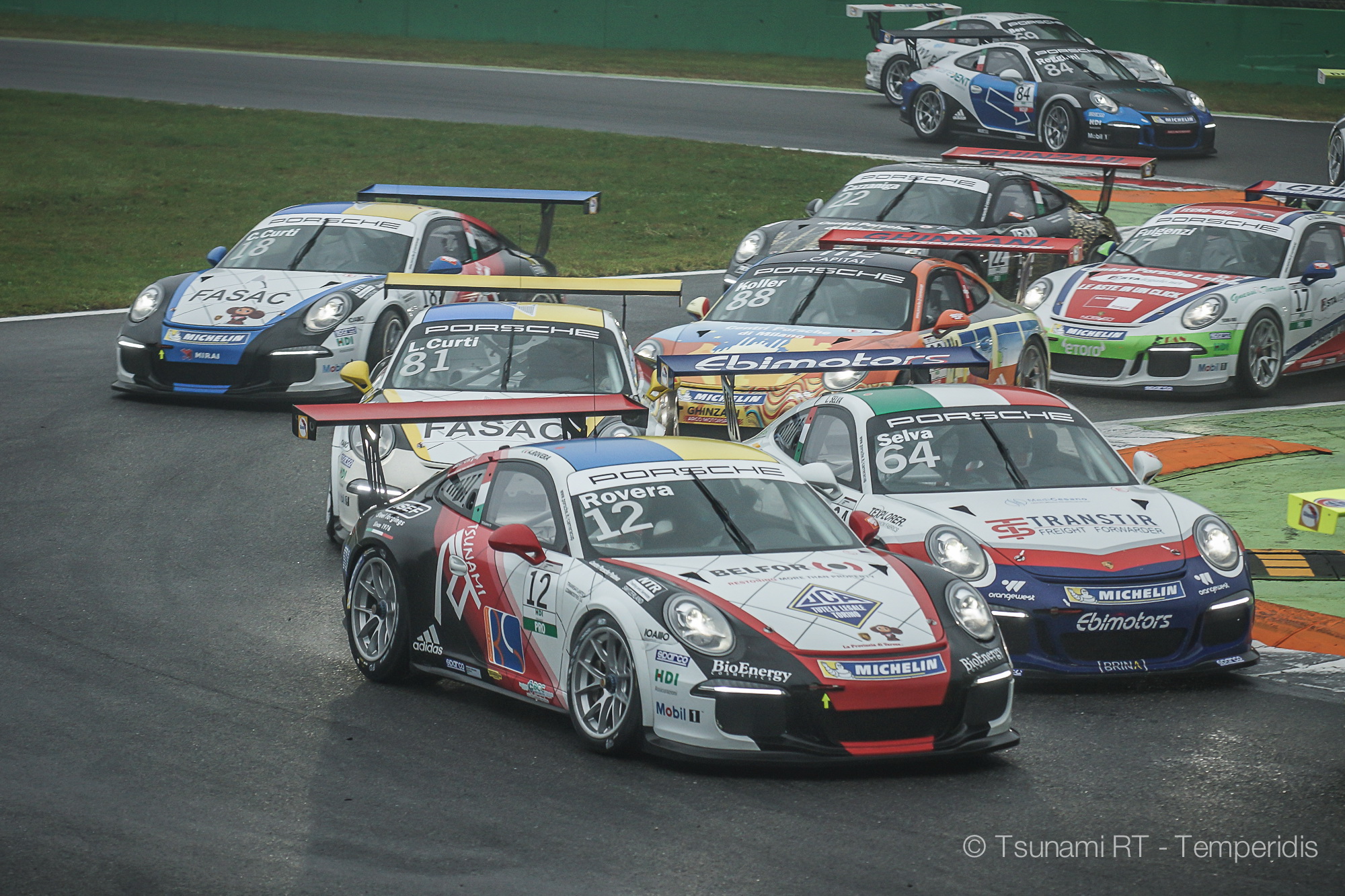 So, the top-3 looks like that: Pera, Drudi and Rovera. Pera is completely OK with this situation, but it is not OK for us. Mattia Drudi attacks, as always, and overruns Riccardo! Just behind him Alessio Rovera performs the maneuver impeccably clear, having simultaneously repeated it.

Now Drudi, Rovera and Pera are the leaders. This situation is good for Riccardo, as he becomes the champion with this finishing order. If Alessio wins the race, and Pera becomes the bronze prize-winner, our driver will receive the title. Can you imagine the tension of each race participant?!

Rovera lances to attack and signals to Drudi with his lights. The victory is really needed here! The duet of Mattia and Alessio is two minutes ahead of everybody again, but now it is not important for Riccardo Pera, he just needs the bronze...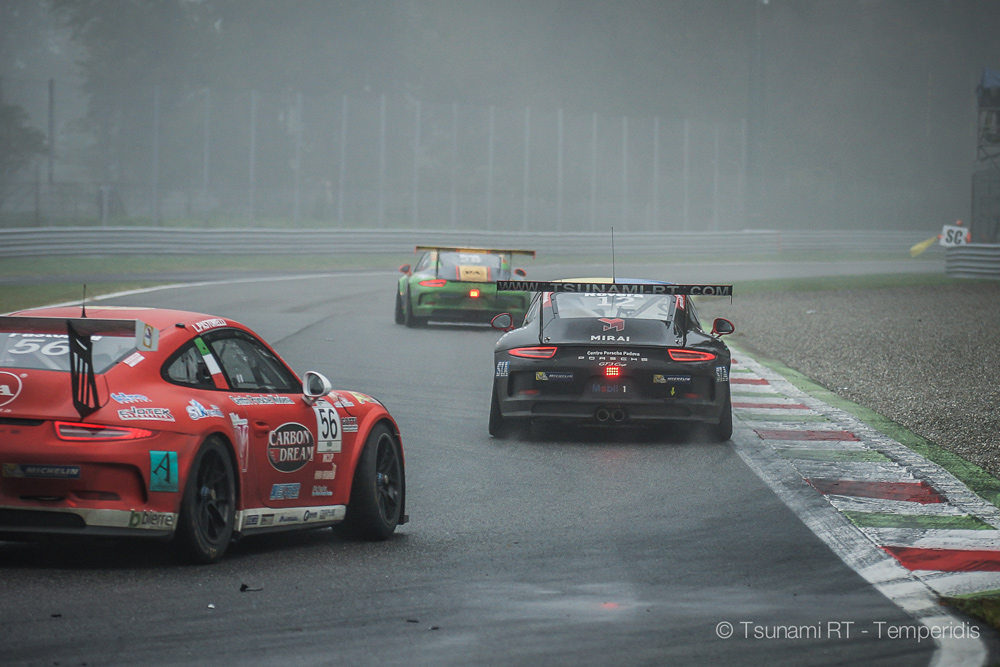 Haven't you forgotten that it is raining in Monza? Do you remember the Gaidai's words too? It happened exactly like that – Pera makes a mistake on the wet track... He would have coped up with it, but Francesca Linossi had not enough time to react on is turn and bumped into his car... and into his hopes... at full speed...

While the safety car is on the track, we are watching Riccardo Pera limping on the grass from his wrecked car... It is a very offending fall-out. However, the race goes on! Now Alessio needs only to reach the finish, just reach it and gain points...

#12 Alessio Rovera:"The last laps seemed to last forever, I tried to just repeat lap after lap without thinking about anything else…"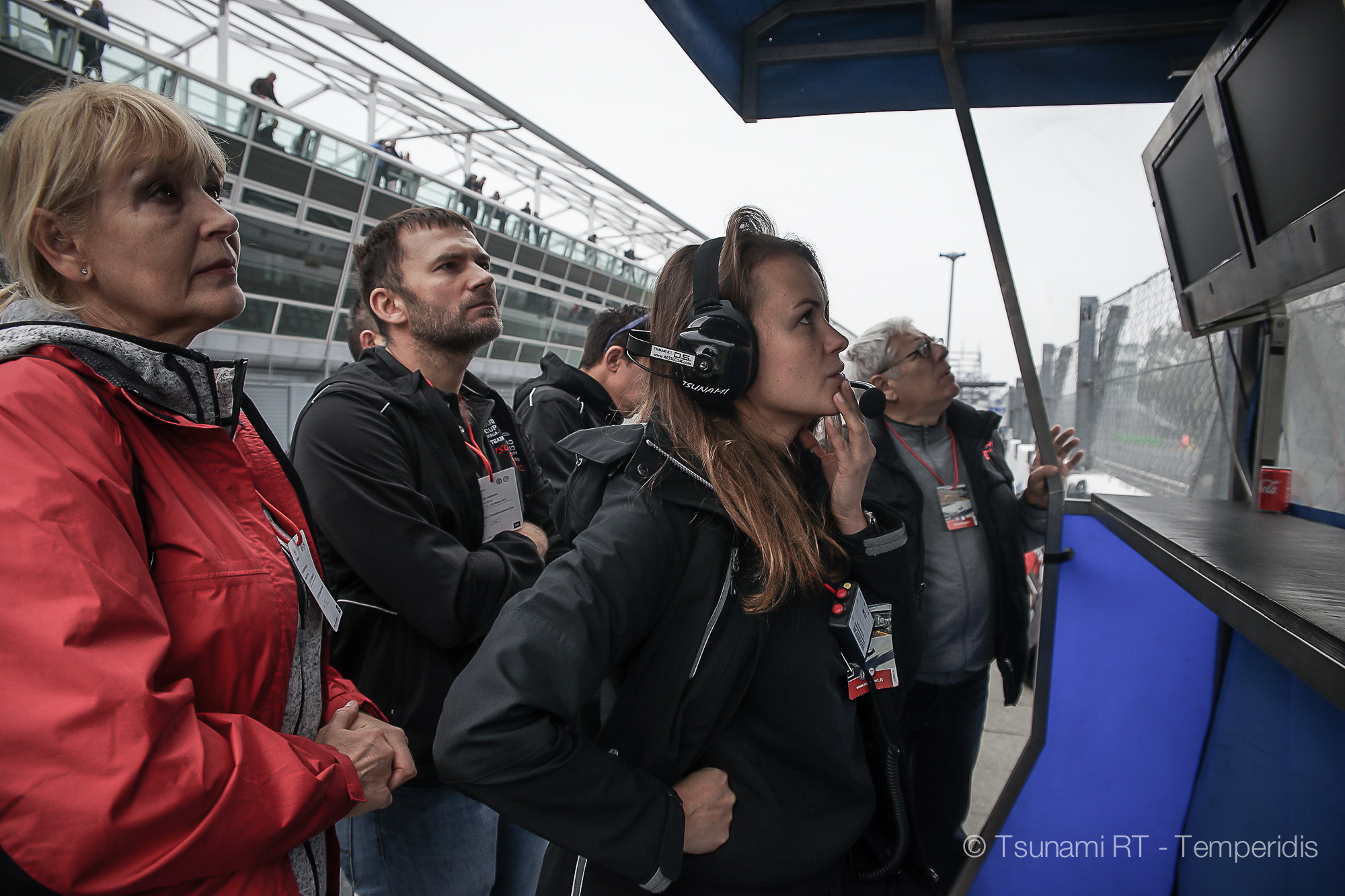 We were not thinking about anything too. We forgot how to breathe. The first part of the race was so intense that it seemed to us that we were approaching towards the finish... Only afterwards we understood that Pera's incident had happened only on the fourth lap.

Years and centuries were going on. Somewhere the wheel was invented, people learned to control fire, built pyramids, transferred to feudalism, discovered America, revived the Olympics, offered the principle of relativity, launched satellites into space, invented Porsche Carrera Cup… And the race continued. Many years had passed before an arm leande out of the pit wall and started waiving with the checkered flag. Alessio Rovera and Tsunami RT became the champions of Italy!!!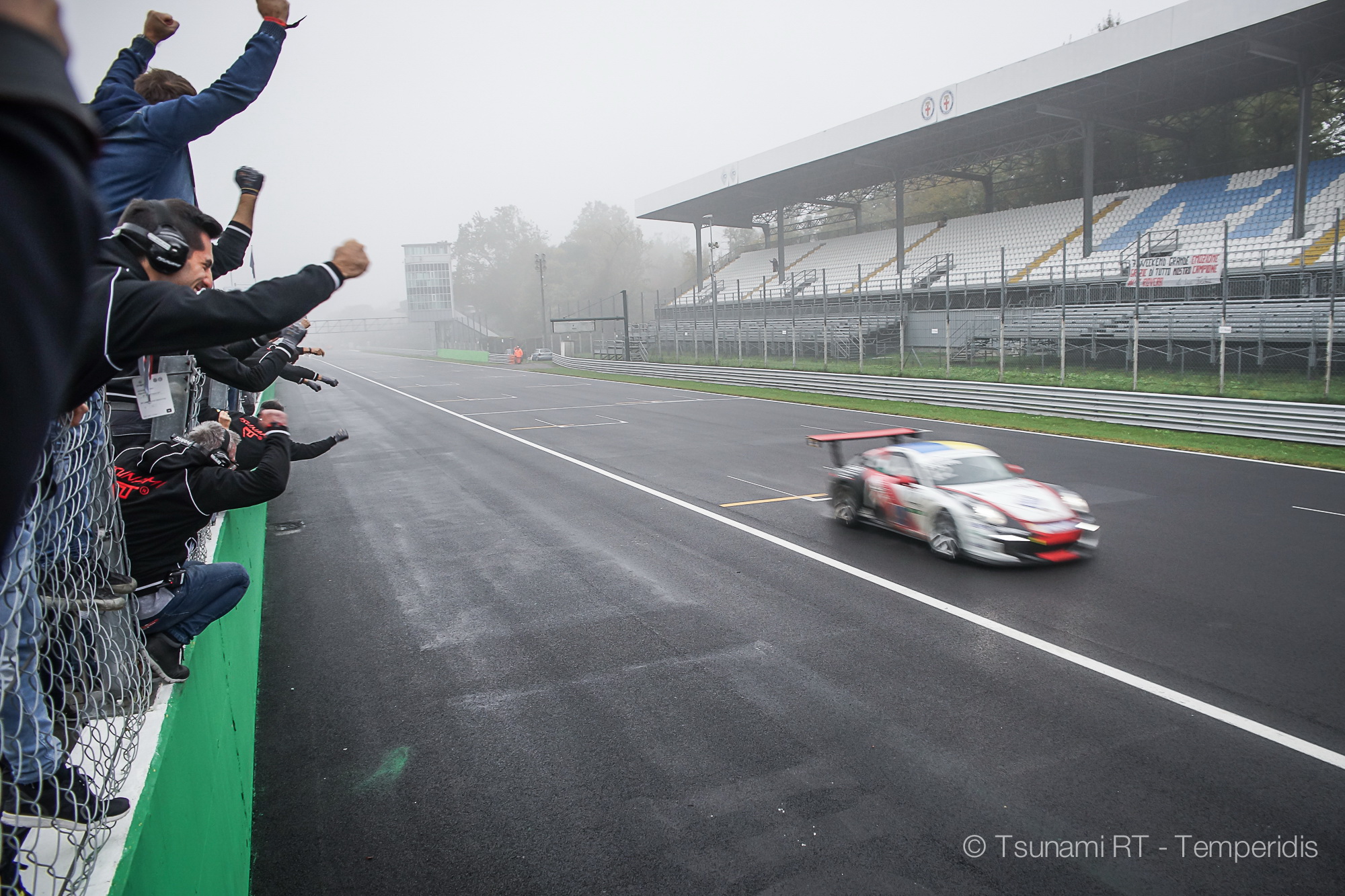 Among tears of joy, applauses, whoops of fans, female fans' lipstick abundantly decorating Alessio's face, handshakes, interviews, photos and mandatory crowning with the laureate wreath we have not forgotten about one more outstanding podium: Lino Curti became the bronze prize-winner in Michelin Cup in his first season in PCCI, also having won the silver in the last race!

All the four drivers of the Italian Champion, Tsunami RT team, the double champion now, by the way, finished in top-10 of the conclusive race!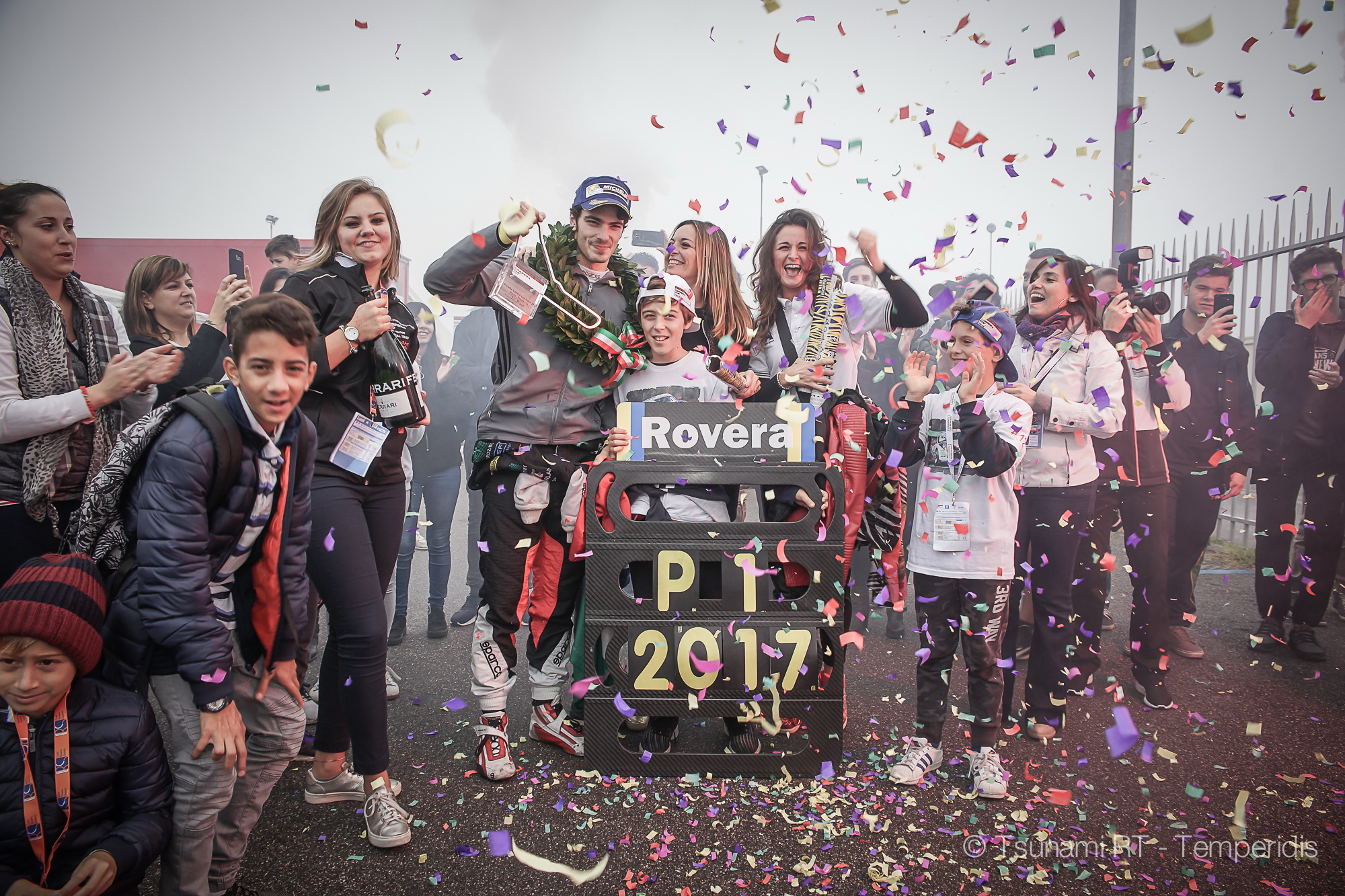 #12 Alessio Rovera:"I feel like crying because it's been a great emotion. In the end arrived a title that I expected since last year. I grew up as a driver throughout the year in every aspect. My feeling in driving is different now and my mentality is different as well. I tried to stay calm all season and this brought me here. Even my rival had a great year but in the end I won".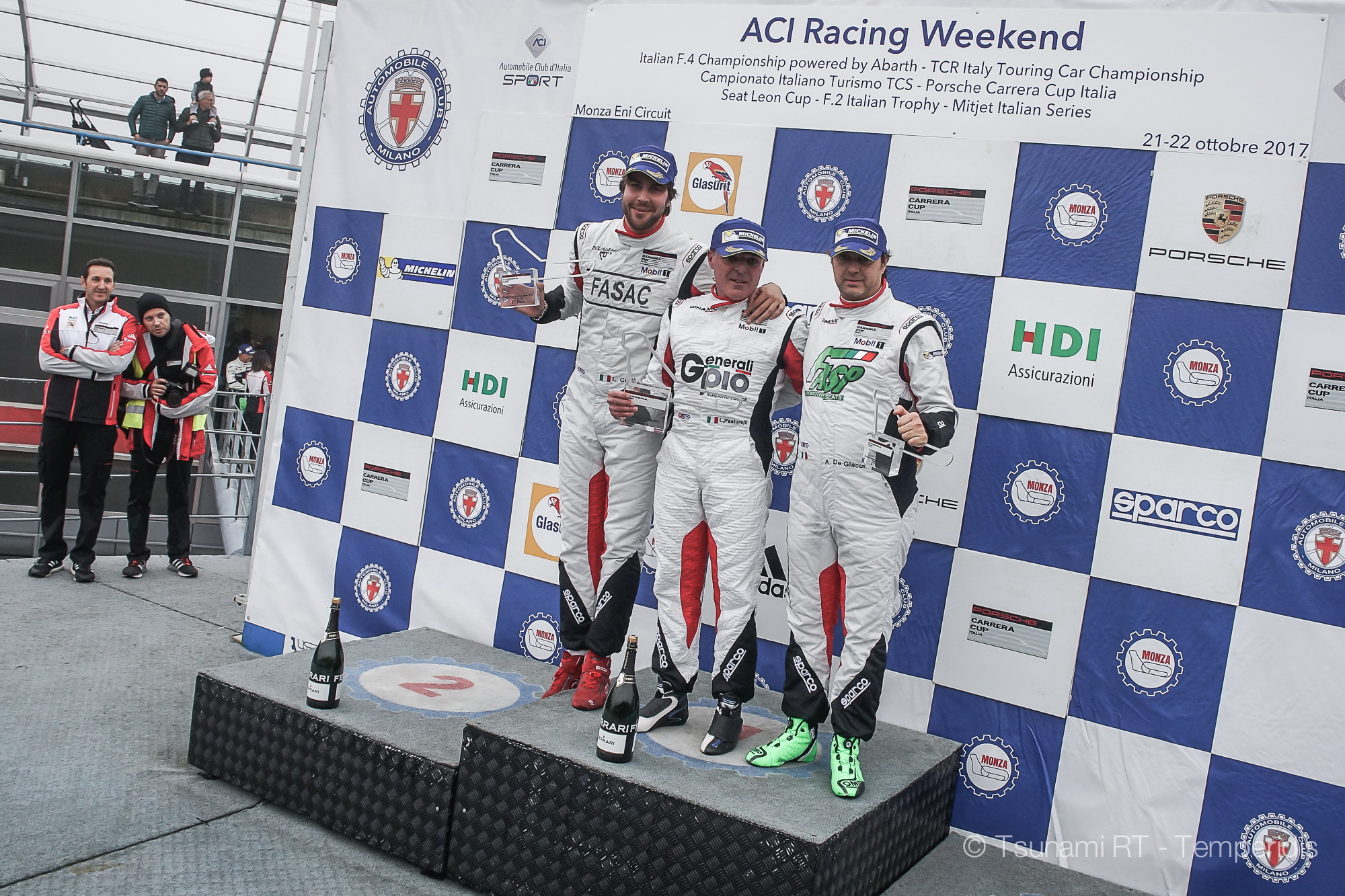 #81 Lino Curti:"Today I did a good race, I had a good start, I had fights and I managed to gain positions and climbed in 2nd in my class, keeping a pace similar to Andrii's. Thanks to this finish I took the 3rd position in my class, so I am happy as it was my first year. As for the season with Tsunami, even if I had some bad luck in the previous races, I had an abysmal development during the year, especially after Vallelunga and Misano. We look forward to do even better next year, possibly staying in this beautiful team".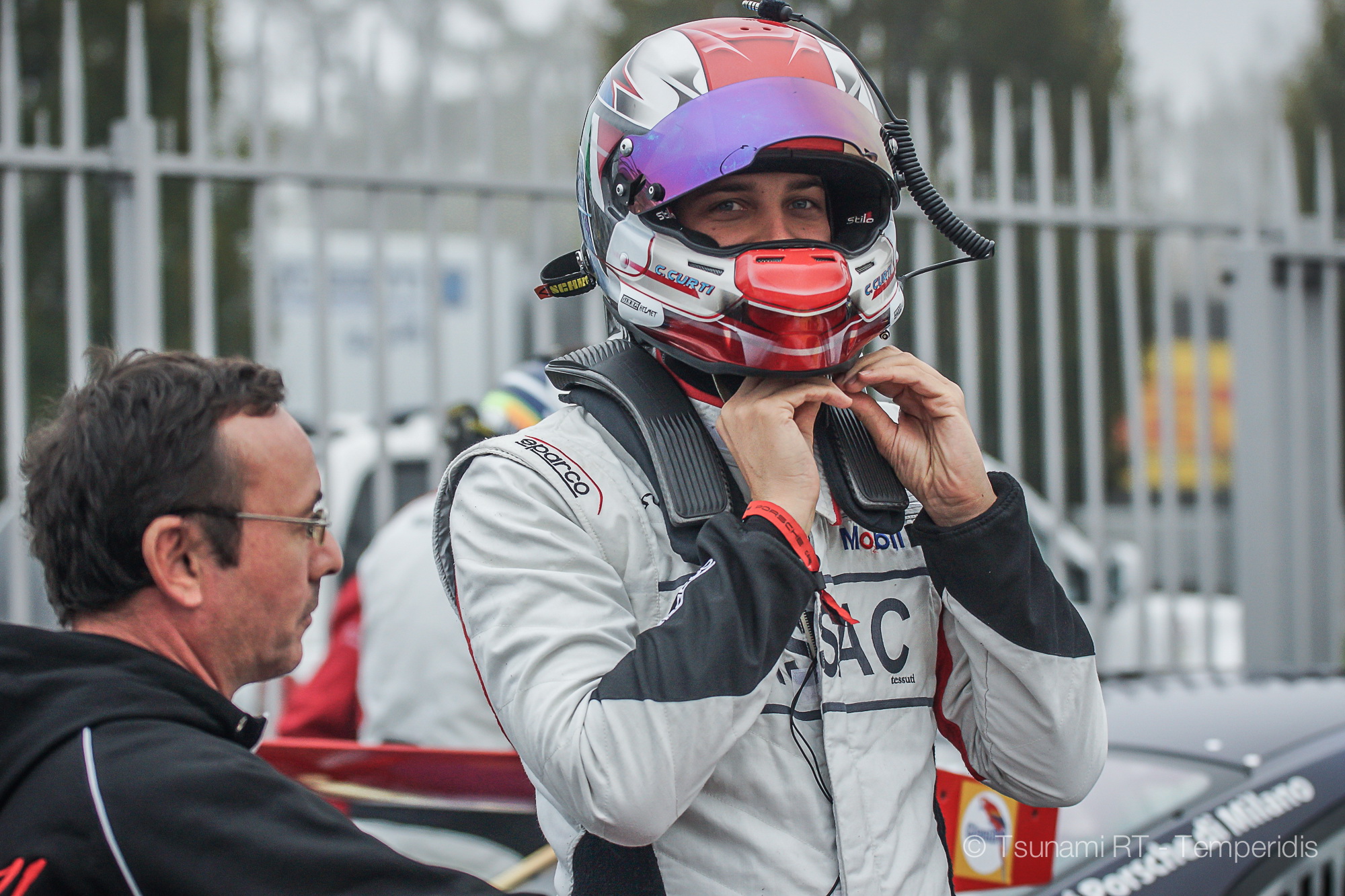 #18 Carlo Curti:"I am very happy today! Thanks to the team the car has been very good. I struggled a bit in the first part of the race and I also spun but I was lucky that the safety car made the field more compact and after that I managed to overtake some competitors. This first season in the Porsche Carrera Cup was a year of experience for us. The team is fantastic and great comrades everybody. I am extremely happy about 'Ale' because he is a true professional, a very fast driver as well as a very good guy".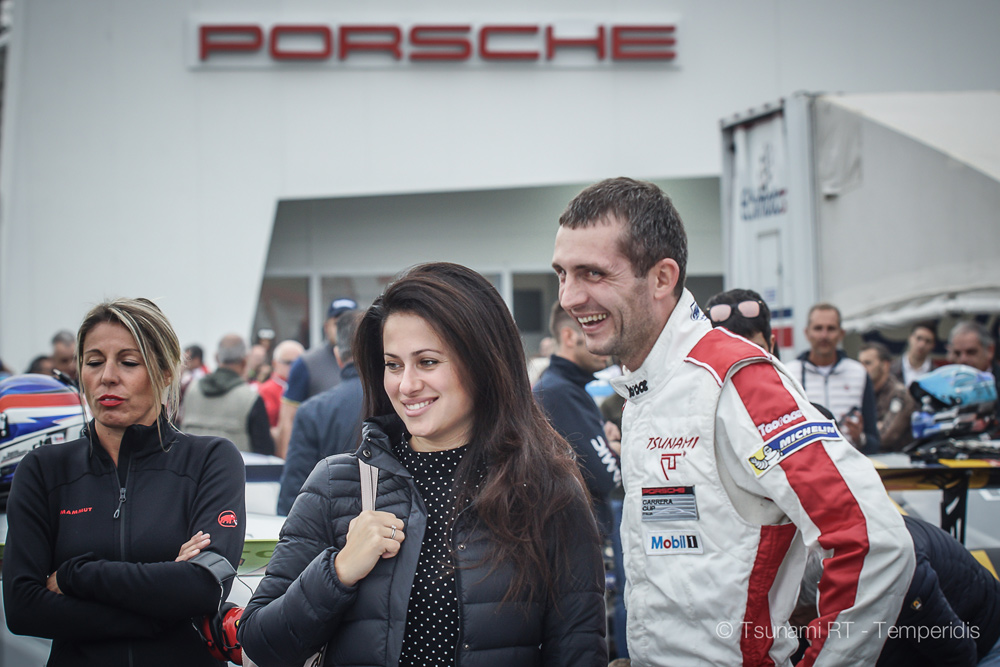 #21 Andrii Kruglyk:"I am very happy for Alessio's title. In this race I was only thinking about him, all year long I wanted just this! And for the team, we managed to arrive in the last race with three teams fighting for the title. And we did it! As for my return to racing, I am very happy with my performance and since yesterday I have received a lot of messages from friends in Ukraine and everywhere. It was a beautiful experience because I hadn't driven a Porsche since 2009 and I had even a wet race. Everything is fantastic today!"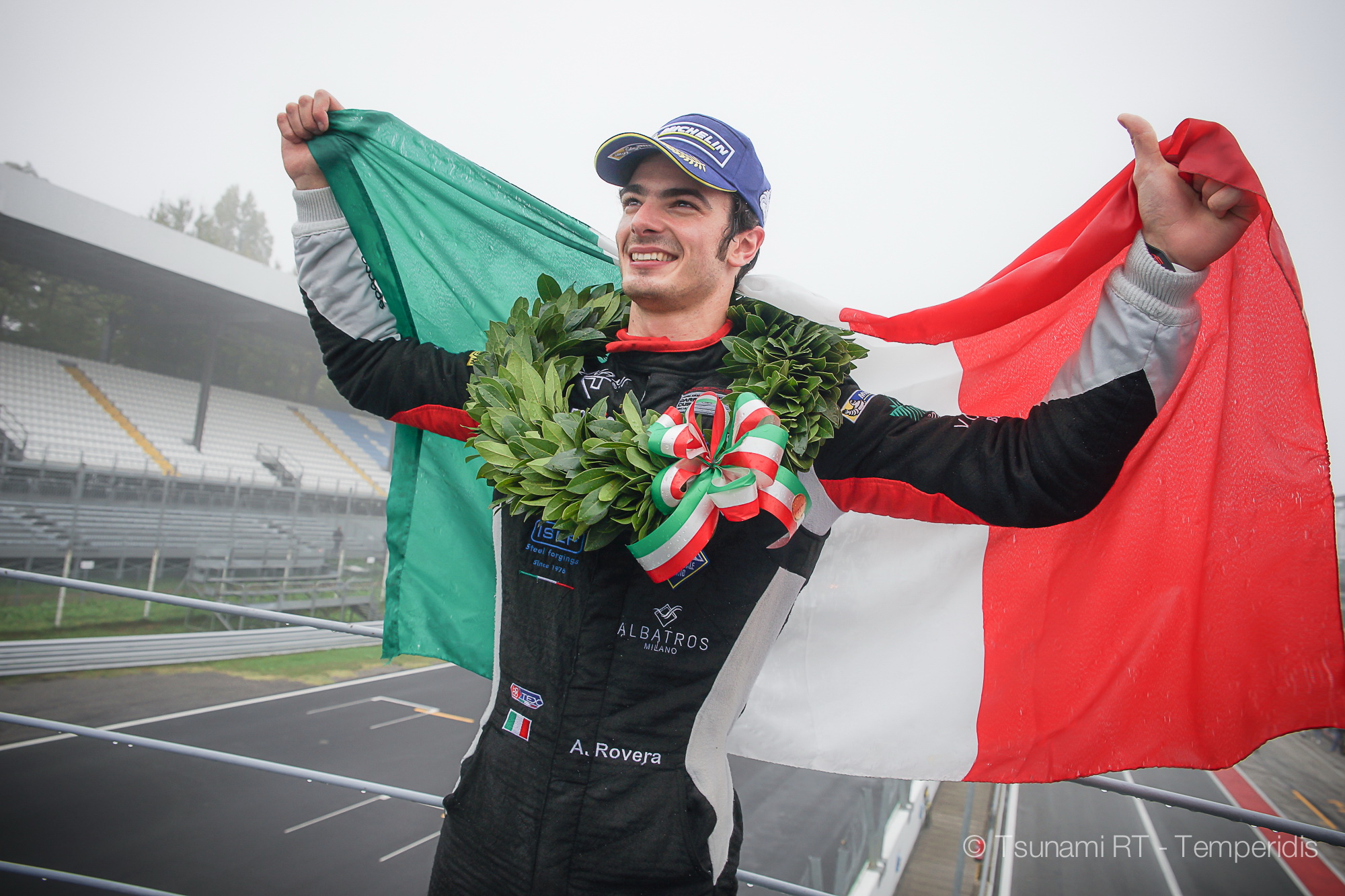 Porsche Carrera Cup Italia 2017, Final round (7), Monza
Race 2 overall
1. #28 Mattia DRUDI (Dinamic Motorsport) 14 laps
2. #12 Alessio ROVERA (Tsunami RT) +5.172
3. #56 Luca PASTORELLI (Dinamic Motorsport) +8.874
...
7. #81 Lino CURTI (Tsunami RT) +20.474
...
9. #18 Carlo CURTI (Tsunami RT) +22.669
10. #21 Andrii KRUGLYK (Tsunami RT) +25.385
...
15. #84 Federico REGGIANI (Ghinzani Arco Motorsport) +1:13.744
Race 2 Michelin Cup

1. #56 Luca PASTORELLI (Dinamic Motorsport) 14 laps
2. #81 Lino CURTI (Tsunami RT) +11.600
3. #67 Alex DE GIACOMI (Dinamic Motorsport) +13.153
...
8 #84 Federico REGGIANI (Ghinzani Arco Motorsport) +1:04.870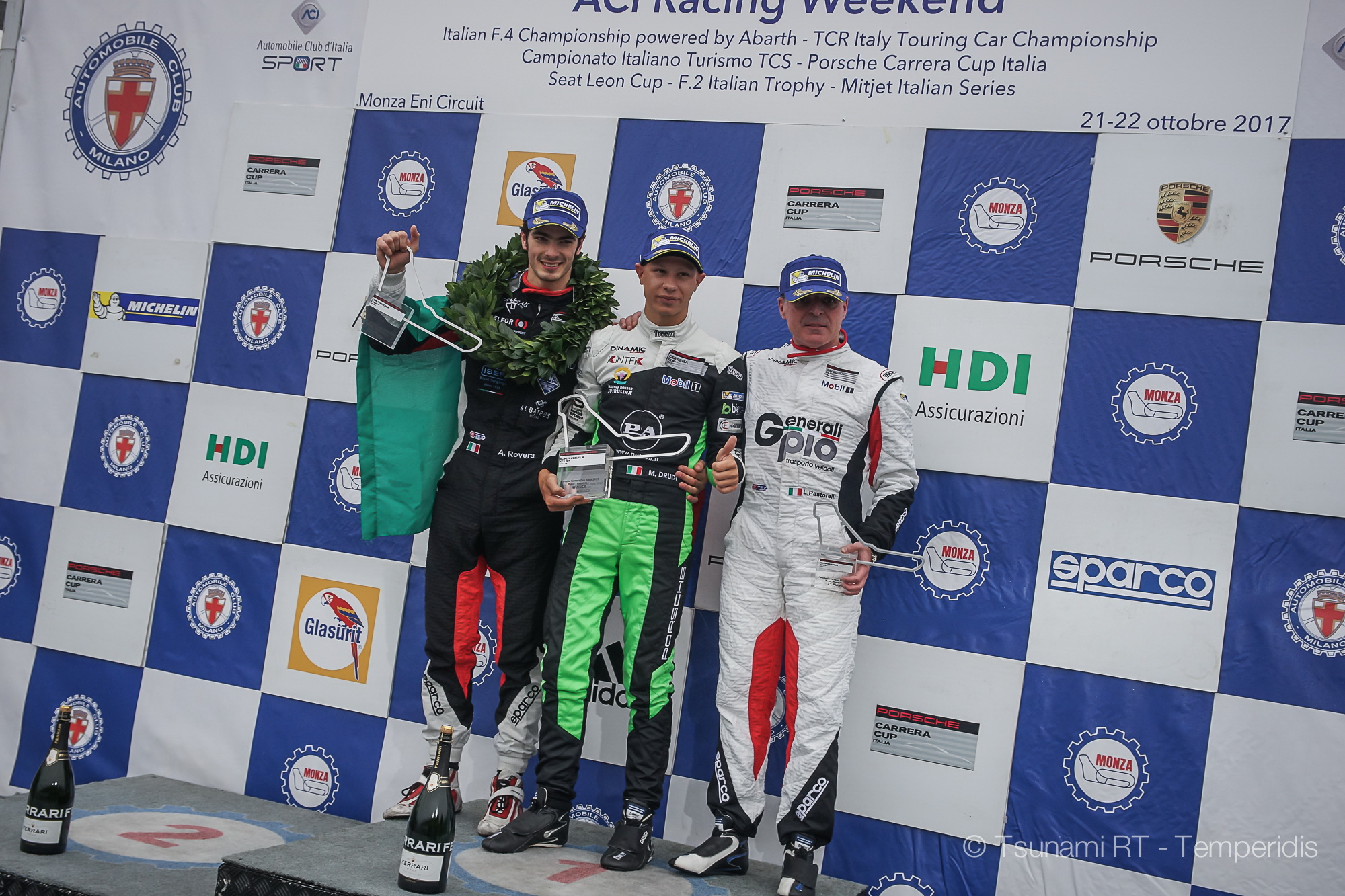 As Akela in Kipling's book said: "It was good hunting!". It was an astonishing weekend, astonishing results and astonishing feelings. The season has come to its end, but the feelings remain! The winning double of Tsunami RT in the team and individual classifications is a merit of each team member.

Some impressive phrase is needed here to finish the story, and we know what it is!

We are the champions!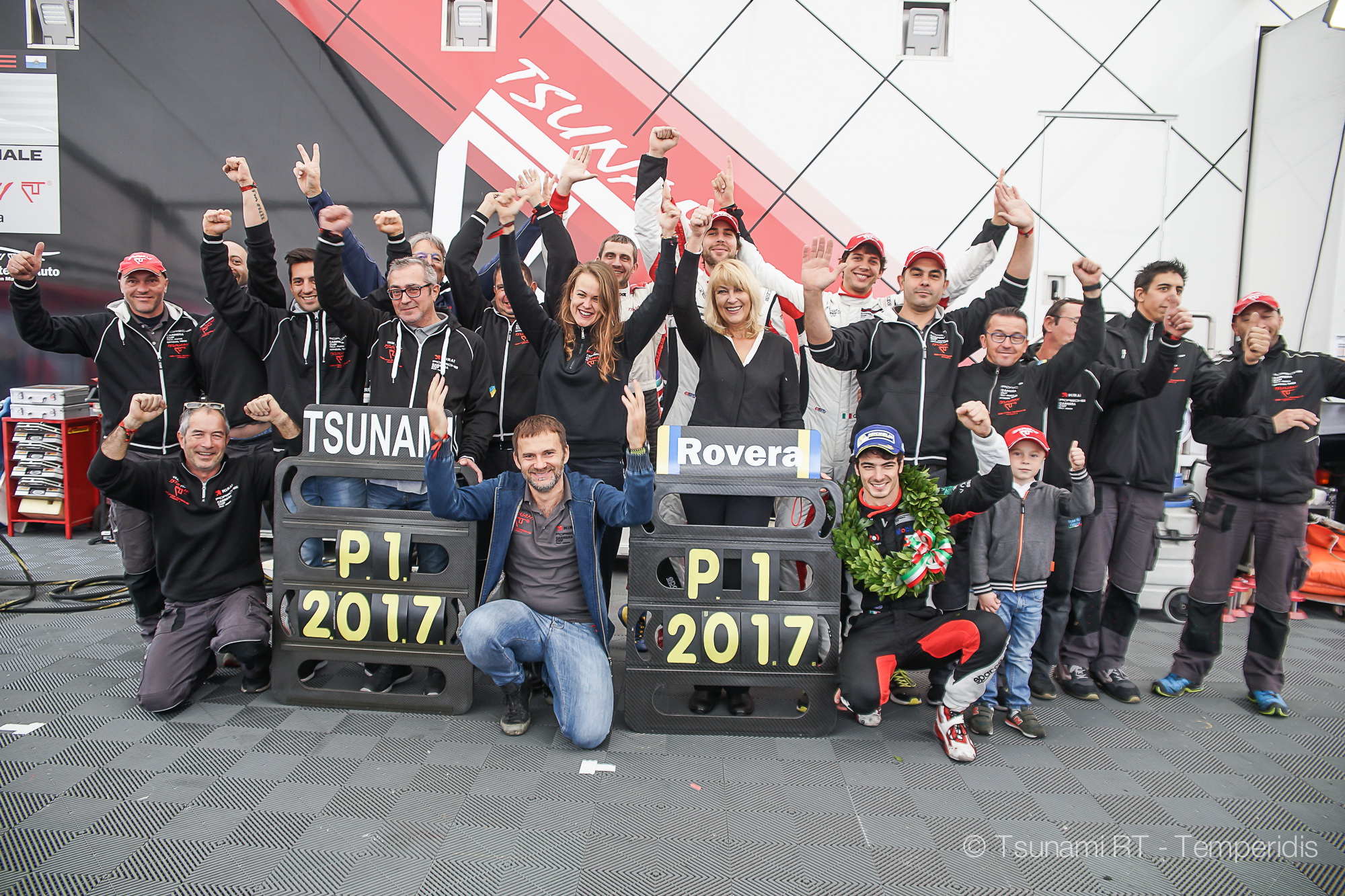 By: Irina Boyarskaya
Photo: Akis Temperidis